Magis and Magic: SLUpefy Members Re-Create Hogwarts on Campus While Serving Others
They may be members of House Slytherin, Hufflepuff, Ravenclaw or Gryffindor, but the members of SLUpefy are all Billikens who combine magis and magic as they turn their passion for all things Harry Potter into creating community on campus and serving others in the St. Louis community.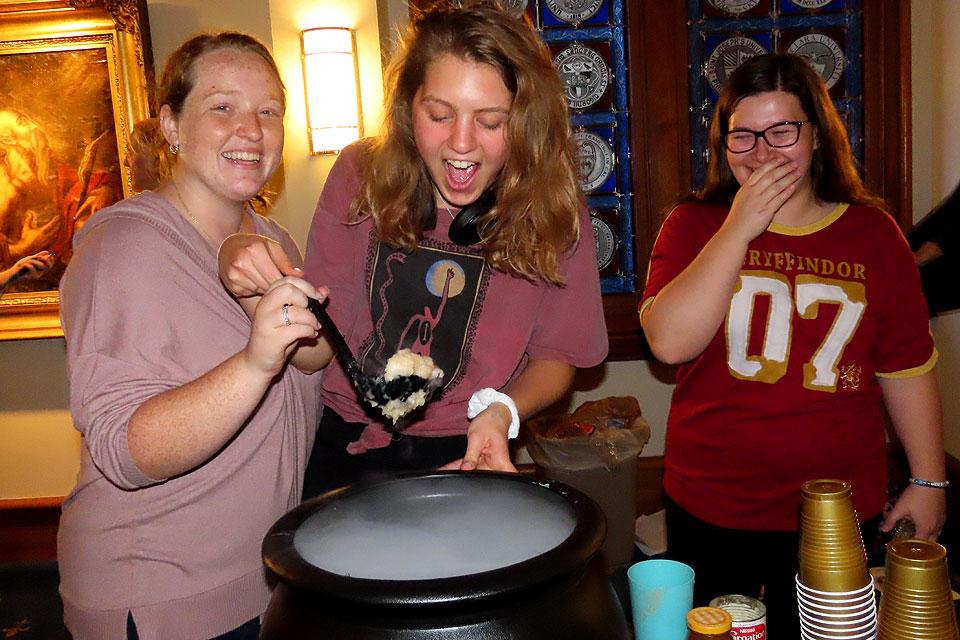 SLUpefy officers make sure the Butter Beer bubbles at the club's Sorting Hat Ceremony.
Now in its second year, SLUpefy has become a fast-growing fixture at Saint Louis University. The club's September Sorting Hat Ceremony transformed the historic Pere Marquette Gallery in DuBourg Hall into a hall worthy of Hogwarts, with bubbling Butter Beer and house colors on display.
Sixty students waited with bated breath for their turn under the Sorting Hat and for their chance to take their places at their new Houses' tables.
Club members have also tapped into the power of Phoenix feathers and unicorn hair at the club's early October Wand Making Party. Meticulously painting and crafting their personal wands, members were ready to take on any Dementors and Death-Eaters who might be roaming the corridors of Scott Hall or nooks and crannies of SLU residence halls.
Drawing members from a host of majors, SLUpefy President Abby Delbridge, a junior, said the club focuses not only on creating a welcoming community where Potter fans can share their love of J.K. Rowling's wizarding world, but also a club that carries out the University's Jesuit mission imaginatively and by making magic, in a way, real.
"One of the greatest things I love about SLU and a Jesuit education is the emphasis that is placed on service," Delbridge explained. "SLUpefy has shown that any club can put this mission into action by uniting people with a common interest and love for service to enrich the community around us."
Feasts, Fun and Better Potion-Making Through Chemistry
SLUpefy draws members from across the SLU campus. Delbridge said that the club creates a powerful community that fosters friendships to rival the one shared by Harry, Hermoine and Ron.
"The most humbling part of running SLUpefy is having the opportunity to meet people that I otherwise would not have known," Delbridge, a neuroscience major, said. "Our club welcomes a diverse group of people from a plethora of majors and backgrounds, and emphasizes that despite our differences, many of us share a common link in our love of the Potterverse. I really do believe that through our club we have formed a network of friends that spans SLU's campus."
The club holds a series of events, all grounded in the world of Harry Potter, throughout the year. In addition to the Sorting Hat Ceremony and making wands, SLUpefy has planned a Halloween Feast for Thursday, Oct. 31. The feast, set to start at 6 p.m. in Room 0200, Morrissey Hall, will have a mystery theme built around the second novel in the Harry Potter series, The Chamber of Secrets. Raising Canes chicken fingers and Potter-inspired treats will fuel the feast's fun.
On Monday, Nov. 11, SLUpefy has teamed up with the SLU Chemistry Club for a potion-making workshop, an event the two club's debuted last year.
Summoning the Power to Serve
This year, SLUpefy is partnering with the St. Louis Wizarding Run to raise funds for Ready Readers, a St. Louis non-profit organization which nurtures children's love of reading and life-long learning by sending volunteers into classrooms to read to students and by supplying books to young children. SLUpefy members will work at the Nov. 23 run and for every volunteer the SLU club signs up, the race will donate $25 to Ready Readers. Those volunteering will receive a Wizarding Run shirt in their own house color.
Last year, the club held a Yule Ball to benefit Lumos, a charity founded by Rowling that provides educational, emotional and familial assistance to millions of orphans and at-risk children around the globe.
To volunteer or for more information about the Wizarding Run, contact Gabrielle Johnson, SLUpefy Minister of Recruitment.
---
Saint Louis University is a Catholic, Jesuit institution that values academic excellence, life-changing research, compassionate health care, and a strong commitment to faith and service. Founded in 1818, the University fosters the intellectual and character development of more than 13,000 students on campuses in St. Louis and Madrid, Spain. Building on a legacy of now more than 200 years, Saint Louis University continues to move forward with an unwavering commitment to a higher purpose, a greater good.
Story and photos by Amelia Flood, University Marketing and Communications