SSM Health Saint Louis University Hospital, SLUCare Bury 100-Year Time Capsule
More than 150 items were placed in the time capsule to be opened in 2119
Leaders from both SSM Health Saint Louis University Hospital, Saint Louis University and the City of St. Louis joined together to celebrate the burial of a 100-year time capsule to be opened by future nurses and doctors of the new academic medical center in 2119.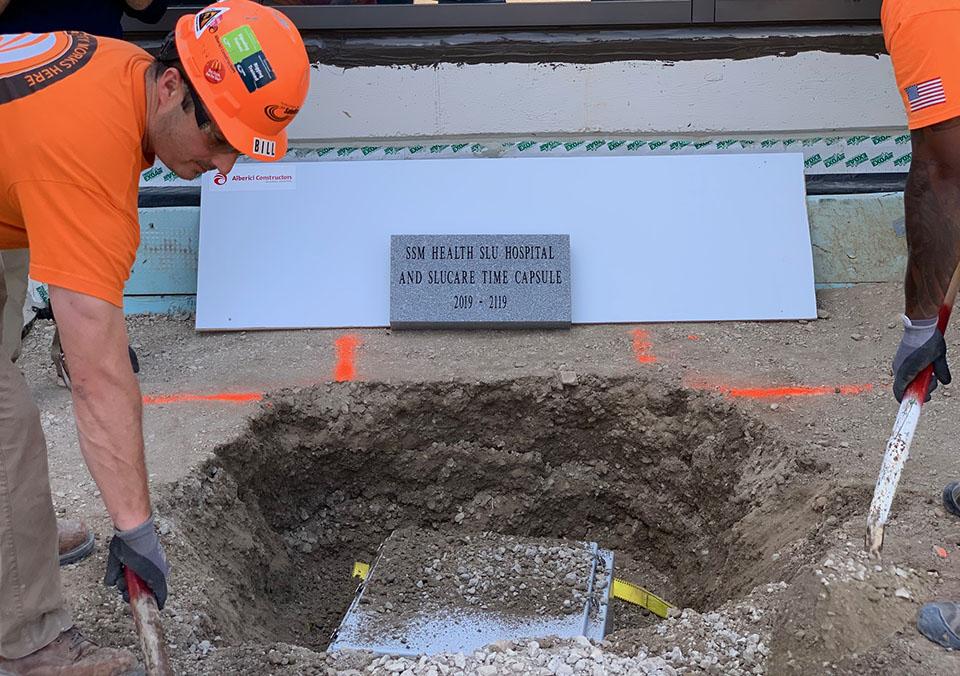 Construction workers bury the 100-year time capsule outside SSM Health Saint Louis University Hospital. Photo by Maggie Rotermund
For nearly six-months employees and community members have carefully selected items to put in the 6-cubic foot time capsule. The rectangle box is made from watertight, chemical resistant, composite plastic that is able to withstand large temperature fluctuations and protect the more than 150 items selected to speak to the audience opening the time capsule in the future.
"Saint Louis University, SLUCare Physician Group and SSM Health - St. Louis built upon their expanded partnership by collaborating closely in planning the new facilities," said Robert M. Wilmott, M.D., dean of the School of Medicine. "As a result, our new hospital will provide patients with the best possible healing environment, our students and trainees with an enhanced educational experience and our scientists with expanded medical research opportunities."
The new $550 million SSM Health Saint Louis University Hospital and ambulatory care center features more than 800,000 square feet of space, 316 private patient rooms, an expanded Level I trauma center and emergency department, larger intensive care units, expanded patient parking, green space and areas for future campus expansion.
"Today, we honor our past and celebrate our future," said Steven M. Scott, president, SSM Health Saint Louis University Hospital. "Our Mission of revealing the healing presence of God transcends both time and space. This collaboration between SLU and SSM Health means a unified objective, where our mission and values inform our approach to patient-centered medicine. This means practicing where people need best compassionate care in a space accessible to all."
The new SLU Hospital campus is located on 15 acres adjacent to the current facility off Grand Boulevard between Rutger and Lasalle streets. The project has logged over 1.3 million workforce construction hours and has had a peak workforce team of more than 700 trades people.
The new hospital will continue to focus on high-acuity patients, cardiovascular care, oncology, stroke, transplant and trauma.
The project is part of a commitment made by former SSM Health President/CEO William P. Thompson on the first day the organization assumed ownership of the hospital, Sept. 1, 2015. He announced an ambitious five-year plan to construct a new hospital and ambulatory care center that incorporates national best practices in patient-centered design while delivering an improved patient experience.
SSM Health Saint Louis University Hospital
SSM Health Saint Louis University Hospital is a 356-bed quaternary and tertiary hospital combining SSM Health's Mission-based care with the advancements of academic medicine. Specializing in organ transplants and home of the Mid-America Stroke Network, SLU Hospital is home to SLUCare physicians and students of Saint Louis University Medical School. An ACS Level I trauma center for both Missouri and Illinois, SLU Hospital is accredited by the Joint Commission and designated as a Primary Stroke Center.
SSM Health is a Catholic, not-for-profit health system serving the comprehensive health needs of communities across the Midwest through one of the largest integrated delivery systems in the nation.
Saint Louis University and SLUCare Physician Group
Saint Louis University is a Catholic, Jesuit institution that values academic excellence, life-changing research, compassionate health care, and a strong commitment to faith and service. Founded in 1818, the University fosters the intellectual and character development of more than 13,000 students on campuses in St. Louis and Madrid, Spain. Building on a legacy of nearly 200 years, Saint Louis University continues to move forward with an unwavering commitment to a higher purpose, a greater good.
SLUCare Physician Group is the academic medical practice of Saint Louis University, with more than 500 health care providers and 1,200 staff members in hospitals and medical offices throughout the St. Louis region. SLUCare physicians are among the most highly trained in their fields — more than 50 specialties in all — and are national and international experts, renowned for research and innovations in medicine.