Parks Racing Club Builds Friendships, Skills, Race Car From Scratch
03/01/2020
The members of the Saint Louis University's Parks FSAE Racing Club live by the phrase, "Billikens, start your engines."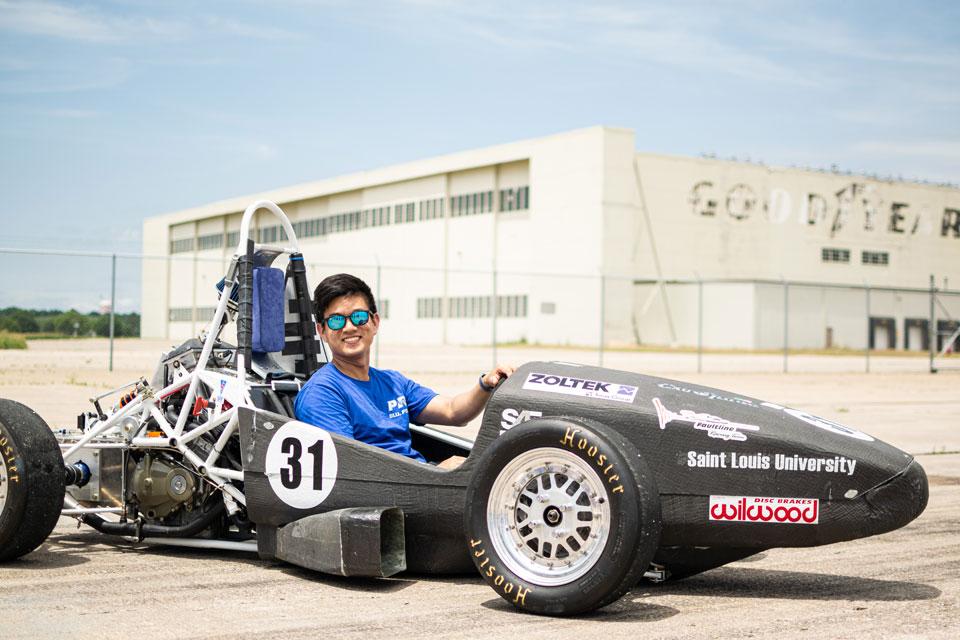 Ready to run in a race car built by Billikens. Submitted photo
Connecting with classmates and faculty over a shared automotive passion, students apply the skills they learn in classrooms at Parks College of Engineering, Aviation and Technology and across the University to build a competition-ready race car from scratch.
From its chassis to its on-board computer, students make almost every part of the car themselves, outside of components like tires and the car's engine. Along the way, the club's members also become a team, one that studies, lunches and puzzles through car maintenance together.
"The car is not a solo project," junior Kyle Goldman, Parks Racing's vice president said. "It needs every team member to come together as a community to achieve our goal."
The team's car has been featured at community events like the St. Louis Auto Show and at races against other college and university teams.
"Being at the show this year was an amazing opportunity as we go to engage with people from the St. Louis community who were very interested in what we do while also getting the chance to talk about what Parks College has to offer," Bullard said.
The team also takes breaks from their builds to race go-carts at local tracks and to work through homework assignments over breakfast.
Building Friendships and a Race Car from Scratch
As they weld, grind and tinker on Saturday mornings, the clubs member tackle mechanical and practical problems on their way to finishing their race car to show off.
With about 15 core members and an added 10 who stop by Oliver Hall to contribute, Parks Racing also draws in faculty and staff members to help make their racing dreams a reality. Faculty members Mark McQuilling, Ph.D., Chi Hou Lei, Ph.D., Frank Coffey, Kyle Mitchell, Ph.D., and Ed Ising, have all guided team members as they've grappled with the car's onboard computer and other technical matters.
Students also utilize technology they learn in class to design the car and to work through the problems they encounter as it comes to life. Along the way, they acquire new skills to solve the challenges that come with creating a competition-ready racer from scratch.
For Goldman, an aerospace engineering major, the club has brought home how lessons he learns weekly about fluid and air flow as part of a class project designing wind tunnels can be applied to building a race car.
"It's a great opportunity to be able to learn something Friday and to apply it Saturday," Goldman explained. "Obviously building a car is complex, but the work that goes into designing and fabricating each individual system is incredible. Each decision that is made impacts all other parts of the car."
Bullard, a mechanical engineering major, has learned how to apply the lessons he learned building projects at home to his new college work, in and out of class.
"When I came to SLU, I was semi-knowledge when it came to woodworking, but I had never really ventured very far into working with metal in any capacity," junior Jacob Bullard, a mechanical engineering major who serves as Parks Racing president, said.
"Now, after being on the team for a few years, I can confidently say I know how to weld and operate almost every machining tool that SLU has," Bullard said. "These are skills I can guarantee I would not have learned anywhere else. And this is something Parks Racing really prides itself on."
The club builds cars on a two-year cycle, beginning with sourcing raw materials at a local metal supply and investing in hundreds of dollars' worth of steel tubing. They then turn their eyes to design using 3D modeling software. From there, team members cut, bend and weld the tubing to create the chassis, the base for the future race car.
Over the course of the two-year cycle, Parks Racing members continually re-design, tweak and build until a car is ready to race at an annual competition that draws teams from around the world. Parks Racing will compete in Detroit during summer 2020, putting the pedal to the metal against 118 other collegiate race teams.
"I really enjoyed the environment and the group of people," Goldman, a member of Parks Racing for the past three years, said. "It's fun to show up each week and have fun building a race car. I felt cool being a freshman and having important jobs from the beginning."
"It is incredible to see how decisions at the very beginning impact every step of the design and building process," he continued. "It's also so amazing to see the car slowly take shape each week and how our time and effort is physically advancing us toward the goal of a finished car that will race."
Real World Skills Including and Beyond Welding
For Bullard and Goldman, the chance to get their hands dirty and to learn skills as part of a community drew them both to the world of race cars.
Learn How a Race Car Drove Jacob's College Quest
"Parks Racing has influenced my growth as a person in that it has given me an outlet to explore what I am truly passionate about and expand my repertoire of skills," Bullard said. Through the club, he met a judge at a race and asked for his contact information. The ask led to an internship Bullard will undertake this summer at Hendrickson, an industry leader in semi-truck suspension.
"These are skills that I can use in both my professional and personal life for years to come as I continue developing my skills while also using the skills I have already learned," Bullard continued.
For Goldman, beyond learning how to create car components, being part of the club has taught him the value of time management and working collaboratively as part of a team.
"It has made me realize that I want to be a leader," Goldman explained. "The feeling I get from seeing a group of people collectively contribute to a larger project and have the product work as everyone expected is truly inspiring."
Want to Join the Parks Pit Crew?
---
Founded in 1818, Saint Louis University is one of the nation's oldest and most prestigious Catholic institutions. Rooted in Jesuit values and its pioneering history as the first university west of the Mississippi River, SLU offers nearly 13,000 students a rigorous, transformative education of the whole person. At the core of the University's diverse community of scholars is SLU's service-focused mission, which challenges and prepares students to make the world a better, more just place.
Written and photographed by Amelia Flood, University Marketing and Communications. Additional photos courtesy of Parks Racing FSAE Club.