New Billikens Welcomed at Convocation
by Joe Barker on 08/21/2021
The newest Billikens and their families filed into Chaifetz Arena Saturday morning for the 2021 New Student Convocation and Family Welcome.
Convocation, the traditional and official welcome for new students entering the University, returned to an in-person event after being virtual last year because of COVID-19 restrictions.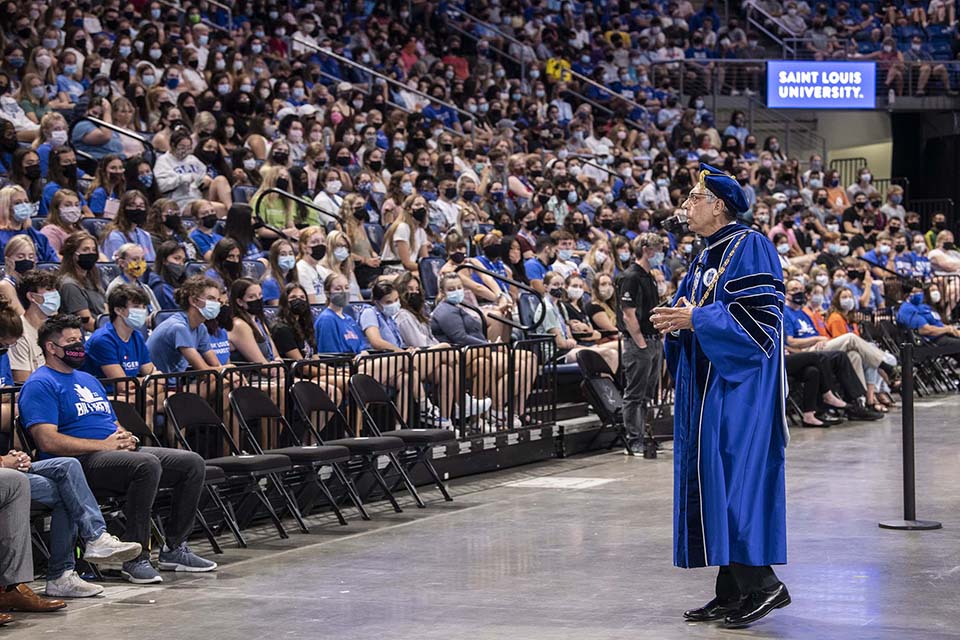 President Fred P. Pestello, Ph.D. speaks to the crowd at convocation Saturday, Aug. 21, at Chaifetz Arena. Photo by Steve Dolan.
The return to Chaifetz was a welcome one. President Fred P. Pestello, Ph.D., told the crowd how last year he addressed a camera in a room full of about 20 people. This year there was a much larger crowd listening to Pestello in person and ready to start their journey at SLU.
"I love the University," he said. "I love, particularly, the events. The pageantry, the costumes, the gatherings — they're special. Of all of them, this is my favorite. This is my favorite because with this event every year we get to welcome into our community new members. People who will be forever part of our story and our history."
Pestello told the crowd about SLU's successful 2020-21 academic year in the face of the COVID-19 pandemic. The University completed the year without ever having to suspend its commitment to mostly in-person classes, entirely in-person labs and on-campus living. Pestello credited everyone at SLU for making that happen.
"Community is at the heart of what we are about," he said.
Pestello told the students that over the next few years they would have chances to experience and learn so much before they return to Chaifetz Arena for commencement. He encouraged them to take advantage of every single opportunity both on campus and off.
"This is amazing, this opportunity you have," he said. "The question is, what are you going to make of it? That's the most important thing. You need to engage, take advantage of it."
Seizing opportunities was a theme of the ceremony. Provost Michael Lewis, Ph.D., said students will never have another chance at an experience quite like this.
Lewis said the goal at SLU is to not merely acquire knowledge, but to generate knowledge. He reflected on his time as an instructor when students would lament test questions featuring problems that hadn't been discussed previously. Lewis said that was the point of the test.
"You are here to learn the concepts of your chosen area of study so well that you can apply those concepts to problems you have never seen before," he said. "I've told students countless times I cannot imagine wishing on them a future where they work on problems other people have already solved. Life is most rewarding when you are using your God-given talents to work on solutions to the world's unsolved problems."
Senior Nandini Fonseca, president of the Student Government Association (SGA), expressed the fears she felt years ago when she was sitting in the stands at convocation. She worried she had made the wrong choice and was scared. After a few years on campus, she said attending SLU was one of the best decisions she could make.
"This is not an easy journey," Fonseca said. "There will be trying moments and uncomfortable situations. Luckily, none of us are alone. Take a moment to look around. We are all here, together, as Billikens. And if you look behind me, there are many more people, resources and support to empower us."
Fonseca encouraged all the students to be active at SLU.
"Join a club," she said. "Meet the person next to you in class. Ask for help. Go to the office hours. Lean on your new Billiken family. In all that you do — lead with love."
Christine E. Rollins, J.D., director of legal research and writing and professor in the School of Law, delivered convocation's faculty address. She also shared her story of choosing SLU, first as a student in 1993 and then when she joined the faculty in 2002.
She pointed out she was not the only person in her family to attend Saint Louis University. Two daughters also both chose SLU, despite, she joked, that having a mother on the faculty was not a selling point. Both chose SLU because of what it offered, she said.
The act of picking SLU out of all the other options is something that connected everyone in the crowd, Rollins said.
"Students, you have chosen SLU," she said. "You each have chosen SLU. This means that whatever happens over the next four years, you have at least one thing in common with every other person on campus."
Rollins noted that there will be times when students struggle to find common ground. There will be challenges and critical dialogue, she said.
"If we can keep in mind that we each chose SLU, then we can start from this common thing that drew us here," she said.
David Suwalsky, S.J., Ph.D., closed the ceremony with a missioning statement as students begin their lives at SLU. He reminded the students that they are special.
"Whether in a classroom or lab or in the library or catching some downtime in a hammock, we know that we are not alone," he said. "No, we are a part of a community of faith and learning that seeks to discover the face of God in the faces of all we encounter."
Following convocation, students and their families took part in the Family Farewell and other scheduled Fall Welcome events.
Freshman Class Facts
This year's freshman class is anticipated to be the second-largest in University history — trailing only 2019's record class. Approximately 1,800 first-year students are expected to enroll.
The class of 2025 has an average GPA of 3.92.
Members of the class of 2025 come from 46 American states and provinces. The top five states outside of Missouri represented are Illinois, Wisconsin, California, Ohio and Nebraska.
Members of SLU's freshman class hail from 27 countries, including India, China, Vietnam, Mexico and Nigeria.
The most popular majors for members of the class of 2025 are biology, nursing, exercise science, health sciences, psychology, biochemistry and "still deciding" on a major.
95% of the incoming freshman class has either a general sense of or a clear idea of their career goal after graduation.
64% of the incoming class plans to attend graduate school immediately following graduation from SLU.
61% of students attended a campus visit, virtual tour or virtual admitted student before enrolling at SLU.
Over 87% of students indicated that a major reason for choosing SLU was because of a very good or good sense of fit with the University's academic and intellectual culture and climate.
Over 85% of students indicated that a major reason for choosing SLU was because of a very good or good sense of fit with the University's social environment.
One-third of the incoming freshman class intends to pursue a career involving health sciences and related professions.