May 2020 Graduates Recognized at Commencement Ceremony
by Joe Barker on 08/07/2021
It took a little longer than expected, but Saint Louis University's May 2020 graduates finally got to celebrate their commencement.
On Aug. 7, more than 600 graduates returned to the St. Louis campus for a unique chance to take part in a ceremony that was supposed to take place 15 months ago but had to be postponed because of the COVID-19 pandemic.
When it became clear that SLU would not be able to hold an in-person ceremony late last year, the University surveyed members of the Class of 2020, who selected the weekend of Aug. 6-8 for their special celebration.
For the ceremony, all graduates wore masks in addition to the traditional caps and gowns. Family members, also in masks, filled the seats in Chaifetz Arena for a chance to officially salute the graduates in person.
"It is an honor to finally be with you and your loved ones to finally celebrate your achievements," University President Fred P. Pestello, Ph.D., said. "This gathering is long overdue. The pain and disruption of the past 18 months have been like no other in our lifetimes, and you have had to adjust to all of it, including a commencement that comes more than a year after you formally graduated, but we are all here this morning, and it feels really good."
Pestello praised the graduates for their ability to handle the challenges of completing their SLU education during a pandemic. He also thanked the graduates for coming back long after they had formally left. He said students should feel comfortable coming back at any time.
"You will always have a home at Saint Louis University," he said.
Living Well, Living With Purpose
SLU alumna Tiffany Anderson, Ph.D. (Ed '94, Grad Ed '01), no stranger to graduation ceremonies after a long career in education, delivered the commencement address to the graduates. During her speech, she praised SLU and Pestello for not forgetting about the May 2020 graduates.
"I am so proud of a university that would make sure that our 2020 graduates can come back and be celebrated," Anderson said.
Anderson shared the story of her time on campus in 1993 when she met her husband, the late Dr. Stanley Anderson. Both were students at SLU, but hadn't met. Tiffany Anderson said that one day she was joking with friends and said she was going off to find a husband. She ran into Stanley Anderson and, six months later, the two were married.
Anderson asked the crowd how many of the graduates had, like her, met their significant other at SLU. A number of hands were raised among the graduates.
"Look at that, see, SLU provides more than just a great education, Dr. Pestello," she said.
After leaving SLU, Anderson found her purpose working in education. She earned national acclaim for leading a dramatic turnaround of the Jennings School District, a predominantly African American school system in suburban St. Louis that was on the verge of becoming unaccredited when she became superintendent in 2012.
Under Anderson's direction, the district made significant academic changes, started a Saturday school, and launched a college-prep program. It also opened a food pantry; established a homeless shelter; opened a free medical and mental health clinic for students; and installed washers and dryers in schools that students used in exchange for providing community service.
The changes resulted in the Jennings district becoming fully accredited by the state of Missouri. Student attendance and graduation rates increased as well. She now serves in the same role as the first African American female superintendent of Topeka Public Schools.
Anderson credited her husband, who became a pioneering OB-GYN before his death in 2017, with helping guide her. The Andersons, along with their two children, tried to live based on the Jesuit values they learned at SLU.
"We knew that our purpose was focused on faith and service," she said. "We focused on living well, living on purpose."
Anderson challenged the graduates to live their lives the same way.
"I'm counting on you Billikens to live well," she said. "I'm counting on you to live with that Jesuit mission. I'm counting on you to live with purpose."
Honorary Degree Recipients
In addition to delivering a commencement address to May 2020 graduates, Anderson joined several others in receiving honorary doctoral degrees from Saint Louis University.
The Most Rev. Robert J. Carlson
St. Louis Archbishop Emeritus Robert J. Carlson, who was unable to attend the ceremony, received an honorary doctorate of divinity for his contributions to the growth and vitality of all the dioceses he has served, for his support of Catholic education and his commitment to St. Louis and its citizens.
A native of Minnesota, Carlson was ordained to the priesthood in 1970 for the Archdiocese of St. Paul and Minneapolis. He went on to receive a master's degree in divinity from St. Paul Seminary in 1976 and a licentiate in canon law from the Catholic University of America in 1979.
Carlson was ordained as an auxiliary bishop for his home archdiocese in 1984, after which he was named bishop of the Diocese of Sioux Falls, South Dakota. In 2005, he was installed as bishop of Saginaw, Michigan, and in 2009, as archbishop of St. Louis, retiring in 2020.
Throughout his tenure in St. Louis, he enjoyed a special relationship with Saint Louis University. He presided over SLU's bicentennial Mass under the Gateway Arch in September 2017, and he spoke at numerous SLU events, including delivering benediction prayers at SLU's 2010 commencement and at the October 2014 inauguration of Pestello.
A passionate advocate for Catholic education, Carlson saw to completion a capital campaign started by his predecessor that raised $61 million for Kenrick-Glennon Seminary in Shrewsbury, Missouri, where most St. Louis priests are educated. In 2015, Carlson established the Peace and Justice Commission in St. Louis to address racism following the 2014 police shooting of Michael Brown in Ferguson, Missouri.
Carlson has received numerous awards, including the 2017 National Catholic Educational Association's Seton Award for his lifetime commitment, support and service to Catholic education.
The St. Louis Jesuits
The St. Louis Jesuits, Bob Dufford, S.J. (A&S '67, Grad '72, '75), John Foley, S.J. (A&S '68, Grad '68, '74), Tim Manion (A&S '76), Robert "Roc" O'Connor, S.J. (A&S '73), and Dan Schutte (A&S '72) received honorary doctorates of music for offering hope, inspiring worship and raising voices.
The five men began by composing songs for Mass in the chapel at Saint Louis University's Fusz Memorial Hall more than 50 years ago. The group blended poetry, chant, classical music, Broadway show tunes, folk songs and rock 'n' roll to compose songs anyone could sing. The music drew a crowd.
Eventually, the St. Louis Jesuits, as they became known, were invited to sing at St. Francis Xavier College Church. The St. Louis Jesuits' first collection of liturgical music, Neither Silver Nor Gold (1974), contained nearly 60 songs and sold millions. Between 1975 and 1986, the St. Louis Jesuits recorded several more albums, including their most popular, Earthen Vessels. Liturgical pieces such as "This Alone," "City of God," "One Bread, One Body" and "Be Not Afraid," became staples of contemporary worship. Their music appears in the missals and hymnals used in most of the nation's 19,000 Catholic parishes and numerous Protestant churches.
Music and songs composed by Schutte, Dufford, Foley, Manion and O'Connor, together with the late John Kavanaugh, S.J., have been translated into a dozen languages. Performers sang their music at President Ronald Reagan's funeral and President Bill Clinton's inauguration. Though they do not tour, the St. Louis Jesuits have reunited several times for special events. They led the SLU family in song at the University's bicentennial finale celebration at Chaifetz Arena in 2018, and they performed before a sold-out crowd at Powell Symphony Hall in 2019.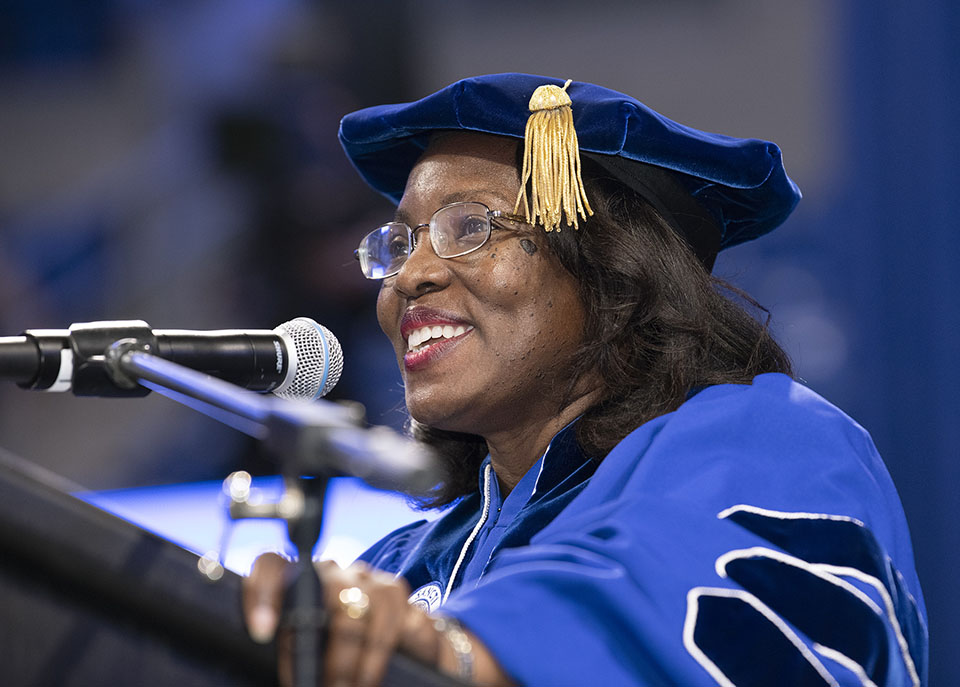 Saint Louis University alumna Dr. Tiffany Anderson was the speaker for the commencement ceremony Saturday, Aug. 7, 2021, at Chaifetz Arena. Photo by Steve Dolan.
Pestello closed out the ceremony by congratulating the graduates. He reminded everyone they are now "members of the Billiken family forever."