Mary Bruemmer, 1920-2021
Mary A. Bruemmer, a beloved figure at Saint Louis University who served SLU for 65 years as a longtime administrator and full-time volunteer, died on Dec. 23, 2021. She was 101.
"My heart is heavy with this loss," noted University President Fred P. Pestello, Ph.D., in sharing news of Miss Bruemmer's passing with the SLU family. "My soul is rich with the gifts she bestowed on our University. And on Fran and me. Gifts of incredible intellect and perspective, values and mission. And delightful humor. Mary personified the best and finest of Saint Louis University."
Miss Bruemmer was born on Feb. 26, 1920, in Madison, Illinois, to Ignatius G. and Adele Bruemmer. After graduating from Madison High School, she enrolled at SLU in 1938 at a time when fewer than 5% of SLU's students were female. She later became the first female editor of SLU's student newspaper and yearbook.
Miss Bruemmer earned her bachelor's degree in education and history with a minor in English from SLU in 1942. The University offered her a job as its first dean of women, but feeling the need for more life experience, she turned the job down.
Miss Bruemmer spent the next 13 years in a variety of mission-oriented roles. With the Red Cross, she provided job training to veterans. With the Diocese of Springfield in Illinois, she established Catholic Youth Organizations (CYOs) in 10 parishes. And with the United Way in Springfield, she promoted the work of local non-profits as the organization's director of public relations.
Miss Bruemmer returned to SLU in 1956, and she turned down the University's second offer to become dean of women. Instead, she agreed to become the director of the University's first official residence hall for women, Marguerite Hall.
In 1960, Miss Bruemmer became director of women's housing at the University. She also earned a master's degree in education from SLU. Seven years later, she finally said yes when the University asked her to become dean of women for the third time.
In 1972, the University streamlined the leadership of the student affairs division from three deans to one, with Miss Bruemmer at the helm as SLU's first dean of students. In that same year, she led efforts to open Oriflamme to women, and she would go on to advise the student orientation organization for nearly 20 years.
Miss Bruemmer served as dean of students until 1985, when she moved to the development division to support alumni engagement and fundraising. She officially retired from the University in 1990, but continued to come to SLU daily for the next 26 years as a full-time volunteer for the Women's Commission, a group she founded, as well as the Women's Council and the Jesuit honor society Alpha Sigma Nu. She retired from SLU for a second time in 2016.
During her 34 years as a University administrator and 26 years as a SLU volunteer, Miss Bruemmer earned numerous honors and awards. In 1977, she was named SLU's first Woman of the Year. Three years later, the Student Government Association created the Mary A. Bruemmer Award to recognize a member of the SLU community who made a lasting impact and exemplified dedication to advancing the student experience.
In 1990, Miss Bruemmer received the inaugural Fleur de Lis Award from SLU, and 10 years later, the University celebrated her many contributions with an honorary doctorate of humanities. A devout Catholic, Miss Bruemmer was awarded a papal knighthood in 2016, becoming Dame Commander of the Order of Saint Sylvester, Pope and Martyr.
A memorial Mass will be held on Saturday, Feb. 26, which would have been Miss Bruemmer's 102nd birthday. The Mass begins at 10:30 a.m. in St. Francis Xavier College Church, 3628 Lindell Blvd.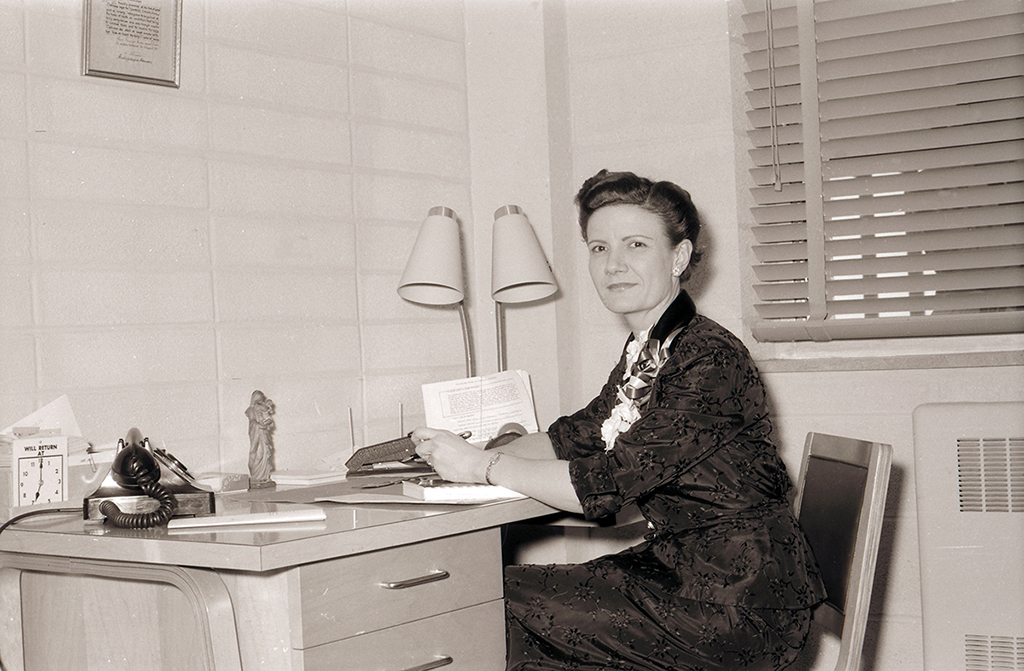 Mary Bruemmer sits at her desk in this photo from 1956, the year she joined SLU's staff.