Graduates Recognized at Midyear Commencement Ceremony
by Joe Barker on 12/18/2021
12/18/2021
Following a pandemic-caused cancellation in 2020, the Midyear Commencement Ceremony at Saint Louis University made its return Saturday morning.
More than 200 graduates walked across the stage inside Chaifetz Arena and joined the ranks of SLU alumni. The newest graduates were saluted in front of family, friends, staff and faculty.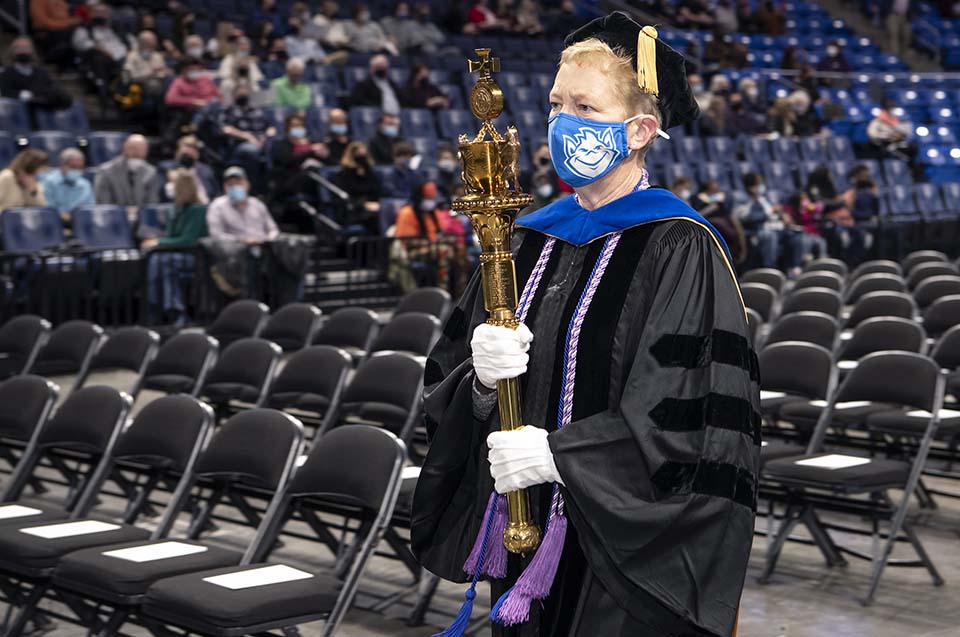 Geralyn Meyer, Ph.D., a professor in the Trudy Busch Valentine School of Nursing and the 2020 Nancy McNeir Ring Award winner served as the mace bearer for the 2021 Midyear Commencement Ceremony. Photo by Steve Dolan.
President Fred P. Pestello, Ph.D., congratulated the newest graduates during his salutation speech.
"Today you join over two centuries of Billiken graduates," Pestello said. "I am proud of you and all that you have achieved despite the hardships of the pandemic since March 2020. You have persevered. . . . Be proud of all the hard work and sacrifice you have endured to get to this place," he said.
As they leave SLU to start on the next stage in their journeys, Pestello told the graduates that they would likely be asked to explain the unique mascot of their new alma mater.
"The Billiken looks like all of us and acts like all of you," he said. "As Billikens, you symbolize the hope that it is possible to make the world the way it ought to be. . . . So, make things the way they ought to be and when they ask what a Billiken looks like, you show them."
Following Pestello's remarks, Christina Garcia, Ph.D., assistant professor of Spanish, delivered the commencement address. Garcia is the 2021 recipient of the Nancy McNeir Ring Award — SLU's highest honor for teaching.
Garcia came to SLU at the start of the fall 2015 semester. Upon being honored with the Nancy McNeir Ring Award, she said she reflected on her journey at SLU.
"Six years ago, I was excited to come to SLU because of how much students seemed to care about each other and the community, and let me tell you, you have not let me down," Garcia said.
The Nancy McNeir Ring award honors educators who go above and beyond for students. Garcia said she was inspired by the way students behave and treat one another.
"In my time at SLU, I have witnessed you going above and beyond for each other in countless ways," she said. " I have seen students going out of their way to check on classmates when they are not in class, dropping everything to help a friend when they are in crisis, and have been amazed by the activism of many student groups to ensure everyone at Saint Louis University feels welcomed and that they have a place here. Inside and outside of the classroom, you listen to each other with the utmost sincerity and respect, taking time to understand your peers even when their views may differ from your own."
Garcia highlighted supportive notes, conversations and emails to faculty and staff as an example of the kindness of SLU students. She also noted the pre-pandemic volunteer work students were involved in like Campus Kitchen and Make a Difference Day. Even despite the pandemic challenges, Garcia said students kept working, volunteering and looking out for each other and others.
"Simply put, I am impressed and inspired by you," she said.
Garcia said she hoped the new graduates remember the reason they chose to attend SLU in the first place. She also hoped graduates would not be afraid to keep learning and growing outside of their comfort zone. And she encouraged the new graduates to not be afraid to pursue their dreams.
"You are enough," she said. "It is not luck or chance that got you to where you are sitting today. You have proven that you are incredibly resilient and have what it takes to graduate, and you can build upon your talents and abilities in the future to achieve whatever goals you strive to reach. Keep in mind that success looks different for everyone, and ultimately only you can decide what makes you feel successful and fulfilled."
Pestello closed the ceremony congratulating the graduates one last time and reminding them they are forever sons and daughters of Saint Louis University.
This year's midyear-celebration followed the University's COVID-19 safeguards that have allowed SLU to remain open continuously since fall 2020, including a new requirement that attendees at external events must show proof of being fully vaccinated or proof of a negative COVID-19 test.
About Saint Louis University
Founded in 1818, Saint Louis University is one of the nation's oldest and most prestigious Catholic institutions. Rooted in Jesuit values and its pioneering history as the first university west of the Mississippi River, SLU offers more than 13,500 students a rigorous, transformative education of the whole person. At the core of the University's diverse community of scholars is SLU's service-focused mission, which challenges and prepares students to make the world a better, more just place.