Jonathan Smith Remembered at Memorial Service
by Joe Barker on 06/30/2021
Family, friends and members of the Saint Louis University community said farewell to Jonathan C. Smith, Ph.D., Wednesday morning in Chaifetz Arena. Smith, SLU's vice president for diversity and community engagement, died suddenly on June 19, 2021, at the age of 61 following a recent stroke.
Smith was remembered as a loving husband and father, a leader, a mentor, a musician, a friend and more. A common theme among all the speakers was painting Smith as a passionate man who touched many lives.
During the service, President Fred P. Pestello, Ph.D, announced the amphitheater at Lipic Clock Tower Plaza will be named after Smith. A ceremony to dedicate the naming is being planned for later in the fall after students have returned to campus.
Pestello said the honor was fitting because the amphitheater was a place Smith felt at home. During 2014, protesters occupied the Saint Louis University campus following the deaths of Michael Brown and VonDerrit Myers Jr. Pestello had just taken over as University president months before and called the occupation the most challenging moment of his career.
The occupation ended with the agreement of the Clock Tower Accords. Pestello recalled, after the agreement was reached, it looked like the occupation wasn't going to end as planned. He met with the protesters and watched them seek advice from Smith. He said Smith was a man "who could say the right thing at the right time." With Smith's assistance, the occupation ended as scheduled.
"Jonathan has always been where we needed him, when we needed him, doing what needed to be done," Pestello said.
We have to continue to be the Billiken he was; to make the world the way it ought to be. We owe his memory nothing less."

Fred P. Pestello, Ph.D.
The amphitheater also was where Smith made an appearance in April. Following the conviction of Minnesota police officer Derek Chauvin in the death of George Floyd, a prayer vigil was scheduled. For many in the University, it was the first time gathering since the beginning of the COVID-19 pandemic.
David Suwalsky, S.J., vice president for mission and identity, remembered Smith speaking from the heart and delivering a powerful message. Afterward Smith and others shared laughs after months apart. Before leaving, Suwalsky said he received "one of those great big bear hugs that Jonathan was rightfully known for."
The famous hugs were brought up by friends, family and colleagues. His daughter, Lauren Ashley Smith, fondly remembered the big hugs and outpouring of love from her father. She spoke of messages of affirmation and affection that he would just send out of the blue. She called him a "full-service, one-of-a-kind" dad who cherished his wife, Rochelle, and daughters Lauren, Rachel and Mariah.
"I will forever miss my father, but I will never lack my father because he gave us everything," she said. "You could not have done a single thing better."
His brothers also shared fond memories of the man they called Cedric, Smith's middle name. They described a man of deep faith who always looked out for his family.
Pestello told the crowd about the meaning of SLU's mascot, the Billiken. The Billiken is a mythical figure known as "The God of Things as They Ought to Be." Pestello said Smith, who advocated for equity and inclusion, was "as much of a Billiken as as anyone I knew."
"We have to continue to be the Billiken he was; to make the world the way it ought to be," Pestello said. "We owe his memory nothing less."
Jacques Smith said his brother loved SLU and loved being a Billiken. He said the community can continue to learn from Dr. Smith.
"School is still in session," he said.
Jacques Smith encouraged attendees to follow his brother's footsteps and keep learning. He said there might have been references and comments mentioned at the service that may be unfamiliar to some. Instead of ignoring it, he said attendees should start a dialogue with people, learn more and find a common ground.
Among his siblings, Jonathan was known as the least athletic, Jacques Smith said. He took that as a challenge and, at age 50, ran a marathon. And then another.
Jacques Smith said because of this, he'd thought of his brother as a marathoner. Once he passed too soon, however, he saw Jonathan as a sprinter who gave it his all during his life. He told the attendees the race was far from over and Jonathan was just passing the baton and it was up to everyone to keep fighting for equity and inclusion and all of the things his brother was passionate about.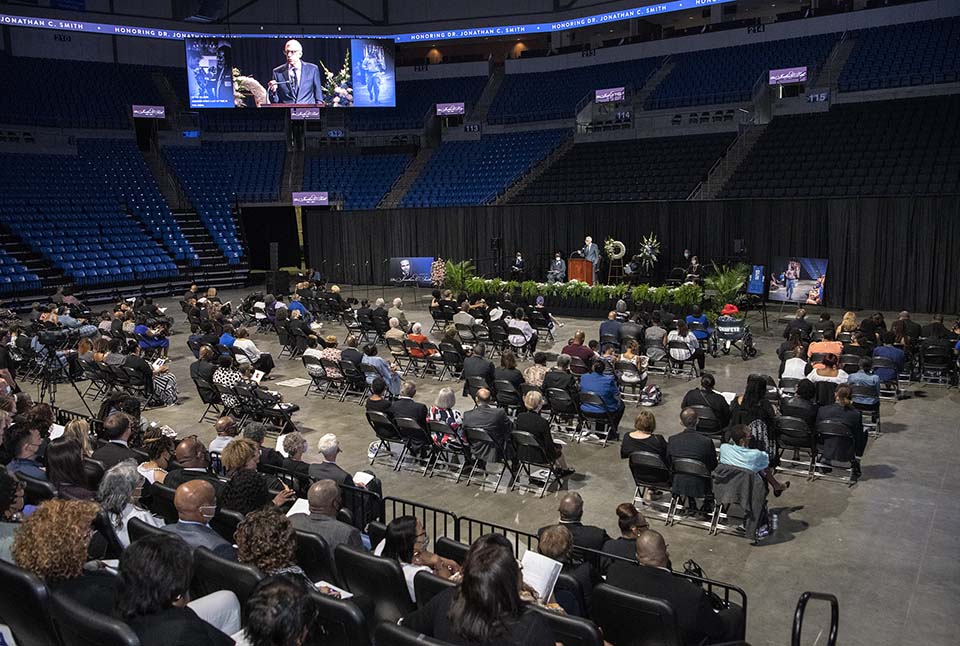 A memorial service for Jonathan C. Smith, Ph.D., was held Wednesday, June 30, at Chaifetz Arena. Photo by Steve Dolan.
The service included music from the Smith Family Singers (Heather, Austin, Amber, Avery and Amaris Smith) accompanied by Shedrick Mitchell. Jonathan Smith's God son, David Johnson, put together a tribute video for the event.
A recording of the ceremony can be found on a memorial page set up in Smith's memory.