SLU Dedicates Clock Tower Amphitheater in Memory of Late University Leader Jonathan Smith
On Oct. 25, Saint Louis University formally dedicated the amphitheater near its iconic clock tower to honor the legacy of Jonathan Smith, Ph.D., SLU's inaugural vice president for diversity and community engagement who passed away suddenly on June 19 — Juneteenth — following a stroke.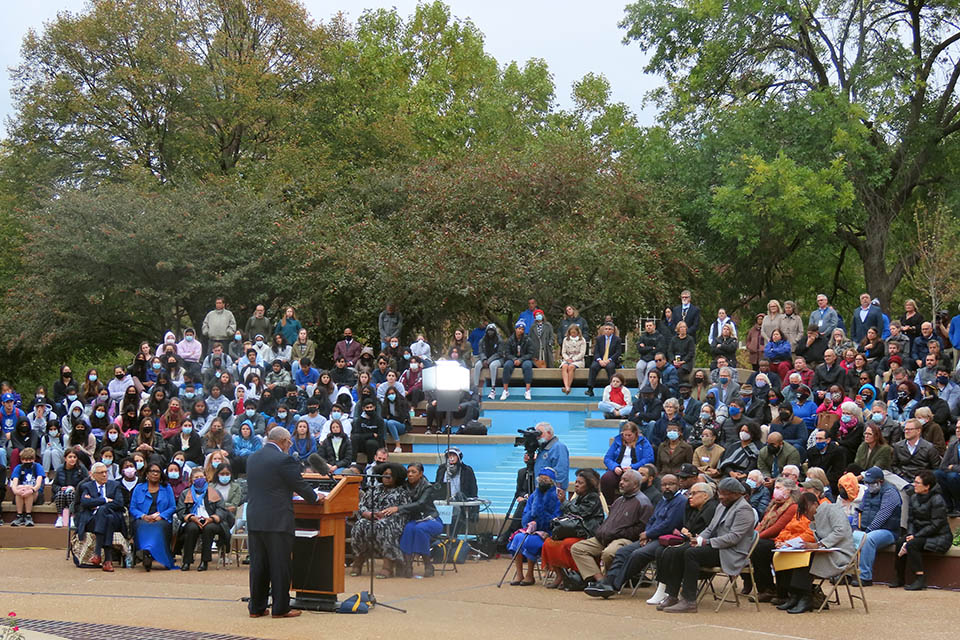 A large crowd attended the Dr. Jonathan C. Smith Amphitheater dedication ceremony Monday, Oct. 25. Photo by Joe Barker.
More than 200 students, colleagues, friends and members of Smith's family gathered at the amphitheater, a community gathering place that has served as a focal point on SLU's north campus for student events, for prayer services and candlelight vigils, and — perhaps most notably — for teach-ins during Occupy SLU in 2014.
During the dedication, the University unveiled a commemorative plaque installed in Smith's memory at the amphitheater, which recently was enhanced with landscape improvements that include additional spaces for students to study, talk and collaborate.
Tina (Sweet-T) Pihl, alderwoman of the city's 17th Ward, which includes portions of SLU's campus, also was on hand to present Smith's family with an official resolution from the St. Louis Board of Aldermen recognizing his numerous contributions and achievements.
View the Board of Aldermen resolution
Reflections and Tributes
Speakers at the dedication — several of them fighting back tears — reflected on the impact Smith had on their lives and why naming the amphitheater at the clock tower was a fitting tribute to his service and leadership at SLU for nearly two decades.
Fred P. Pestello, Ph.D., president of Saint Louis University
"This is the place where we gather to pray, to talk, to teach. This is the place where we process social justice. This space is well known in this community and among our alumni. And this was the space where Jonathan could be found at any of (SLU's) critical moments. Those of us who are here will never forget the association between Jonathan and this space, but for future generations, this dedication and the plaque we'll unveil will remind them of this man and what he did for our institution and the inspiration he provided all of us."
Kira Banks, Ph.D., associate professor of psychology and co-founder of SLU's Institute for Healing Justice and Equity
"This amphitheater being dedicated in his name is a beautiful expression of his love — the gathering that will happen here, the meeting of the minds, the performances, the creative brainstorms, the visioning sessions, the expressions of love, activism, protest. All of that, and more, represent how expansive Jonathan was. May this space be a manifestation, a representation, a reflection, of the love that we have for Jonathan and the love he wanted us to act on with one another and in community."
Nandini Fonseca, president of SLU's Student Government Association
"(Dr. Smith) was a father figure to many of us and a friend to all of us. To know him was an honor. To learn from him was a privilege. And to hear his laughter was a joy. To the Smith family: Thank you for sharing such a beautiful person with us. Please know this amphitheater has been dedicated in his name, but his legacy will continue to live on with each one of us."
Darryl Jones ('77), University trustee
"Let this be a gathering place for social justice. A gathering place for love and hope. A gathering place to embrace the spirit of St. Ignatius — men and women for others. A gathering place for the exchanging of ideas that will lead to meaningful solutions for a changing world. And a gathering place to continue the legacy of Dr. Jonathan Smith."
Rochelle Smith, Jonathan Smith's wife.
"This particular place where we stand on campus meant so much to him. It was his north star and a physical reminder of his mission. Here in this amphitheater — so graciously dedicated to him today — may students find rest and restoration. May you find courage to go on and go out, to reach across the lines that attempt to divide us and embrace others with love and compassion. May his memory be a blessing to all who visit."