School of Medicine Holds Annual White Coat Ceremony for Incoming Class of 2026
ST. LOUIS —The Saint Louis University School of Medicine welcomes the next generation of physicians at its annual White Coat Ceremony. The ceremony is the official start of first-year students' journey into the medical profession.
The ceremony took place Sunday, July 31, in St. Francis Xavier College Church.
During the ceremony, incoming School of Medicine students are cloaked in their first white coat as a symbol of the trust being bestowed upon them to carry on the honorable tradition of doctoring.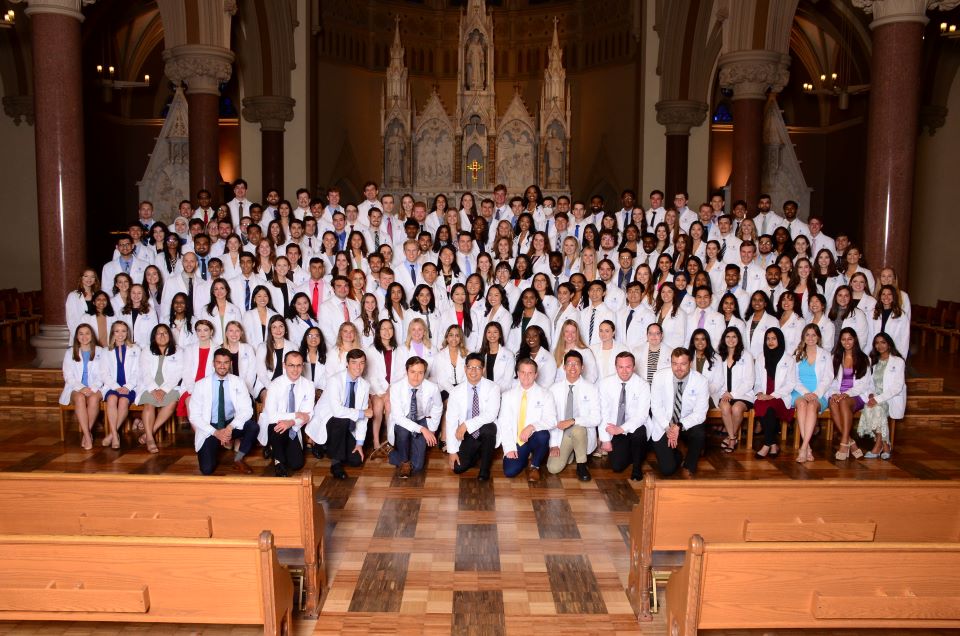 The Saint Louis University School of Medicine Class of 2026. Photo by Kyle Kabance.
Incoming Class of 2026
This year the School of Medicine received 7,246 applications. A total of 791 students were interviewed and 180 students matriculated.
The Class of 2026 is made up of 102 women and 78 men. The students come from all around the United States and the world. A total of 64 students are from Missouri, with another 41 from Illinois. Other states represented included California (16), Texas (7), Michigan (six), Wisconsin (four), Ohio (four), and Utah (four). Four students are international.
The age range for the Class of 2026 is 21 to 35. The average age is 23. The bulk of the class, 91 students, is age 22.
Eleven of the students are first-generation college graduates. Nine students have master's degrees, and one has a doctorate. One student is from the U.S. Naval Academy, and another is from the U.S. Marine Corps.
The students come to the School of Medicine from 82 undergraduate institutions. The class has medical scholars from SLU, St. Mary's, Rockhurst, and Drury.
More than 25 languages are spoken by the Class of 2026. A total of 73 percent of the students can communicate in at least one other language, with 27 students being fluent in one or more languages.
In total, the Class of 2026 has done 143,104 hours of research and 91,744 hours of service.
A Family Tradition of Service
Each student has a unique story about how they were led to dedicate their life to medicine. For Victoria Wittgen, inspiration began at home. The Boston College grad was cloaked by her grandfather Edward Wittgen Jr., M.D., (A&S '54, GRAD MED '58), and her mother, Catherine Wittgen, M.D., (A&S '81, GRAD MED '85).
Victoria Wittgen has aspired to become a doctor since she was 16 and knew then that SLU was where she wanted to be. At the time, she was an Ambulatory Care Unit and Post Anesthesia Care Unit volunteer at SSM Health Saint Louis University Hospital.
"The minute she got her acceptance letter from SLU, her face lit up," Catherine Wittgen said of her daughter. "She was so happy."
Victoria Wittgen was inspired by her family's impact on the medical field and dedication to the profession and the patients they served.
"I was at a mall checking out, and the cashier saw my name on my credit card. She asked, 'Do you know an Edward Wittgen?' I said, 'Yes, that's my grandpa!' She said, 'He saved my life when I was younger!'" Victoria Wittgen recalled of her grandfather.
Victoria Wittgen describes her mom as a female pioneer in her field. Catherine Wittgen, a professor in the Department of Surgery at SLU's School of Medicine, was the first female vascular fellow to train at Harvard. Catherine Wittgen is a SLUCare physician and president of the medical staff at SSM Health Saint Louis University Hospital.
"My grandfather and mother are who I aspire to be," Victoria Wittgen said.
M1 Orientation and White Coat Ceremony 2022
Saint Louis University School of Medicine
Established in 1836, Saint Louis University School of Medicine has the distinction of awarding the first medical degree west of the Mississippi River. The school educates physicians and biomedical scientists, conducts medical research, and provides health care on a local, national and international level. Research at the school seeks new cures and treatments in five key areas: cancer, liver disease, heart/lung disease, aging and brain disease, and infectious diseases.