University Mourns Loss of DPS Officer Henry Owens, 1967-2022
The Saint Louis University community this week is mourning the loss of widely beloved Department of Public Safety officer Henry Owens, who passed away at his home on Tuesday, March 1. He was 55.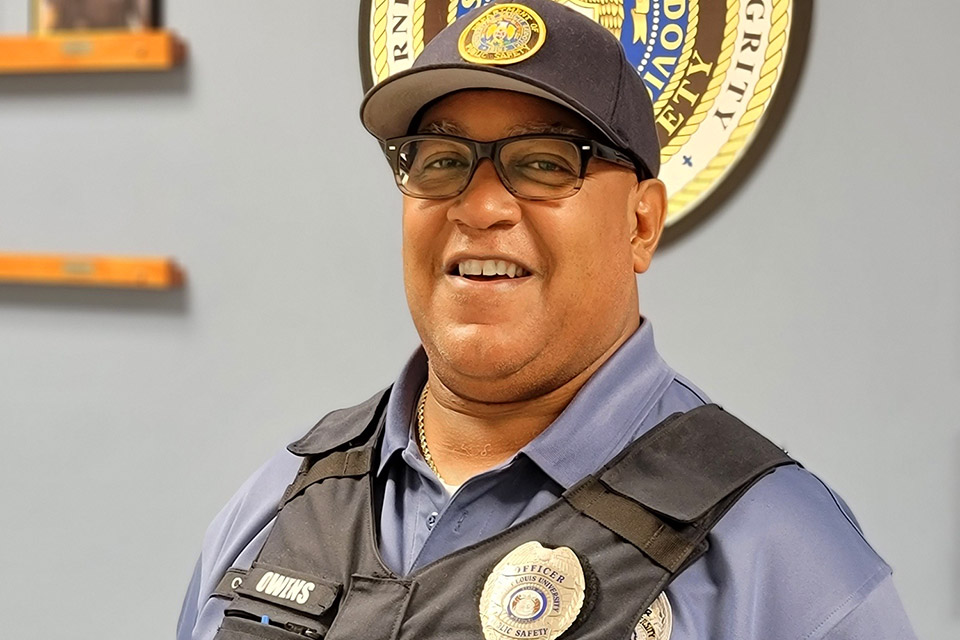 The SLU community is mourning the loss of beloved DPS officer Henry Owens.
Henry –– or "Big O" –– was the "Mayor of SLU," the heartbeat of his DPS shift and, by all accounts, a member of the SLU athletics family. He didn't shake hands, he gave hugs.
"Fran and I were very fond of Officer Owens," SLU President Fred P. Pestello, Ph.D., said. "He was always full of good cheer, and he brought an instant smile to all who met him. Everyone loved Henry. His passing leaves a hole in the Billiken community."
There was rarely, if ever, a basketball game in Chaifetz Arena where you wouldn't find Henry working during the more than 13 years he served as a DPS officer. Everyone from the basketball teams, the staff and the many, many Billiken fans grew to know and love Henry for his relentless willingness to make people smile.
"Since we learned about Officer Owens' passing, I have spent hours upon hours listening to stories from his brothers and sisters within DPS," Melinda Heikkinen, Assistant Vice President of Public Safety, said. "They paint a picture of a man who loved SLU fiercely. This loss leaves a remarkable hole in the hearts of our DPS staff, and an opportunity to celebrate the many gifts he gave us."
His standard, overnight shift didn't stop him from being a recognized face to many students.
"My mother and I met Officer Owens at Chaifetz Arena when I became a cheerleader in 2018," senior Cydney O'Bannon. "Ever since then, I have always stopped to talk to him whether I saw him walking around campus or on his way to Chaifetz. Whenever he attended our home basketball games, I always made sure to talk to him during half-time, when the basketball games were over and took pictures together. The time wasn't long enough, but it was enough that he made me laugh. He was like family and I will definitely miss him!"
His DPS colleagues recount endless examples of Henry's empathy, humor and selfless compassion toward everyone who comes to SLU's campuses.
"Henry was like a brother to me," DPS Officer Michael Summers said. "He came to my son's basketball games on a regular basis. Henry was always there for everyone and never blinked an eye to help someone. He was a true brother and friend who will be greatly missed."
The Billiken Athletics family welcomes you to join DPS and the Owens family to honor Henry's memory before tip-off at Saturday's basketball game.
Services are scheduled for Friday, March 11 at Second Missionary Baptist Church (5508 Rev Dr Earl Miller St.), starting with a wake from 9-10:55 a.m. and a funeral service at 11 a.m. Henry's family and friends have started a GoFundMe page to support funeral expenses.