Director of National Intelligence Visits SLU to Meet Students Interested in a Career in the Intelligence Field
ST. LOUIS ­– Director of National Intelligence Avril Haines visited Saint Louis University on Wednesday, Oct. 12, to hold a roundtable discussion with students interested in a career in the intelligence services.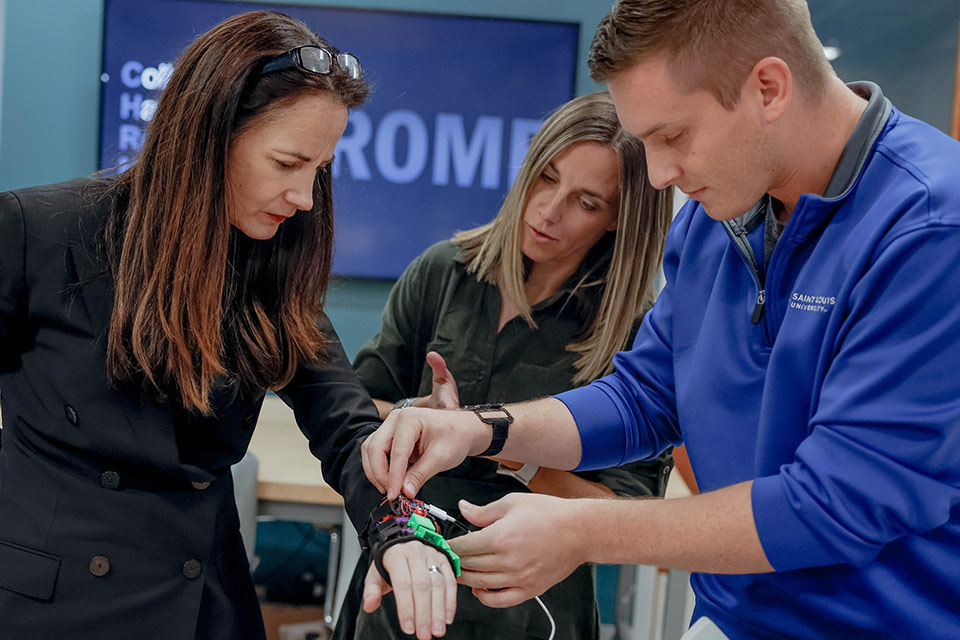 U.S. Director of National Intelligence Avril Haines, left, is fitted with a haptic wearable device by Bryan MacGavin, right, as CHROME Lab director Jenna Gorlewicz, Ph.D., looks on during a tour of the ISE Building in connection with a recently announced grant SLU received from the Office of the Director of National Intelligence. Photo by Sarah Conroy,
Her message to students was simple – the sky is the limit for those interested in working in the intelligence community.
"All walks of life are welcome," she said. "There is a wealth of opportunity in the intelligence community and everything here is a team sport. We don't do it alone."
The director was joined by Vice Admiral Frank D. Whitworth, director of the National Geospatial-Intelligence Agency. The pair, along with University President Fred P. Pestello, Ph.D., received a demonstration of a pro-tactile-inspired wearable haptic sleeve in SLU's Collaborative Haptics, Robotics, and Mechatronics (CHROME) Lab and learned about SLU's programs in geospatial science and its long collaboration with the NGA in the Taylor Geospatial Institute.
"It was an honor to host Director of National Intelligence Avril Haines on SLU's campus," said Pestello. "Her visit, along with Vice Admiral Whitworth, highlights the potential of collaboration between government and higher education. Together, we can accelerate innovation, develop a talented and diverse workforce, and ensure that geospatial advancements in St. Louis benefit our entire nation."
The student roundtable was led by Joe Lyons, Ph.D., director of the Security and Strategic Intelligence program in the School for Professional Studies. In September, Lyons was tapped to lead a new center at SLU dedicated to preparing students for professional positions in the 18 U.S. intelligence agencies.
SLU was designated a U.S. Intelligence Community Center for Academic Excellence (IC CAE) by the Office of the Director of National Intelligence (ODNI) on Sept. 14, 2022. The designation and $2.5 million in grant funding will support the design and development of intelligence-related STEM curricula and programmatic training opportunities to prepare students for careers in the field of intelligence.
Wednesday's roundtable included students in a variety of majors, from undergraduate to doctoral candidates. Students from Harris-Stowe State University, an IC CAE member institution with SLU, also participated.
The students ranged in majors from biology and foreign languages to engineering and geospatial sciences. Students from the School of Medicine and the School of Law also participated.
Bryan MacGavin, a doctoral candidate in mechanical engineering, participated in the roundtable after demonstrating the haptic sleeve in the CHROME Lab. He said he had always considered his career path to be in academics, but that hearing from Haines and Whitworth opened his eyes to working in intelligence.
"I do humanistic research that is led by adults in the deaf/blind community," he said. "To hear all the different ways our tactile-inspired technology could work in different ways was eye-opening."
Haines and Whitworth answered questions from students about how to enter the field as well as what they should study as they continue their education. Both said there are multiple paths to entry in government work and students should continue to learn and expand their knowledge base throughout their careers.
Haines initially joined the federal government as a civil servant more than 20 years ago and has worked in all three branches of government.
Haines was sworn in as the Director of National Intelligence on January 21, 2021. She is the first woman to lead the U.S. Intelligence Community. During the Obama administration, she served as Assistant to the President and Principal Deputy National Security Advisor from 2015-2017. From 2013-2015, Haines was the Deputy Director of the Central Intelligence Agency. She was the first woman to hold both positions.
Midwest-Intelligence Community Center for Academic Excellence
Haines' visit comes just one month after SLU's Midwest-Intelligence Community Center for Academic Excellence (MW-IC CAE) was announced by the Office of National Intelligence. SLU will lead a consortium of universities and colleges, including Harris-Stowe State University and Lincoln University, to recruit and educate talented, diverse students interested in careers in the intelligence and national security fields.
The Center allows University faculty, staff, students, and intelligence community members to work collaboratively to create rich, engaged learning and teaching experiences. The leadership team aims to increase student success, build vital IC partnerships, and bring individuals together to become members of an intellectually and demographically diverse, active learning community, preparing them for a career in the IC.
The IC CAE program was established in 2005 and is a highly competitive program designed to meet the demand for a diverse cadre of professionals to carry out national security priorities.
Saint Louis University
Founded in 1818, Saint Louis University is one of the nation's oldest and most prestigious Catholic institutions. Rooted in Jesuit values and its pioneering history as the first university west of the Mississippi River, SLU offers more than 13,500 students a rigorous, transformative education of the whole person. At the core of the University's diverse community of scholars is SLU's service-focused mission, which challenges and prepares students to make the world a better, more just place.