International Graduate Student Shares Story of How SLU Community Cared for Him
ST. LOUIS, MO – Saint Louis University graduate student Aniketh Vyas says the SLU community treated him like a part of a family, and he is eternally grateful for it.
Vyas lost part of his left leg due to a Jan. 24, 2022, accident on Interstate 64 that sent him, two St. Louis police officers and several others to the hospital with critical injuries.
He walked across the stage at Chaifetz Arena Friday during the School of Science and Engineering precommencement ceremony to receive his master's in computer science. Vyas completed the degree on time with the rest of his class.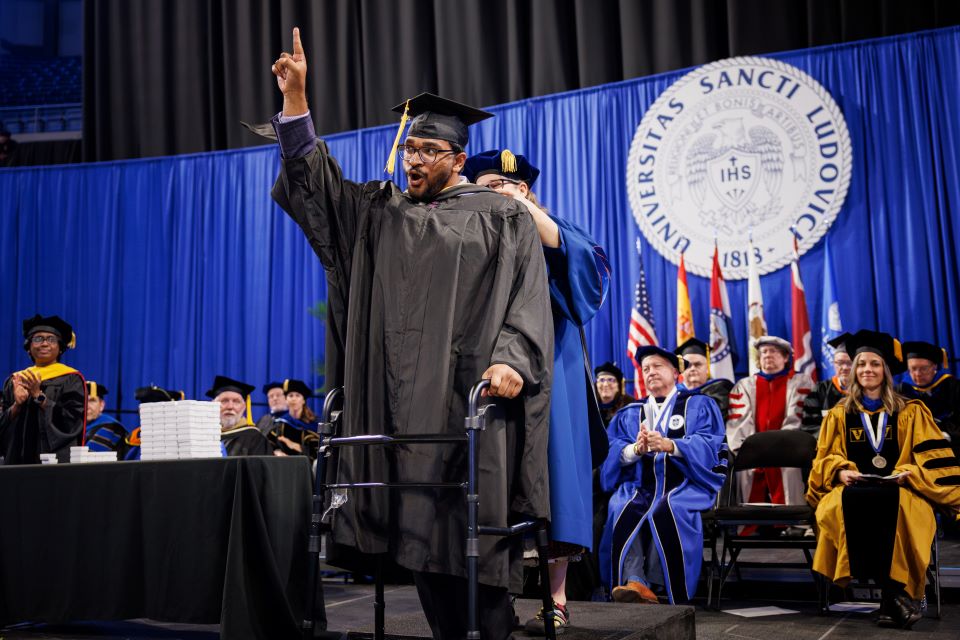 Aniketh Vyas celebrates during the School for Science and Engineering pre-commencement ceremony. Photo by Sarah Conroy.
"When the accident happened, the first person to respond was Dr. Pestello," Vyas said of SLU's President Fred P. Pestello, Ph.D. "He and some of the global graduate advisors and Eric Armbrecht (associate provost) came immediately, and they took it upon themselves to take care of me."
On Jan. 24 last year, Vyas was in a ride-share vehicle with other SLU students. The disabled vehicle was pulled off to the side of westbound I-64 with a police presence when another driver came barreling through the crash scene, striking the students and the officers.
"The driver was going 100 miles an hour and lost control of his vehicle," Vyas said.
Vyas was taken to SSM Health Saint Louis University Hospital, where doctors determined his injuries would require amputation of part of his left leg.
"SLU took on everything while I was in the hospital," Vyas said. "They took care of everything knowing that I didn't have parents here, and I drew strength and power from that."
Vyas said drawing strength from the supporters around him helped him get through the depression that followed the accident.
"I had to reevaluate my life," he said. "I liked to play games and to run around and travel. I didn't know right away what my life was going to be without both of my legs."
The trauma from the accident wasn't only his – Vyas was on Facetime with his sister telling her that he was okay after the first accident when the vehicle came crashing into the accident scene.
"They have shared this trauma with me," he said of his family. "They are a part of it, but they are also a part of my healing."
Healing came through tears and support from the community around him.
"I cried every night for months, but I knew I needed to come out of it," he said. "SLU went the extra mile with me."
Vyas said the support from the SLU community was ongoing throughout his recovery. University leaders helped find accommodating housing during his recovery and assisted with his prosthetic. They also worked with the hospital to ensure friends and family could visit.
Vyas said his friends brought him his assignments and would study together in his hospital room so he didn't fall behind.
"Aniketh demonstrated a remarkable resilience that inspired us all," said Flavio Esposito, Ph.D., assistant professor of computer science. "I had the privilege of witnessing Aniketh's commitment and dedication to his studies. In the aftermath of the accident, he refused to let circumstances hinder his academic pursuits. His determination is an example for all of us that often find excuses for why we cannot succeed."
After months of recovery, Vyas faced a setback. An infection sent him back to a hospital room for several weeks.
"He's been really strong," said friend and classmate Vamshikrishna Reddy Gantla. "He was almost recovered when that infection came and set him back again."
Gantla also received his master's on Friday and is one of the people Vyas credits with helping him get through the past 16 months. He also notes the importance of Kavya Sri Kurada, Devidath Namboori, Sujan Reddy Kandela, Sathwik Reddy and Aashi Pandey in his recovery process.
Vyas said he is looking forward to pursuing a career in computer science, and he credits his time at Saint Louis University for preparing him for the future.
"My mantra is never stop and keep smiling," he said. "You can adapt and keep going."