SLU Helps Students De-Stress Before Finals
05/07/2019
As Saint Louis University wrapped another academic year, students beat their finals stress by sampling tasty ice cream treats, spending time with equine and canine therapists and by taking their shots at dunking deans.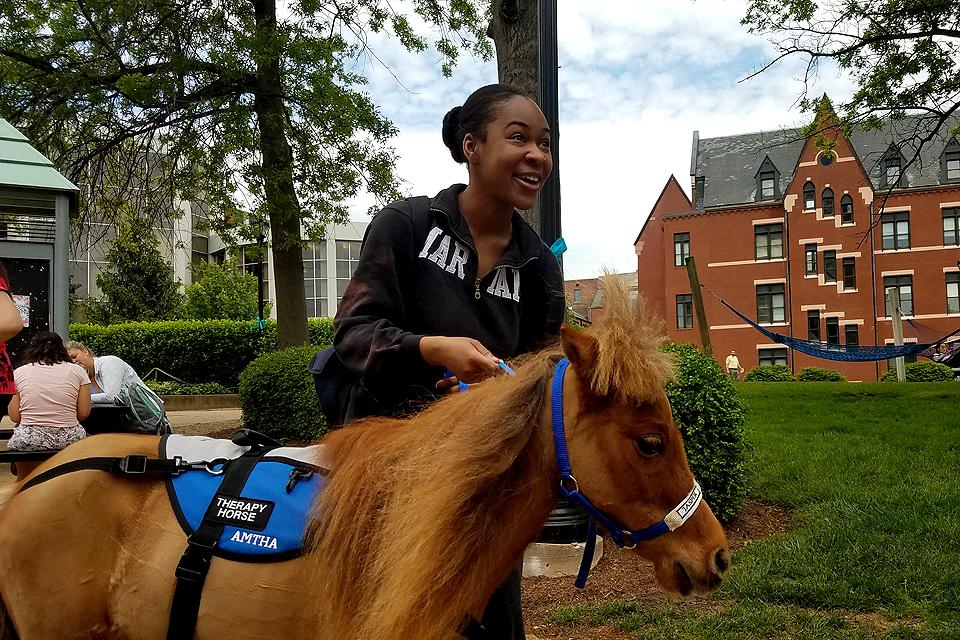 Equine therapists from Heartland Mini-Hoofs were on campus Monday, May 6, as part of "De-Stress with DPS," co-sponsored by the Departments of Public Safety and Campus Wellness and Recreation. Photo by Joe Taylor
All of the activities were planned to help SLU's Billikens keep calm and carry on through finals.
Stress-busting events kicked off with the Department of Campus Recreation and Wellness's "De-Stress Fest," on Thursday, May 2. Students relaxed with friends, took in movies and channeled their nervous energy into creating paintings. Others took advantage of free massages, henna tattooing and yoga during "De-Stress Fest."
Mini-horses from Heartland Mini-Hoofs roamed campus on Monday, May 6, courtesy of the Department of Public Safety (DPS). The department wrangled the equine therapists as part of its "De-Stress with DPS" series.
University President Fred P. Pestello, Ph.D., and Fran Pestello, Ph.D., treated SLU students to free ice cream and frozen treats from Cool Times Ice Cream Truck on Study Day, May 7.
Those with a yen to "Dunk a Dean" got their chance at the School of Education's Study Day festivities. Dean Gary Ritter, Ph.D., took his chances as Billikens took aim. At least one person hit her mark, sending the laughing dean for a dip.