Billikens Get a Boost from Furry Friends During Midterms
10/17/2019
As they buckled down with their books, Billikens got a furry boost of encouragement on Wednesday, Oct. 16 from rabbits, goats, and miniature donkeys at the Student Activities Board (SAB) Petting Zoo. Held on the Quad, the zoo came to campus to help students relax during Fall Midterms.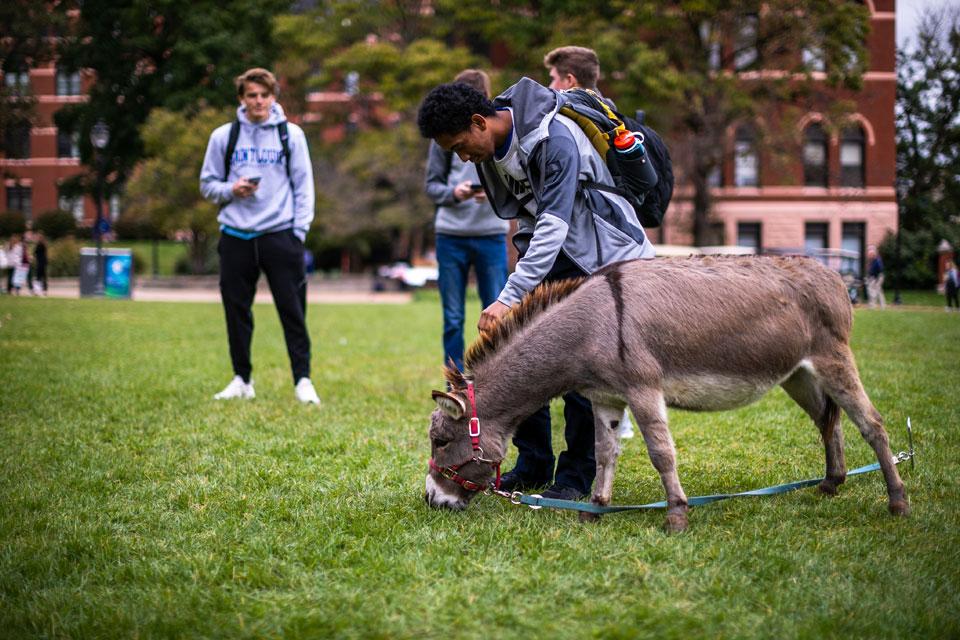 A student takes some time out from studying to spend time with a miniature donkey from the petting zoo the Students Activities Board (SAB) brought to campus on Wednesday, Oct. 16.
The visit is one example of the many ways the SLU community comes together during exam periods to combat stress. In recent years, miniature therapy horses have roamed campus thanks to the efforts of officers from the Department of Public Safety (DPS). The department has also sponsored a series of events aimed at support students' health and wellness, "De-Stress with DPS," which have ranged from karaoke to cocoa and coffee outings.
In past semesters, ice cream trucks sponsored by University President Fred P. Pestello, Ph.D., and Frances Pestello, Ph.D., have provided free treats to studying students.
The Department of Campus Recreation and Wellness has also hosted pottery painting parties to give students a chance to blow off steam. In September, Campus Rec hosted its annual Healthy Campus Week, which included a series of wellness classes from healthy cooking to a photo sweepstakes and free salsa dancing class. The department's student-centered Billikens After Dark program has also hosted "De-Stress Fest," with massage therapists, henna artists and crafting opportunities.
Photos by Garrett Canducci. Text by Amelia Flood, University Marketing and Communications.