Changing the Subject
Each semester, Saint Louis University professors teach around 100 courses falling into the category of "special topics."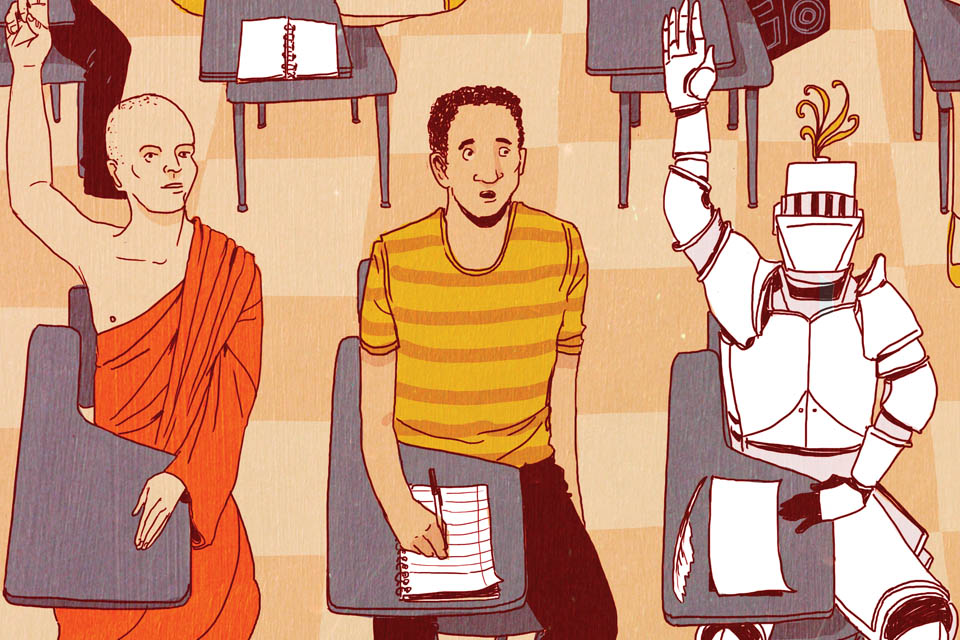 Ranging across disciplines, these classes advance research in innovative ways by connecting scholarship to pop culture and lived experience. The courses featured here — all taught this academic year — represent a small sample of the personality SLU professors bring to the classroom.
Political Communication
Taught by: Elizabeth Richard, Ph.D., associate professor of communication
The Details: Each presidential election year, SLU professors find new ways to connect politics to the classroom. In Richard's case, that means analyzing a range of political speeches from a rhetorical perspective. Richard guides students in applying theory to what they see in real time with blog assignments, research papers and in-depth analyses of presidential speeches.
The Twist: During the lead-up to the 2016 election, students engaged critically in the here-and-now of politics and encouraged the community to do the same. Partnering with Generation Listen STL (a St. Louis Public Radio program aiming to foster community engagement with young people through public radio programming), Richard's class offered a Debate Watch followed by student-led roundtable discussions.
"Often we wait for the media to tell us what to think and don't decide what we think ourselves," Richard said.
Having these discussions was a good way to test out ideas, think and connect with members of the community.
Required Readings and Projects: Murray Edelman's Constructing the Political Spectacle modernized by students who digitally annotate each chapter with relevant examples from recent election cycles; students listen to, watch and read political rhetoric, including eulogies, State of the Union addresses, and acceptance and concession speeches.
What Students Say: "Taking Political Communication during the 2016 presidential election allowed me to conceptualize my own feelings about the outcome of the election and rationalize how much the new president will actually be able to accomplish. I have gained insight that has helped me to view the results of the election more critically and realistically," said Shelby Zima, a communication studies, international studies and Spanish major.
Happiness: East and West
Taught by: Richard Kim, Ph.D., post-doctoral fellow in philosophy
The Details: Inspired by a desire to live joyfully and help others do the same, Kim teaches Western and non-Western conceptions of happiness and fulfillment. A departure from past Western-centric studies, contemporary philosophers learn from the wisdom of ancient and modern Eastern thinkers. In every culture or society, you'll find brilliant human minds driven by the desire to get to know the world, Kim said. So opening the course to Daoist and Confucian ideas of happiness creates a well-rounded, Jesuit understanding of philosophy, he said.
The Twist: Kim encourages students to practice what they learn. He introduces students to empirically supported happiness activities — simple habits shown to increase a person's positive emotions and sense of meaning. Incorporating practices such as acts of kindness, gratitude lists or writing letters of forgiveness gives students a broader conception of wisdom and the chance to actively work at being happier.
Required Readings: Sonja Lyubomirsky's The How of Happiness, plus Eastern texts from Dao to Confucius alongside ancient and contemporary Western philosophers.
What Students Say: "One way the course changed how I think about happiness is the way social ties affect it. Without strong, loving relationships, it is likely that no amount of success, money, pleasure, power, health or talent will provide joy. So the next time I'm having the blues, I'll assess whether I'm reaching out to others or if I'm isolating myself. I'm more likely to be drawn out of sadness and abide in happiness if I seek to share my life with others," said Maria Miloscia, a theological studies major.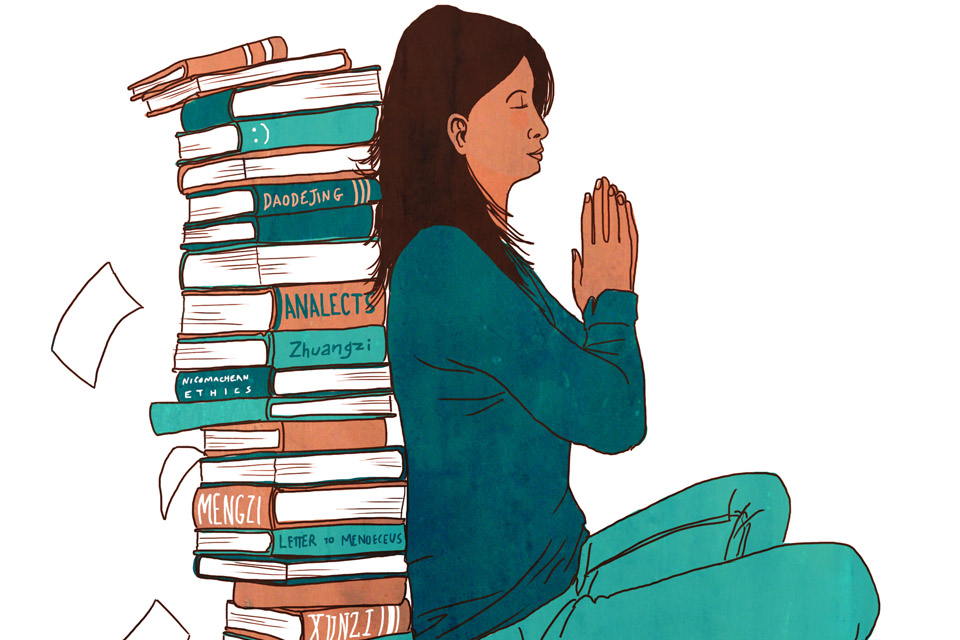 Women, Knights, Weapons and Love: Medieval and Renaissance Italian Literature
Taught by: Simone Bregni, Ph.D., associate professor of languages, literatures and cultures
The Details: In the tradition of Italian scholarship, Bregni introduces students to literature and language starting with the historical and cultural context of the words. In a study of the Renaissance, that means understanding the period's belief in the harmony of all living things. Bregni travels through time with his students to medieval and Renaissance Italy, where women acted heroically to lead helpless, salvation-seeking men to God; love was celebrated in its many forms; and authors wrote of magical weapons in an attempt to explore the tragedy of war. Works are studied with an eye to history, allowing students to immerse fully in the world they are exploring.
The Twist: Bregni brings his passion for video games into his teaching on the Renaissance. Through certain games in the Assassin's Creed series — created to be historically accurate thanks to input from Italian scholars — Bregni and his class can meet a young Leonardo da Vinci and witness firsthand how the mind of the genius adventurer worked. And we can witness the dynamics of power at play, as they are also described in contemporary literary works, he said.
Required Readings: Dante's Commedia; Ludovico Ariosto's Orlando Enraged (whose first lines provided inspiration for the title of the course); Machiavelli's The Prince.
What Students Say: "This class prompted me to question my beliefs and my worldview. The various artwork of the time period uncovered its conventional — and unconventional — thoughts. Interpreting these works allowed us to examine and question our beliefs, a process that has been truly invaluable throughout college and my personal life," said Kevin Mueller, a finance major.
Arch City Religion: Religious Life and Practice in St. Louis
Taught by: Rachel McBride Lindsey, Ph.D., assistant professor of theological studies
The Details: Struck by the city's cultural and religious diversity, Lindsey encourages students to discover and help tell the story of religion in St. Louis. Students explore the ways religion shows itself through art, history and even baseball. From mosques to synagogues to street-corner shrines, students visit religious locations throughout the city to transform learning from a textbook to lived experience.
The Twist: Lindsey's students become ethnographers and sociologists as they participate in the Arch City Religion project. Students contribute to the site's mapping of religious experiences in St. Louis, documenting an under-studied piece of the city's story. Lindsey encourages students to see religion not just through their own lives, but in how it shapes the infrastructure of the city.
"In this endeavor, students begin to think about religion and theology as relevant beyond the required course load at SLU," she said.
Required Readings and Projects: Robert P. Jones's The End of White Christian America and other texts guide hands-on experiences, such as recording a religious space in St. Louis to find out what religion sounds like, as well as completing an object narrative, a micro-ethnography or a biographical piece contributing to the project's database.
What Students Say: "I had the opportunity to connect religion to the world around me. With Dr. Lindsey's helpful guidance and some amazing group members, I was able to take part in a project that binds religion, culture, creativity and our beautiful city forever in an online gallery that will hopefully grow and flourish for years to come," said Emma Hupp, a psychology and Russian major.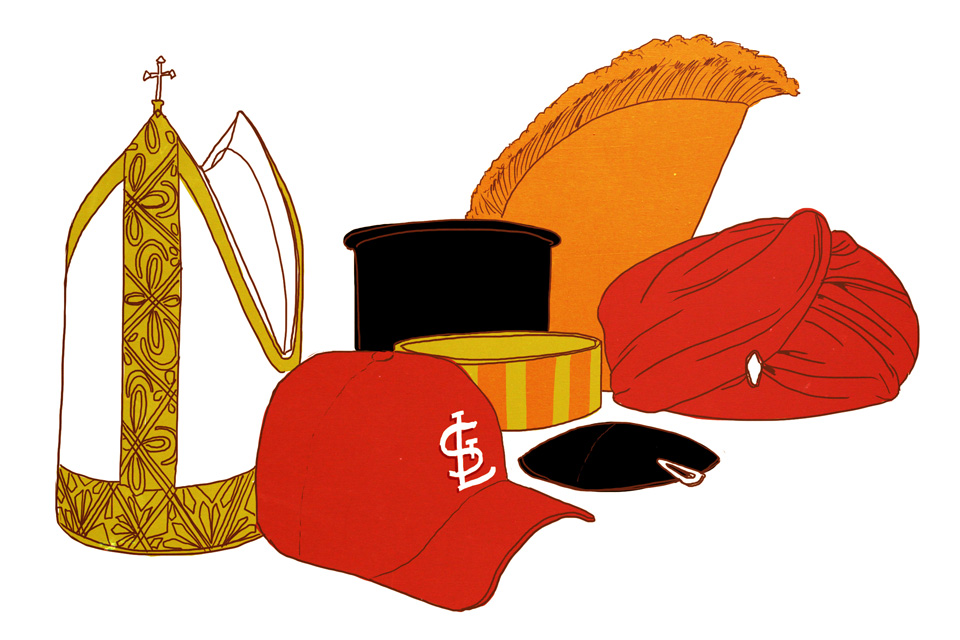 American Decades: Hip-Hop History and Culture
Taught by: Aretha Butler, doctoral student in American studies
The Details: Using a model developed in her graduate program, Butler traces the history of hip-hop as a political movement — detailing its engagement with feminism, class struggles, transnationalism and potential future forms of activism. Butler includes the current dynamics of the St. Louis area in her teaching and encourages students to grapple with the context, culture and structure of their favorite songs.
The Twist: Don't be fooled by the fun, hip subject matter — it's a lot of work. Though her students are often surprised to find hip-hop studies as a discipline, Butler said that hip-hop offers a lens into a wide range of topics that are central to understanding American society, culture and politics, including race, class, gender and sexuality. Butler introduces hip-hop pieces as historic primary sources and presents texts that are relevant to her students' lives, recently focusing on the role of hip-hop in the Black Lives Matter movement and the 2016 election.
Required Readings and Projects: Each week students analyze a combination of movies, music videos and song texts — from Beyonce to Grandmaster Flash and the Furious Five — and consider texts in fields such as American studies, African-American studies, and women's and gender studies.
What Students Say: "What makes this class unique is that a lot of people listen to hip-hop, but not many think about the issues that hip-hop touches on. This class is something you can take any direction you want to. You're going to learn something you never really thought about," said Jackson Jones, a sports business major.
The Subject in Graphic Narrative
Taught by: Maria Elsy Cardona, Ph.D., associate professor of languages, literatures and cultures
The Details: Reading fictionalized autobiographies in comic book form — and in Spanish — students discuss how text and images blend to bring out themes of loss, trauma, illness and displacement.
The Twist: Drawing on her own love for comic books and backed by research suggesting that young adults are drawn to visual styles of learning, Cardona is unsurprised that students flourish when presented with complex, layered graphic novels. Students lead the conversation and come to conclusions about the text based on their own experiences, sometimes identifying themes she did not see.
"Comics can be a helpful tool in the discussion of political and justice-related issues such as war, xenophobia and terrorism, as well as many other serious issues such as mental health, post-traumatic stress and personal loss," Cardona said. "Facilitating that discussion is what I have attempted to do in my class."
Required Readings: A combination of comics — such as Isabel Franc's Alicia en un Mundo Real, discussed with the author herself via Skype — and analytical works, such as Lisa Zunshine's What to Expect When You Pick Up a Graphic Novel.
What Students Say: "Before [this year], my experience of graphic novels was limited to the likes of Calvin and Hobbes and Garfield. This course opened my eyes to the important role that images play in telling a story and how the combination of text and images in these novels allows me, as a reader, to gain a deeper understanding of not just the characters' journeys but the authors' as well," said Gili Berman, a Spanish major.
—By Molly Daily
—Illustrations by Michael Hirshon
This article originally appeared in the spring 2017 issue of Universitas, SLU's award-winning alumni magazine.
Saint Louis University is a Catholic, Jesuit institution that values academic excellence, life-changing research, compassionate health care, and a strong commitment to faith and service. Founded in 1818, the University fosters the intellectual and character development of more than 13,500 students on campuses in St. Louis and Madrid, Spain. Building on a legacy of nearly 200 years, Saint Louis University continues to move forward with an unwavering commitment to a higher purpose, a greater good.