SLU Celebrates End of Bicentennial Year with Party Two Centuries in the Making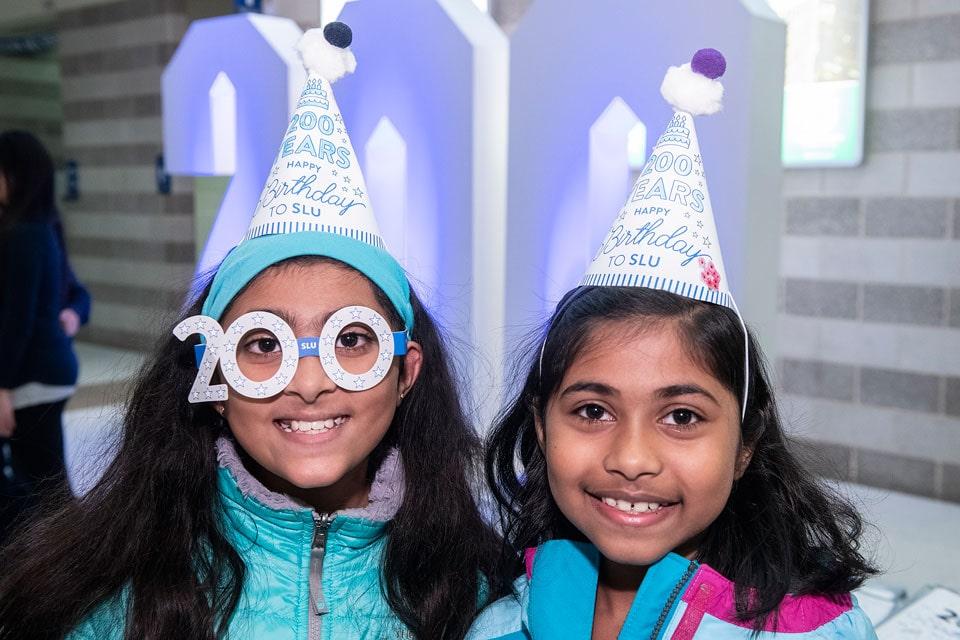 Party-goers donned bicentennial glasses and decorated hats. Photo by Steve Dolan It was a night 200 years in the making.
To a soundtrack provided by the world-renowned St. Louis Symphony Orchestra, Saint Louis University celebrated the end of its bicentennial year with fanfare, family fun and by giving back more than two centuries worth of service hours as part of its 200-Years-in-One-Year Challenge.
Chaifetz Arena was filled with Billikens and their families eager to enjoy music evoking the University's rich history, from spiritual tunes from the St. Louis Jesuits to the theme from The Exorcist to an original piece composed to honor SLU's long history of setting the world on fire for the good of all.
"Saint Louis University is a special place with a complex and rich history," University President Fred P. Pestello, Ph.D., told the crowd. "During the course of our bicentennial year, we have had countless opportunities to come together, to reminisce, to learn, and to dream about what comes next. As we celebrate our past, I ask you to join us in looking toward our very bright future. As we embark on our third century, much excitement lies ahead, and you won't want to miss it."
SLU's bicentennial celebrations included its service challenge as well as a kick-off Mass under the Gateway Arch in September 2017 that was attended by nearly 6,000 people. SLU's bicentennial homecoming in September featured the creation of a community-painted mural that now delights drivers headed down Lindell Boulevard.
As we embark on our third century, much excitement lies ahead, and you won't want to miss it."

University President Fred P. Pestello, Ph.D.
The University's year of celebrations also included symposia, grants to spark collaborations to better the world through its 1818 Community Engagement Grant program, support for scholars under its Bicentennial Fellows program, and new markers honoring SLU's history enshrined on campus.
"Tonight's birthday party is just the icing on the cake," Ellen Harshman, Ph.D., dean emerita of the Richard A. Chaifetz School of Business and head of SLU's bicentennial planning committee, told guests.
SLU alumna and former trustee Robin Smith (Grad Chaifetz '98), the night's host, noted that the night's music selections would "trace the history and spirit of Saint Louis University."
The St. Louis Jesuits, Bob Dufford, S.J., John Foley, S.J., Tim Manion, and Roc O'Connor, S.J., and the University Mastersingers joined the symphony in serenading the arena crowd. Selections included "When the Saints Go Marching In," the theme from Steven Spielberg's E.T., and the University's "Varsity Song."
The night's festivities concluded with "Ite, inflammate Omnia," an original work composed especially for the bicentennial celebration by Aaron Johnson, D.M.A., assistant professor in the Department of Fine and Performing Arts.
After symphony conductor Gemma New's baton flashed for a last time, Pestello invited those gathered to join in singing "Happy Birthday" as the University's birthday cake made its appearance along with SLU's beloved Billiken.
---
Founded in 1818, Saint Louis University is one of the nation's oldest and most prestigious Catholic institutions. Rooted in Jesuit values and its pioneering history as the first university west of the Mississippi River, SLU offers nearly 13,000 students a rigorous, transformative education of the whole person. At the core of the University's diverse community of scholars is SLU's service-focused mission, which challenges and prepares students to make the world a better, more just place.