Staff Spotlight: César Rioja Álvarez
11/04/2019
While many Saint Louis University staff members might take to the court for a pick-up game on their lunch hours or may shoot hoops with their kids in their driveways, César Rioja Álvarez of SLU-Madrid can really drive the net.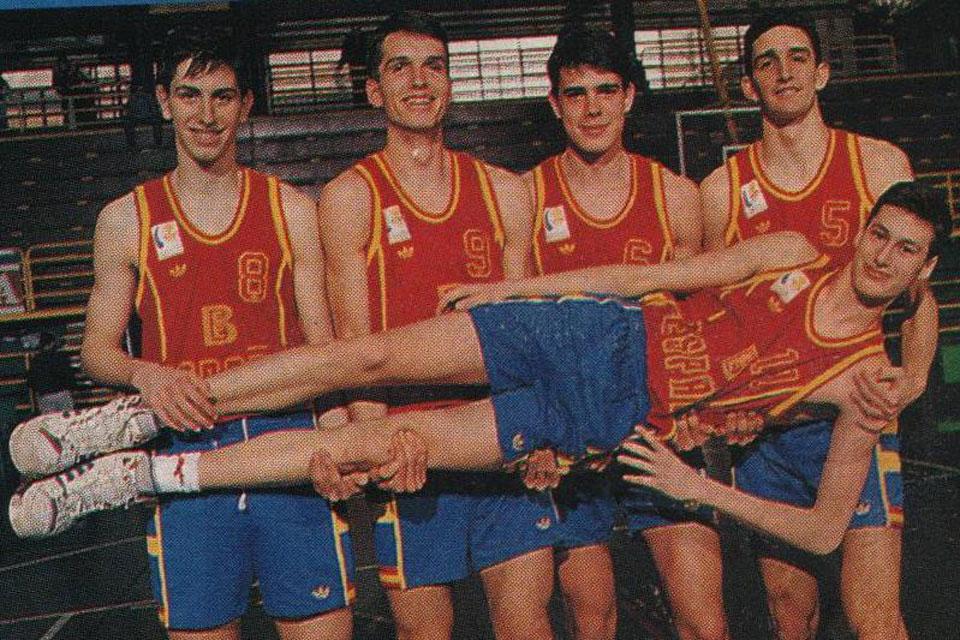 César Rioja Álvarez (second from left) clowns around with teammates on Spain's national basketball team. Rioja is now sports director at SLU-Madrid.
Putting the skills and lessons he learned as a professional basketball player in Spain's version of the NBA to work, Rioja lives out SLU's Jesuit mission by guiding student athletes, and through service in the wider Madrid community through sports.
Rioja began playing basketball at 14 for Estudiantes Madrid, one of the most recognized clubs in Spain. Honing his skills through years on the court, he eventually worked his way up to the club's first team, which competes in the Euroleague and Spain's equivalent to the National Basketball Association (NBA).
Switching teams at age 23, Rioja went on to play for other first-tier Spanish ball clubs before taking over SLU-Madrid's top athletics job.
Now a SLU staff member with 20 years experience, Rioja puts his passion for play to work to serve others. In addition to taking to the court in charity basketball games with alumni from his pro days, Rioja also organizes service opportunities for student-athletes at SLU's campus in Spain.
Most recently, Rioja helmed the campus's second Paddle Tennis Tournament to benefit Casa Ronald MacDonald, raising more than $2,200 euros to help families stay close to their children as they receive treatment at local children's hospitals. He has also organized the SLU-Madrid seminannual5K run in Madrid's Retiro park. Last year's run raised funds for La Luz de las Niñas, a non-governmental organization (NGO) that works for girls' rights worldwide in an effort to make childhood a time free form fear, threats and aggression.
Get to Know César
Staff Spotlight is an occasional series dedicated to revealing the stories behind the name badges of SLU's staff members. To suggest a staff member to shine a light on, contact Newslink or call 314-977-2519.