SLU Celebrates Dame Mary Bruemmer's 100th Birthday
02/27/2020
Well-wishers including University leaders, students, faculty and staff members, trustees, alumni and family packed the Wool Ballroom on Wednesday, Feb. 26, to help a true SLU legend, Dame Mary Bruemmer, celebrate her centennial birthday.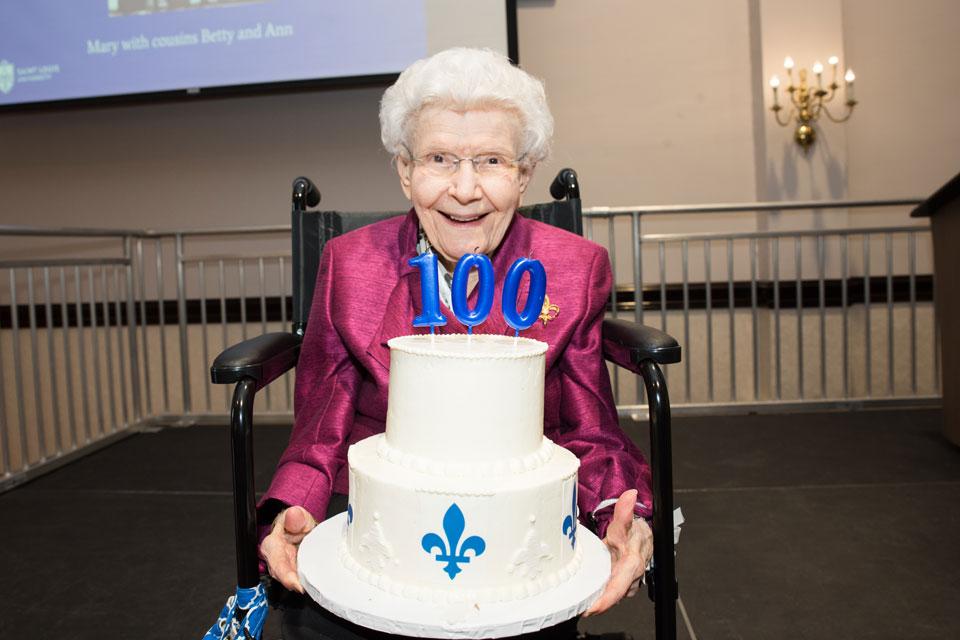 Happy 100th Birthday, Dame Mary!
"Marguerite Girls," guided by Bruemmer during her years as SLU's dean of women, members of Oriflamme, the band of student leaders she founded and University President Fred P. Pestello, Ph.D., were among those who paid tribute to Bruemmer, raising glasses of champagne to honor her.
"Mary, where ever you are in the world, you will always reside within the hearts of those bold enough to don the fleur de lis, share the gratitude of Oriflamme and proudly proclaim, while winking, that they are a Billiken," Pestello said in his toast.
Christopher Collins, S.J., assistant to the president for mission and identity, opened the celebration with a prayer, noting how one could look all around the room to see connections created by Bruemmer.
Kellisa Lyn Fiala, current president of the Women's Commission, shared her own story about how Bruemmer had inspired and encouraged her as a woman leader.
Bruemmer, an alumna, administrator and unmatched University supporter for decades, received birthday wishes, exchanged stories with friends, students and colleagues, and spoke to the crowd about her life as a woman in Jesuit higher education through changing times and thanked the Billikens gathered for their birthday wishes and presence on her special day.
As the crowd watched, Bruemmer blew out the candles on the cake honoring her century of service as a woman for others.
Want to Learn More About Mary's Story?
A special exhibit focused on Bruemmer's life and work at SLU, presented by the University Archives and Special Collections, is open on the second floor of the Pius XII Memorial Library through the end of March.
Learn More About Extraordinary Mary
---
Founded in 1818, Saint Louis University is one of the nation's oldest and most prestigious Catholic institutions. Rooted in Jesuit values and its pioneering history as the first university west of the Mississippi River, SLU offers nearly 13,000 students a rigorous, transformative education of the whole person. At the core of the University's diverse community of scholars is SLU's service-focused mission, which challenges and prepares students to make the world a better, more just place.
Story by Amelia Flood, University Marketing and Communications. Photos by Luke Yamnitz.