Eat, Learn, Love: SLU Trip Immerses Students in Italian Culture, Flavors
01/31/2020
On her first day in Italy, Jane Daum, a sophomore studying nutrition and dietetics at Saint Louis University, learned the art of making European coffee from Lorenzo, the owner of Caffè Trentuno, in Salerno.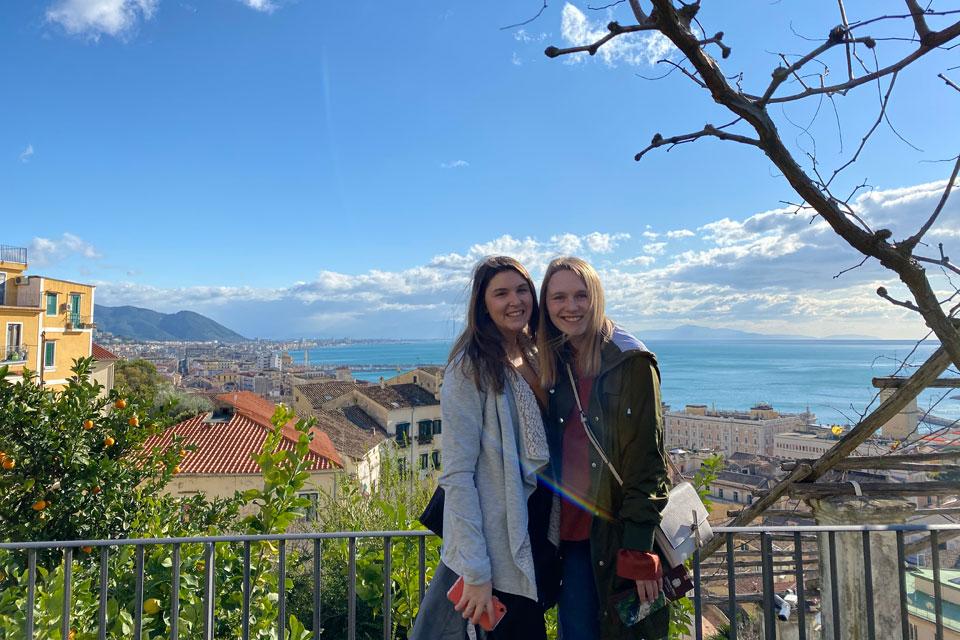 Twelve undergraduate students embarked on a winter break journey to learn about the food and culture of Italy through SLU's Department of Nutrition and Dietetics.
Her fellow Billiken, junior Rebecca Pirtle, recalls the "constant state of awe" she experienced strolling through the ruins of Pompeii, and the explosive flavors she encountered as she, Daum and the other 10 students participating in the Mediterranean Diet Trip immersed themselves in Italian culture intimately.
The trip, one of a number of immersive, experiential learning options available to SLU students, was what drew Daum and Pirtle to Saint Louis University.
"This trip embodies the idea of being people for others," Pirtle, a nutrition and dietetics major, explained. "It showed all of us that even though there are differences between how we live and how our hosts live, we still have so much in common."
Re-Live the Journey Through Jane's Trip Memories
SLU Trip Blends Flavors, Builds Friendships
The 2019-2020 winter break trip marks five years that the Department of Nutrition and Dietetics in the Doisy College of Health Sciences has taken undergraduate students on tours of vineyards, family kitchens and pasta factories in the area around Salerno in southern Italy.
According to the organizer and SLU faculty member, chef Todd Parkhurst, the trip's purpose is introduce students to a society where the practice of health is intimately entwined with a rich culture of wellness.
"Students become aware of the inter-connectedness of the many aspects of 'health,'" Parkhurst, who also teaches the requisite Mediterranean Diet course students take before they set foot in Italy for the two-week trip. "But the greatest take away from these trips are the shared experiences with our Italian hosts and hostesses, and the friendships they develop with our students.
Gelato makers, home cooks, chefs, artisans, guides and vintners all make students feel at home, Parkhurst said, and share their insights into issues from sustainable agriculture to the "slow food movement."
Read Rebecca's Trip Reflection
These relationships bolster students' ability to reflect and to apply lessons to what they've been taught in SLU classrooms, and to consider how to carry their Italian experiences forward into their planned careers, he said.
"This trip fits in with the Jesuit mission primarily in this experience of caring for, educating and re-awakening the whole person-in mind, body and spirit," Parkhurst continued.
"Whether that's in being instructed by an Italian nonna in making hand-made pasta for the day's large family meal, or standing in a Greek temple dedicated to Hera that dates to about 450 BCE and contemplating your own place in the history of mankind," he explained. "Or it could be sitting outside the splendid pastry shop of Andrea Pansa and trying to decide which of the pastries you like – the Torta Caprese, the Baba Rhum or the Santa Rosa."
Trip Highlights
Walking through the Garden of Minerva
Visiting an organic buffalo farm in the plain of Paestrum to learn about the making of mozzarella
Cooking with Donatella at her farm house in Ogliastro Cilentro
Learning the art of preserving figs
Touring the ruins of Pompeii
Ringing in the New Year with fireworks on the seafront of Salerno
Want to Go?
Interested students should contact Todd Parkhurst to arrange an information interview covering the trip's prerequisites, learning objectives, costs, details and itinerary.
---
Saint Louis University is a Catholic, Jesuit institution that values academic excellence, life-changing research, compassionate health care, and a strong commitment to faith and service. Founded in 1818, the University fosters the intellectual and character development of more than 13,000 students on campuses in St. Louis and Madrid, Spain. Building on a legacy of nearly 200 years, Saint Louis University continues to move forward with an unwavering commitment to a higher purpose, a greater good. Learn more at www.slu.edu.
Story by Amelia Flood, University Marketing and Communications. Photos courtesy of Jane Daum and Rebecca Pirtle.