SLU, Urban League Honor MLK's Legacy, Continued Call to Action
01/16/2020
At their annual memorial tribute honoring civil rights leader the Rev. Dr. Martin Luther King Jr. on Thursday, Jan. 16, Saint Louis University and the Urban League of Metropolitan St. Louis honored those carrying forward King's legacy of activism and advocacy for racial equity and justice across the St. Louis region.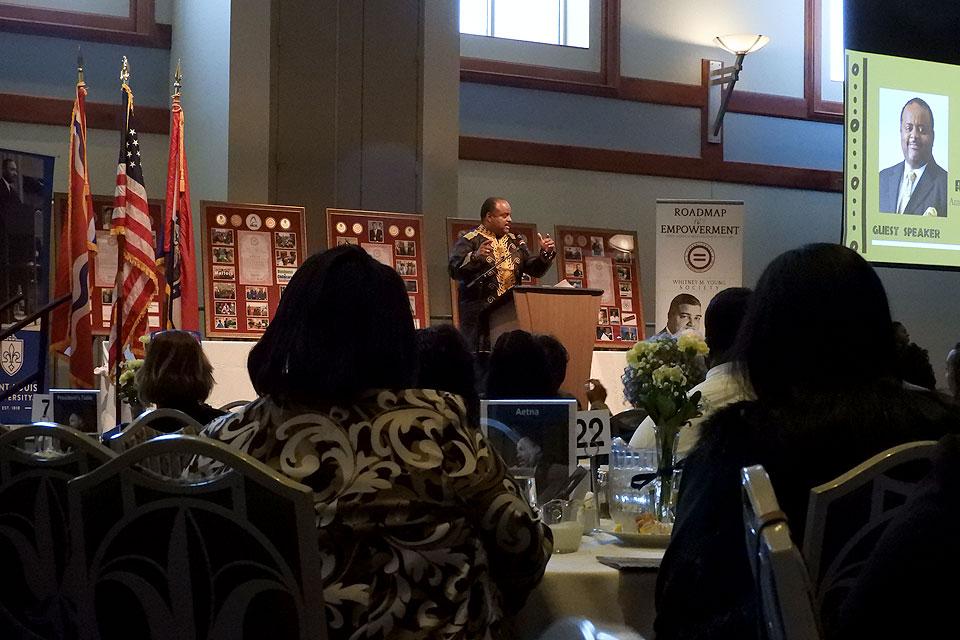 Acclaimed journalist Roland Martin give the keynote speech at the 2020 Martin Luther King Jr. Memorial Tribute Breakfast.
Keynote speaker, noted journalist and author Roland Martin, told the crowd in SLU's Wool Ballrooms that "leaders step up when it's time to lead," challenging those attending the tribute to King to recall the civil rights leader not as a mascot, but for his radical commitment to social justice and advocacy on behalf of economically, racially and socially marginalized.
"He was a man of more than giving speeches," Martin said. "Don't you dare quote Dr. King unless you are willing to live like Dr. King."
Following a prayer by Christopher Collins, S.J., assistant to the president for Mission and Identity, Jonathan Smith, Ph.D., vice president for diversity and community engagement at SLU, welcomed the crowd, as did SLU alumnus Michael McMillan, president and CEO of the Urban League of Metropolitan St. Louis.
McMillan applauded the University community and its commitment to racial equity, saying SLU, "never loses sight of its Ignatian mission of being men and women for others."
University President Fred P. Pestello, Ph.D., anticipating Martin's remarks about the continued need to live out King's mission and guiding principals told those gathered, "we celebrate his preaching, we celebrate his teaching and we celebrate his leadership."
"SLU is with you, our community partners, in breathing life into the dream of a more just city," Pestello continued. "Each of you has kept the dream alive."
The breakfast tribute has become a SLU and Urban league tradition, drawing local leaders, advocates, students and members of the wider St. Louis community together. In 2018, Martin Luther King III, gave the event's keynote address, while in prior years, those gathered heard from civil rights legends like Ambassador Andrew Young.
Special Honors and New Initiatives for Justice
Returning to the stage, Smith gave a special presentation to the crowd, announcing SLU's new Institute for Healing Justice and Equity.
Led by faculty members Amber Johnson, Ph.D., Kira H. Banks, Ph.D., of the College of Arts and Sciences; Ruqaiijah Yearby, J.D., of the School of Law; and Keon L. Gilbert, Dr.Ph., of the College for Public Health and Social Justice, the institute is one of SLU's Big Ideas in Research that Smith said will lead the way in spearheading regional efforts to spark new projects related to transformative justice, equity and healing.
Following Smith's announcement, Pestello, McMillan and Smith presented the year's awards to a cadre of accomplished academic, civic, business and political leaders. This year's awards also included a new honor - the Whitney M. Young Humanitarian Award.
2020 Honorees
A Clarion Call to Carry Forward Radical Compassion
As he began his keynote address, Martin warned the crowd, "God gave me the spirit of discomfort. It's my job to make people uncomfortable. And that's the kind of man Dr. King was."
Martin urged those gathered to recall King's attentiveness to issues including police violence and brutality, to economic inequality and political marginalization.
"It you say you care about him, you better care about the issues he cared about," Martin said. "Here was a man killed fighting for men picking up trash. And too many of us are living in cities where we ignore people picking up trash and who are living in trash."
Political and civic engagement - and personal sacrifice - are more urgently needed than ever, he continued, and direct, sustained action on the part of every man and woman of conscious is necessary to bringing the true justice King advanced into being.
"We have the power to do, we have the capacity to do, but do you have the heart to do?" Martin asked the crowd. "It's time to get to work."
---
Saint Louis University is a Catholic, Jesuit institution that values academic excellence, life-changing research, compassionate health care, and a strong commitment to faith and service. Founded in 1818, the University fosters the intellectual and character development of more than 13,000 students on campuses in St. Louis and Madrid, Spain. Building on a legacy of nearly 200 years, Saint Louis University continues to move forward with an unwavering commitment to a higher purpose, a greater good. Learn more at www.slu.edu.