Fall Welcome 2021 Continues as Classes Begin
08/24/2021
Fall Welcome 2021 is in full swing at Saint Louis University. As classes begin on Wednesday, Aug. 25, take a look back at some of the early highlights from this year's events.
From move-in day to convocation to the Saturday night soccer game, students had a variety of events to learn more about SLU and meet members of the SLU community.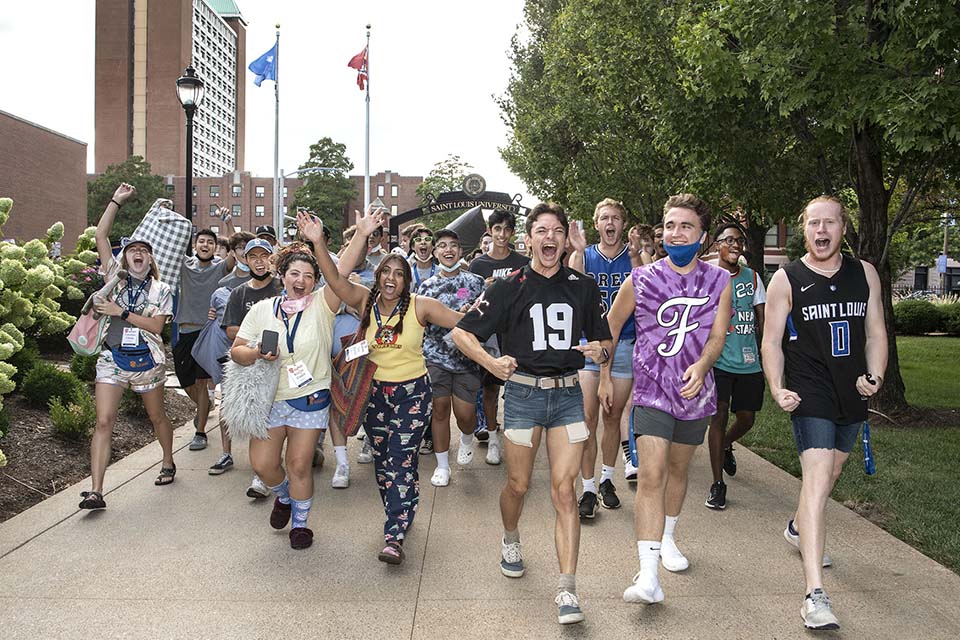 Billikens march through campus on the way to Robert R. Hermann Stadium to watch a men's soccer game Saturday, Aug. 21. Photo by Steve Dolan.
This year's fall freshman class is anticipated to be the second-largest in University history — trailing only 2019's record class. Approximately 1,800 first-year students are expected to enroll.
Members of the class of 2025 come from 46 American states and provinces. The top five states represented, outside of Missouri, are Illinois, Wisconsin, California, Ohio and Nebraska.
Freshman hail from 27 different countries, including India, China, Vietnam, Mexico and Nigeria.
The University's total enrollment combining undergraduate, graduate and online students is expected to be the highest in six years. The majority of those students are vaccinated against COVID-19.
The newest Billikens and their families were welcomed to the University Saturday morning for the 2021 New Student Convocation and Family Welcome.
Convocation, the traditional and official welcome for new students entering the University, returned to an in-person event after being virtual last year because of COVID-19 restrictions.
Upcoming events include Paint SLU, the Involvement Fair and the Mass of the Holy Spirit.