SLU School of Medicine Hosts HRC Health Fair
The Saint Louis University School of Medicine Health Resource Center (HRC) recently hosted a health fair to increase traffic at the HRC after organizers said they observed fewer patients utilizing the clinics.
"Post-COVID, patient numbers dwindled but have begun to pick up again," said Anika Mahavni, a second-year School of Medicine student. "The health fair was designed to spread the word."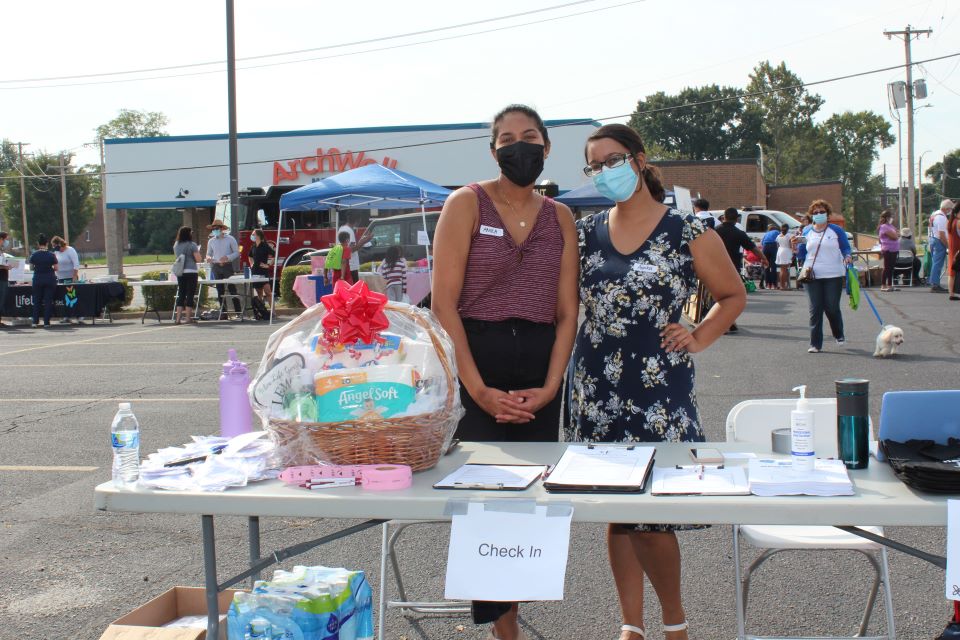 Pictured above (from left): Anika Mahavni and Ayesha Mohan, HRC community outreach leads and second-year medical students, at SLU's Health Resource Center's recent health fair. Submitted photo.
---
Mahavni and Ayesha Mohan, a second-year School of Medicine student, serve as community outreach leads at the HRC and were instrumental in organizing the Oct. 9 health fair. Operated by School of Medicine students under the guidance of SLU physicians, the HRC provides free medical services through a Primary Care Clinic and a variety of specialty clinics to St. Louis residents.
The HRC is housed inside the Urban League of Metropolitan Saint Louis headquarters, formerly the Victor Roberts Building.
"It is a central location to serve our target population that essentially are uninsured people or those without primary care physicians over 18 in north St. Louis City," said Sania V. Karir, a second-year School of Medicine student and HRC co-director. "The HRC also serves children at the Physician Assistant Clinic held the first Tuesday of every month, and Nurse Practitioner Clinic held weekly on Thursdays."
Organizers estimate that 50 people attended the health fair, including Democratic State Representative Kimberly Ann-Collins whose district includes the city's Vandeventer, Lewis Place, and Central West End neighborhoods.
Student representatives from the HRC's specialty clinics provided a wide range of health screenings such as glucose testing, blood pressure, cholesterol, vision, and psychiatric evaluations.
When selecting community partners, Mohan said organizers incorporated a holistic approach.
"Every patient is a person who also has other needs besides medical," Mahavni added. "When organizing the health fair, we tried to think outside the box."
They collaborated with Fred Rottnek, M.D., director of community medicine and program director of SLU's Addiction Medicine Fellowship, who has ties with NoMoDeaths. The organization supplied free Narcan and resources at the health fair in the fight against opioid addiction.
Esmeralda Aharon, program director of staff and community engagement in the Office of Diversity, Equity and Inclusion, marketed the event to more than 60 community partners. Aharon also connected organizers with LifeWise and STLJuntos, both of which serve the Spanish-speaking community of St. Louis. The organizations assisted by translating promotional fliers and helping attendees navigate the health fair.
St. Louis County Department of Public Health administered Pfizer-BioNTech COVID-19 vaccines and booster shots. Additional community partners included St. Louis Metro Market, a grocery store on wheels that provided fresh produce at affordable prices; ALIVE (Alternatives to Living in Violent Environments) whose mission is to provide counseling, emergency sanctuary, and other critical services to adults and children impacted by domestic abuse; and Missouri School of Dentistry and Oral Health which distributed free dental hygiene products at the health fair.
Mahavni and Mohan are optimistic regarding future events.
"The health fair was well-received, and students involved with the HRC hope to make it an annual tradition," Mohan said.
Patients are seen in the Saturday Adult Clinic, Thursday Nurse Practioner Clinic, and Tuesday Physician Assistant clinic on a first-come, first-served basis. Appointments are made in advance for the HRC specialty clinics. Patients with questions or who want to schedule an appointment may call 314-389-0008 or email hrc@slu.edu.
Clinics offered at the HRC include:
Adult Clinic
Asthma and Allergy Clinic
Dermatology Clinic
Diabetes Clinic
Heart Health Clinic
Nurse Practitioner Clinic
Physical Therapy Clinic
Physician Assistant Clinic
Psychiatry Clinic
SLU Sight Clinic
Wellness Holistic Initiative in St. Louis (WHISTLe)
Well Woman Clinic
About Saint Louis University School of Medicine
Established in 1836, Saint Louis University School of Medicine has the distinction of awarding the first medical degree west of the Mississippi River. The school educates physicians and biomedical scientists, conducts medical research, and provides health care on a local, national and international level. Research at the school seeks new cures and treatments in five key areas: cancer, liver disease, heart/lung disease, aging and brain disease, and infectious diseases.