Breaking Boundaries in a Male-Dominated Sport: SLU Occupational Therapist Named to USA Wheelchair Rugby Team
01/27/2022
Saint Louis University's Sarah Adam, OTD, assistant professor of occupational science and occupational therapy, is eying history.
Adam recently was named to the 2022 USA Wheelchair Rugby Training Squad. The elite team will compete to earn a spot in the Paralympic Games Paris 2024. No woman has ever competed for USA Wheelchair Rugby at the Paralympic Games.
Adam is one of two female athletes out of 16 selected to represent the country at numerous international events next year including the Americas Championship in Medellin, Colombia, Four Nations Wheelchair Rugby Invitational in Birmingham, Alabama, Canada Cup International Wheelchair Rugby Tournament in Richmond, British Columbia, and the world championships in Vejle, Denmark.
The 16 athletes were chosen from a team selection camp in early December in Birmingham, Alabama, where the team will return multiple times a year for training camps in between international competitions. Adam was thrilled to find out she had been named to the team.
"After all the hard work to get here, it is still sinking in that I made it," Adam said. "I am grateful for the chance to represent the USA and compete internationally at the highest level. My SLU family at Doisy College of Health Sciences has been amazingly supportive."
As a graduate student, Adam had a unique introduction to the sport as an able-bodied volunteer at the Disabled Athlete Sports Association (DASA) in 2013. DASA offers the biggest selection of disabled competitive team sports and Para sport opportunities in the Midwest. She immediately connected with the community and continued attending development events — as both a coach-in-training and a referee.
Adam was diagnosed with multiple sclerosis a year later after noticing difficulty walking, gripping items, numbness in her hands, and bouts of fatigue. She began playing wheelchair rugby recreationally in 2017 and competitively in 2019. She explained what drew her to the sport and inspires her to compete.
"Wheelchair rugby breaks all the stereotypes about disability sports and is nicknamed 'murderball' for a reason. The sport is fast-paced, hard-hitting, competitive and involves a lot of strategy and tactics," Adam said. "There is also such camaraderie within the sport for individuals in the disability community. Rugby has been a great outlet for me and has helped keep me healthy both physically and mentally."
The students, faculty, and staff of SLU's OSOT department are proud to have one of their own competing at an international level and are inspired by the example Adam is setting. Her participation in the competitive sport embodies the values of occupational therapy which recognizes engagement in meaningful occupation as a path to health and well-being. She also exemplifies the mission of the department, capitalizing on opportunities for empowerment to break down barriers.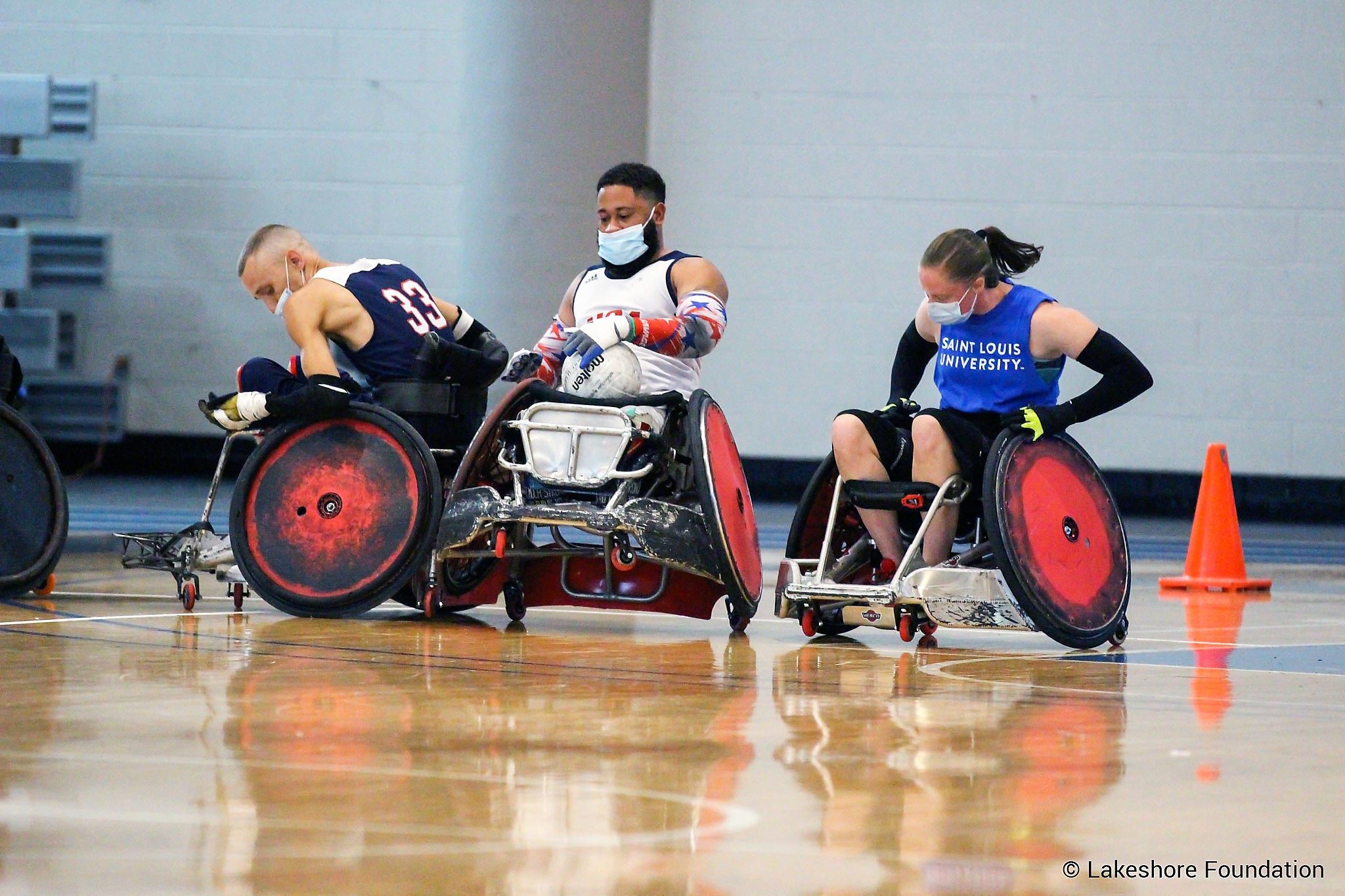 Launch SlideshowPic 1 of 3, Sarah Adam, OTD, was diagnosed with multiple sclerosis. She began playing wheelchair rugby recreationally in 2017 and competitively in 2019. Photo by Lakeshore Foundation.
Team USA and Adam have high expectations heading into 2022 as the team looks to maintain its spot atop the world rankings.
"We have the World Championships in Denmark this October. We're aiming for a gold medal at Worlds and to use that as our qualifier for Paris 2024," Adam said. "We are currently ranked in the world, so there is a certain responsibility that comes with that. We know people are out to beat us and we are going to be ready for that."
The mission of USA Wheelchair Rugby is to establish a standard of excellence and continue a tradition of success by developing athletes, staff and teams through education and training, to prepare current and future athletes and staff to serve as exemplary representatives of the United States.
Corey Mauer, marketing coordinator in the Doisy College of Health Sciences, and Bridjes O'Neil, communications specialist in the Division of Marketing and Communications, contributed to this story.
About Saint Louis University
Founded in 1818, Saint Louis University is one of the nation's oldest and most prestigious Catholic institutions. Rooted in Jesuit values and its pioneering history as the first university west of the Mississippi River, SLU offers nearly 13,000 students a rigorous, transformative education of the whole person. At the core of the University's diverse community of scholars is SLU's service-focused mission, which challenges and prepares students to make the world a better, more just place.