Class of 2022 Honored at Commencement Ceremony
by Joe Barker on 05/21/2022
05/21/2022
Speaker after speaker took the microphone Saturday morning and praised the newest members of the Billiken alumni family for rising to the occasion and graduating during a uniquely challenging time.
At the annual commencement ceremony, the Class of 2022 was celebrated in front of family and friends inside Chaifetz Arena. The ceremony marked the first in-person spring commencement since 2019 after the COVID-19 pandemic forced the cancellation of the 2020 event and turned the 2021 ceremony virtual.
"I am proud of you and all you have accomplished," SLU President Fred P. Pestello, Ph.D., said.
The commencement ceremony marked the journey's end for the students sitting in the crowds in caps and gowns. It was a time to reflect and be proud of the experience, said Amber Johnson, Ph.D., interim vice president of Diversity and Innovative Community Engagement.
"Although this year has been hard on all of us for many different reasons, we are also overcome with great joy and hope," Johnson said. "Many of you made life-long friends who carried you through those tough times. You fell in love with the city, with each other, with yourselves, with learning, with nature, with research, and all of you survived and even thrived through some of the hardest years academia has ever experienced. So today, be happy and celebrate yourself, celebrate each other, and lead with gratitude."
Pestello praised the graduates' dedication and commitment. The effort, he said, has created a strong group of students ready for the next step.
"You are a generation of unprecedented creativity and resilience," Pestello said. "You rose to the demands of challenge after challenge. You adjusted, adapted, and remained committed to your goals. . . . Be proud of the hard work you put in and the struggles you endured. Be proud of how you have grown in compassion. Have faith that the wisdom you have earned, inside and outside of the classroom, will serve you well in the years ahead. Know that you will be a force for good – that you will set the world on fire."
Justice Hill, a native of Columbia, South Carolina, majoring in political science and American Studies, was the student speaker at the event. Hill spoke about how the COVID-19 pandemic split their college experience. Things were relatively normal before the 2020 spring break, but suddenly things changed. Zoom classes became a thing, he said, along with COVID testing, masking, and everything else that came with the pandemic.
Hill praised his classmates for overcoming the challenges. He also encouraged them to keep embracing challenges.
"We conquered it all and are here today for a reason," Hill said. "Many of us have on our masks today, yet when you leave this building, I challenge you to take off your mask to the world and be who you are unapologetically. Do not allow your circumstances or people around you to prevent you from doing what you want to do in this lifetime and continue to work with a higher purpose and greater good."
Saturday's commencement speaker, Andrés Gallegos, J.D. (Law '93), also spoke of the impact of COVID-19 on the students. In his speech, Gallegos, the chair of the National Council on Disability, noted the pandemic changed how the students had to work and learn.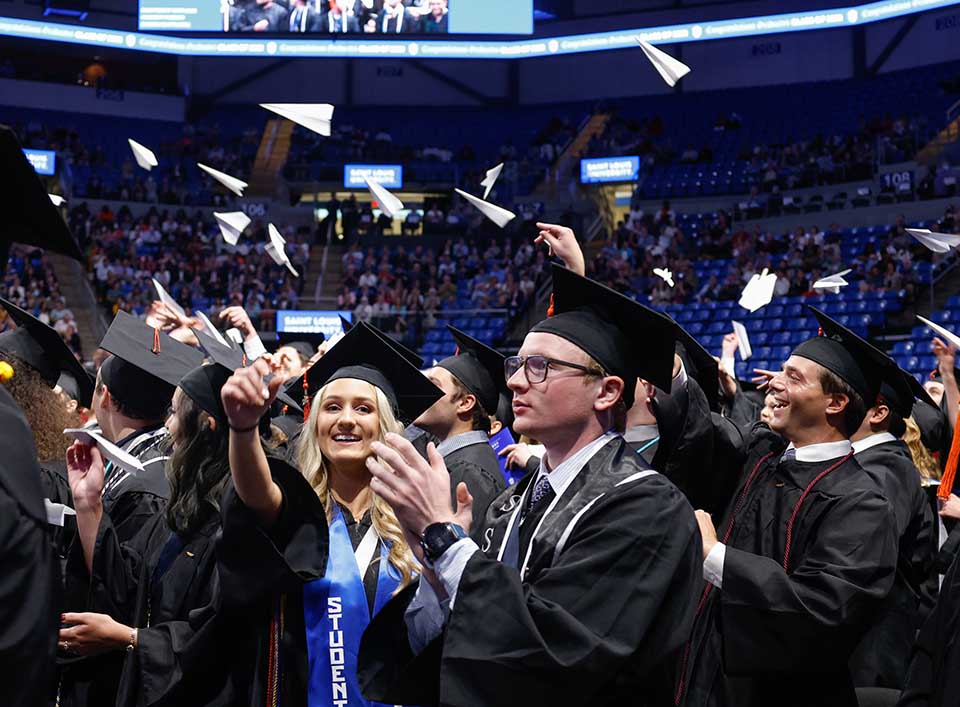 Parks College of Engineering, Aviation, and Technology graduates celebrate during 2022 Saint Louis University commencement at Chaifetz Arena on May 21, 2022. Photo by Sarah Conroy.
The Class of 2022 thrived, Gallegos said. He pointed out that the students worked hard inside and outside of the classroom — both studying and working on making the world a better place.
"You worked to make this community better," he said. "To make this university better. To build upon the Clock-Tower Accords. To finally realize the transformation of the African American Studies program into a full and equal academic department. You did this. You are leaving this university better than when you entered. And that is how your future success should be measured."
Gallegos spoke about his own history of tackling challenges. After a 1996 car accident resulted in quadriplegia, he suddenly had new obstacles to face.
"It took a number of years for me to fully embrace my disability," he said. "But once I did, I found meaning for my accident. The key, however, was fully embracing my disability. In other words, giving myself permission to love the new me. You know there's truth to the saying 'You can't love others if you first don't love yourself.' The disability corollary to that is, 'You can't expect others to be comfortable with your disability if you first are not.' And now, I'm not shy in telling you — I love me some new me."
After the accident, Gallegos began fighting for disability rights as a lawyer.

"The education that I received here is the foundation for my ability to protect the rights of people with disabilities throughout the country," he said. "It is the foundation for my advocacy for people with disabilities. It is in part why I received a congressional appointment to the National Council on Disability in 2018. And why, on the afternoon of his inauguration, President Biden appointed me as the council's chairman."
Armed with their SLU education, Gallegos encouraged the graduates to step away from the University and take charge in making the world a better place.
"My hope for you is that you utilize the foundation of your education at Saint Louis University to achieve all of your dreams, and to enhance the communities where you are," he said. "That you have meaningful and purposeful lives, and that you lead where possible and serve where needed."
Pestello closed the ceremony by congratulating the graduates one last time and reminding them they are forever members of the Billiken family.
Honorary Degrees
In addition to delivering the commencement address, Gallegos joined four others in receiving honorary degrees.
Isiaah Crawford, Ph.D. (A&S '82), was recognized with an honorary degree for his commitment to creating inclusive learning environments for the next generation of visionary leaders and life-long learners. Crawford was named president of the University of Puget Sound in Tacoma, Washington in 2016.
Patrick P. Lee (Parks '59) received an honorary degree for his commitment to sharing his success with others and supporting those who care for people with mental health issues. Lee earned his degree in aerospace engineering from Saint Louis University Parks College of Engineering, Aviation and Technology in 1959. In 2007 he established the Patrick P. Lee Foundation. This private charitable foundation provides funding for initiatives to advance education and improve the lives of individuals and families affected by mental illness.
Joan and John Vatterott received honorary degrees for their commitment to social justice and helping underserved students find their path through education. John Vatterott is an Arts of Sciences Class of 1965 graduate. In 1969, John Vatterott established Vatterott College — a network of trade schools stretching across the Midwest. The education educational network was sold in 2003. In retirement, John and Joan Vatterott put their energies full time into charitable work through the Joan and John Vatterott Foundation. They have provided funding to numerous non-profit organizations during the last two decades, primarily in the St. Louis area.