Scholars Honored at Reception
by Joe Barker on 09/15/2023
09/15/2023
Scholars from across Saint Louis University gathered in the Sinquefield Stateroom in DuBourg Hall on Thursday afternoon to salute and honor excellence in research and scholarship.
The 2023 Scholarly Works reception celebrated success in publications and exhibitions from the previous year.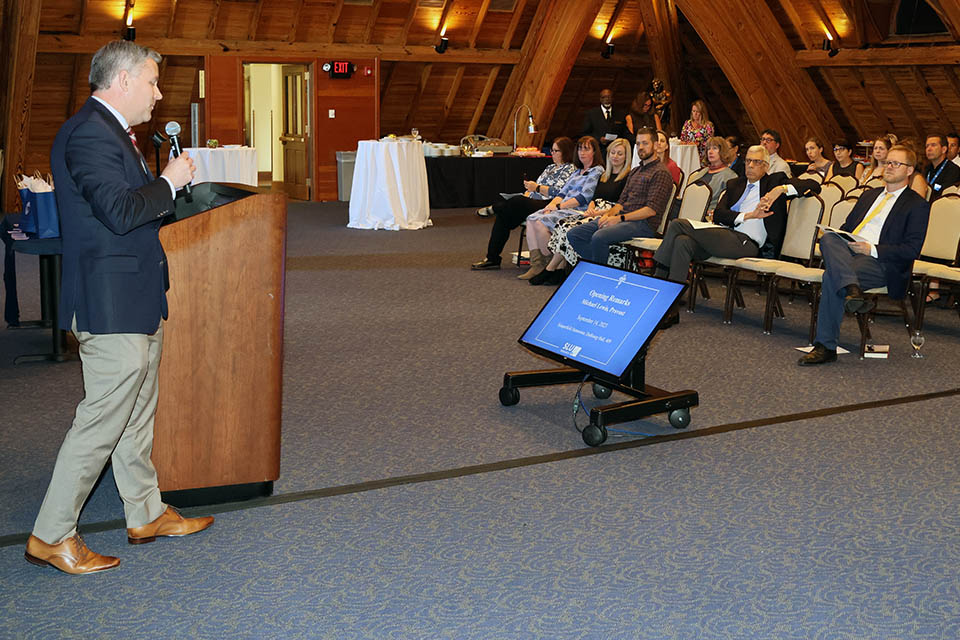 Provost Mike Lewis, Ph.D., addressed the crowd at the 2023 Scholarly Works reception on Thursday, Sept. 14. Photo by Joe Barker.
Ken Olliff, vice president for research and partnerships, said the awards are designed to "recognize truly exceptional scholarly accomplishments." He noted that all the recipients were nominated by their peers.
"I think it's really important for the entire SLU community to take this time and recognize excellence," he said. "You all work so hard. The commitment of our faculty, students and research staff — you all do amazing work, and it's an absolute pleasure to recognize a few of you."
Provost Mike Lewis, Ph.D., said he was blown away by the breadth and quality of the work being done at the University.
"What a great privilege it is to get to work and be part of such a great community of incredible researchers and incredible scholars and teachers," Lewis said. "It's really wonderful."
Lewis said he is often included in emails from the Office of the Vice President for Research touting the success and accomplishments of SLU researchers. The messages sometimes take his whole inbox, but he said he doesn't mind.
"To read about the incredible things that are happening, there's a great privilege in that," he said. "It's a lot of great things, and you end up being humbled by it, and that's how I feel reading all these emails. I've read about our faculty doing research to advance marginalized communities,artists celebrating marginalized communities, researchers investigating new resources for mental health for our youth, our faculty doing work on the ethics of drones — it's really mission-centered work."
President Fred P. Pestello, Ph.D., shared a story of how visitors to his SLU office are often amazed by his wall of books. He said the books, mostly written by academics, represent the culmination of work and are symbols of the author's mastery of their disciplines.
The works being recognized at the ceremony, he said, represent the authors' expertise, which helps advance education.
"Think about what you do," he said. "You add new knowledge to the accumulated knowledge of humankind all the way up to this point in history. From there, others will take what you've done and build on it from there. What you do is noble and not without sacrifice."
2023 Scholarly Works Awards
Public Works
Creative Works
Non-Books (Articles)
Book in a language other than English
Books