Billiken Teacher Corps Hosts Catholic School Olympics
01/31/2019
St. Louis University's Billiken Teacher Corps hosted hundreds of grade and high school students from across the Archdiocese of St. Louis this week for the annual Catholic School Olympics on Saturday, Jan. 26.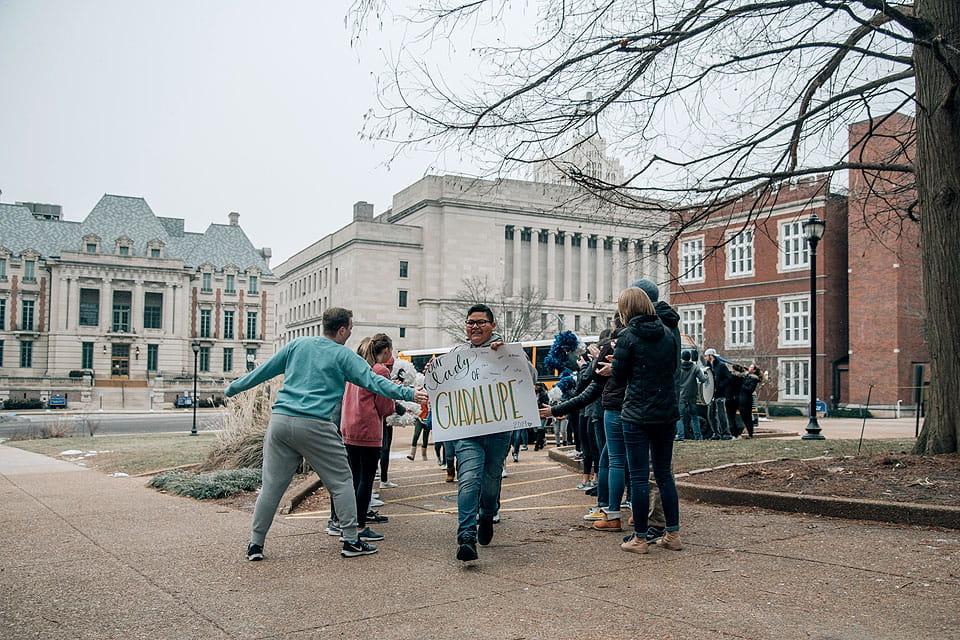 Student "Olympians" from Catholic schools across the St. Louis Archdiocese gather at SLU.
Students from schools including Christ Light of Nations, Our Lady of Guadalupe, St. Louis Catholic Academy, Trinity Catholic High School, Bishop DuBourg High School, Most Holy Trinity, Little Flower School, St. Cecilia, and St. Francis Cabrini took part in the day's games and activities.
"These visiting students are the future and fire of the Church," SLU junior Nick Bernard said. "We want to show them that we appreciate them, that we believe in them, and that we can't wait to see the Saints they'll grow into. Catholic education is worth celebrating because of the young hearts and minds it's forming – we're celebrating those young hearts and minds."
Older students rotated between stations, played sports, tested their trivia wits and learned a dance. First through third-graders made rosaries, played winter-themed games and decorated cookies with SLU student volunteers.
The Catholic School Olympians received tickets to cheer on the Billikens against Davidson.
The Billiken Teacher Corps partners with the archdiocese as well as the Institute for Catholic Education, Billiken Teacher Corps Alumni Chapter, SLU's School of Education, the University's Catholic Studies Program, the SLU Children's Miracle Network Dance Marathon, Alpha Delta Gamma fraternity, the University's Cheer and Dance Team and SLUnatics to put on the Olympics.
The event helps expose the younger students, particularly those from urban Catholic schools, to a college campus, Bernard explained, encouraging them to imagine themselves as college students and to point them toward the opportunities for growth and community offered at SLU and other universities.
"We are about forming saints and scholars," Ronny O'Dwyer, S.J., director of the Billiken Teacher Corps, said. "Events like this gather students together and help them get excited about belonging to the Catholic educational community during Catholic Schools Week. It's about showing students that they're part of something greater — the joy of the Gospel."
Photos submitted by The Billiken Teacher Corps. Text by Amelia Flood, University Marketing and Communications.