Scores of faculty, staff and students devoted hours to translating what was learned during an information gathering phase into actionable initiatives, goals and objectives, all captured in the strategic plan. Magis is serving as a guide to the development of plans and policies that will achieve its ambitious goals and objectives — advancing our mission to pursue truth for the greater glory of God and for the service of humanity.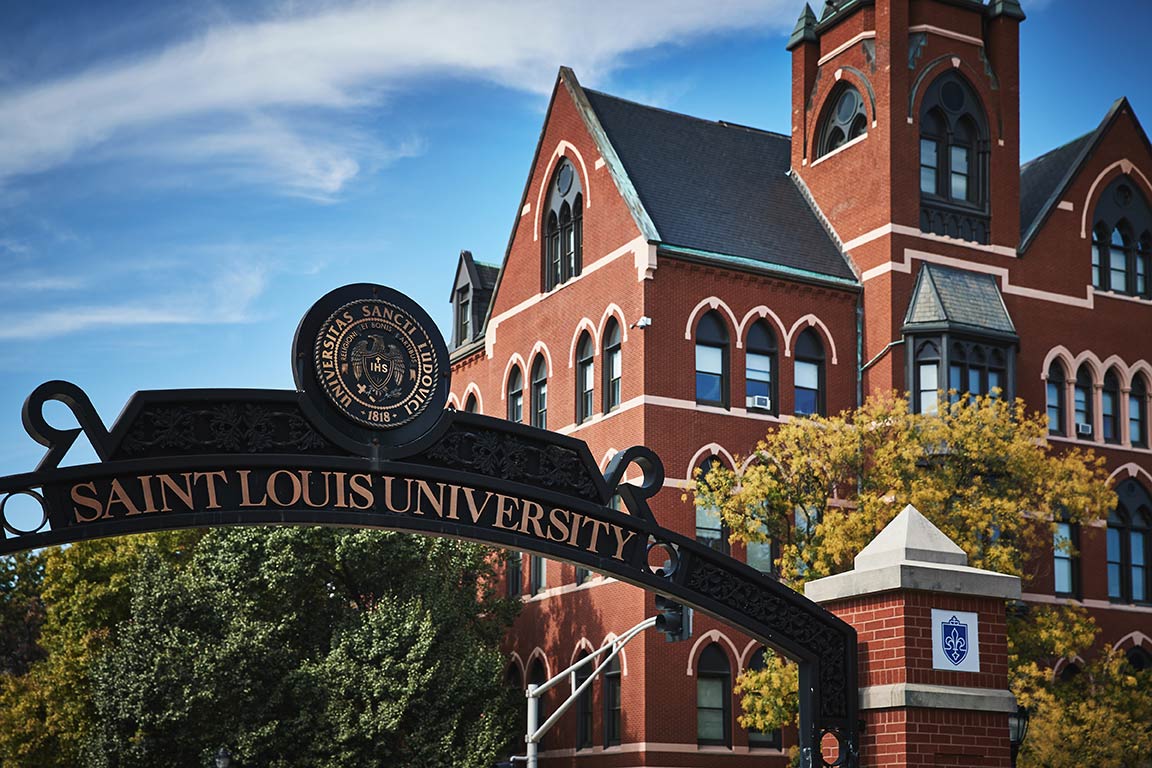 Initiative One
Being a National Exemplar of Transformative Educational and Research Excellence
Goal 1: We will intensify our commitment to excellence in undergraduate, graduate and professional education as we build upon our Jesuit academic heritage by creating new opportunities to facilitate students' development as leaders and agents of change.
Goal 2: We will continue to embrace excellence in research and scholarship by investing in our faculty and research infrastructure, expanding the level of externally funded research and promoting the application of scholarly achievements to societal challenges and opportunities.
Goal 3: We will enhance the array of support services that facilitate students' transitions into their programs of study and strengthen their rates of retention, graduation and job placement.
Goal 4: We will increase access for those seeking the transformative power of a SLU education.
Initiative Two
Being a Market Leader in Health Promotion and the Highest Quality Medical Care
Goal: 1: We will model a holistic approach to integrating health professions education, biomedical and broader health-related research and the provision of health and medical services to the St. Louis community.
Goal 2: We will expand access to clinical services for both the SLU community and the larger community by building on our established strengths in the clinical health sciences.
Initiative Three
Being a Leading Catalyst for Groundbreaking Change in the Region, the Nation and the World
Goal: 1:We will engage more vigorously with the Greater St. Louis community and its residents, pursuing an active, mutually rewarding relationship focused on the community's needs and the opportunities for partnerships that will assist in meeting them.
Goal 2: We will demonstrate our commitment to the community by working with it to develop and implement new approaches to bring community-responsive research and scholarly activities into the community setting.
Goal 3: We will develop a process for guiding the University's physical development activities in the context of the communities which surround the St. Louis campus.
Goal 4: We will foster, support and expand SLU's global instructional, research and service activities by creating the organizational infrastructure necessary to coordinate best practices in this growing field.
Goal 5: We will develop opportunities for SLU faculty, staff and students that facilitate and enhance their international engagement.
Goal 6: We will strengthen the bonds between SLU's Madrid and St. Louis campuses.
Initiative Four
Being an Innovator and Entrepreneur in All That We Do
Goal: 1:We will provide our students, and those who teach them, with a powerful learning-technology environment both to facilitate learning and to prepare them for employment in an increasingly technological workplace.
Goal 2: We will adopt and promote new models of educational design, program delivery and market development, especially insofar as these paradigms address current challenges to the traditional higher-education business model, which are largely driven by affordability and access concerns.
Goal 3: We will create new opportunities for members of the SLU community to foster their socially responsible entrepreneurial interests.
Goal 4: We will utilize SLU's athletics programs as a strategic asset in increasing the visibility of the SLU brand and the prestige of the University nationally and regionally.
Initiative Five
Fostering a Culture of Excellence, Effectiveness and Efficiency Deeply Rooted in Our Institutional Mission and Catholic, Jesuit Values
Goal: 1:We will ensure an employment environment that is consistent with our values and which supports our efforts to sustain a mission-aligned faculty and staff of the highest quality.
Goal 2: We will provide structured opportunities for all faculty and staff to increase their understanding of Jesuit educational principles and values in order to apply them in their daily work.
Goal 3: We will become a more diverse and inclusive community.
Goal 4: We will sustain our ability to carry out our academic mission by establishing and maintaining financial and management systems across the University characterized by subsidiarity, transparency, effectiveness, efficiency and responsiveness in revenue generation, allocation, cost containment, and accountability.
Goal 5: We will apply the Jesuit concept of care for creation to our stewardship of the environment on our campus and in our community.
Goal 6: We will strengthen our internal and external communications capabilities and effectiveness.