Over the next three years, we will focus on enhancing programs, services, practices, and resources in four key areas: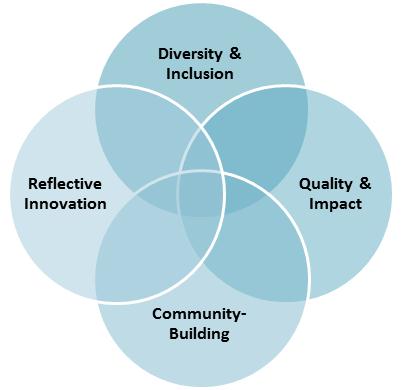 Diversity & Inclusion: Develop programs that prepare educators to engage all learners and to meet the complex demands of increasingly diverse educational environments.
Community-Building: Strengthen the Center's role as a collaborative and community-building resource, both on and off campus.
Reflective Innovation: Develop programs to promote the shift from informational to transformational teaching and learning.
Quality & Impact: Increase the Center's impact on the culture of teaching and learning at SLU and on the development of reflective, innovative educators, both on and off campus.
These strategic directions will guide our operations and the strategic goals that derive from them. They emerge naturally from the data we collected and the reflection we undertook during the 2011-2012 academic year, and they are linked to the University's strategic plan. While each direction represents a key driver for our development over the next three years, the directions also overlap, as do the specific goals that derive from them.