The flipped classroom is a pedagogical model in which the typical lecture and homework elements of a course are reversed. Short video lectures are viewed by students at home before the class session, while in-class time is devoted to exercises, projects,or discussions. The video lecture is often seen as the key ingredient in the flipped approach, such lectures being either created by the instructor and posted online or selected from an online repository.
While a prerecorded lecture could certainly be a podcast or other audio format, the ease with which video can be accessed and viewed today has made it so ubiquitous that the flipped model has come to be identified with it. - Educause, February 2012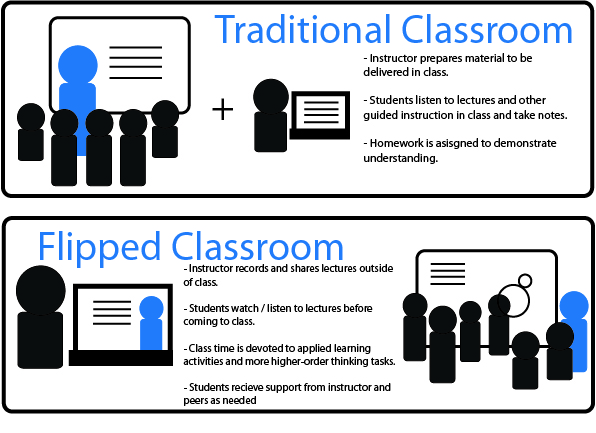 Graphics adapted from Flipping the Classroom, Center for Teaching and Learning, University of Washington
What is a Flipped Classroom?
5 Resources Explaining the Flipped Approach
7 Things you Should Know about Flipped Classroom (Educause)
Flipped Classroom Infographic
How Do I Get Started?
5 General Resources for the Flipping your Class
How Do I Structure the In-Class Portion of the Flipped Classroom Approach?
5 Resources on Specific Practices
"Classes should do hands-on exercises before reading and video, Stanford researchers say.." Stanford Report, July 16, 2013
Research from Stanford University challenges the notion of having students watch lecture videos before coming to class. Study participants who grappled with problems before first exposure to lecture material showed a significant increase test scores.
Turn to Your Neighbor: The Peer Instruction Blog
Harvard Researcher Julie Schnell writes this popular blog on Peer Instruction. The Flipped Classroom is a common topic.
What Are We "Flipping" in the Flipped Classroom? - Dr. Elena Bray Speth (The Reinert Center - Notebook)
Saint Louis University Resources to Help with Flipping the Classroom
For more information about a list of University supported technology tools to help you flip your classroom, visit the ITS website to learn more about campus wide learning technologies for faculty.
If you are faculty interested in talking with someone in the Reinert Center about flipping your class, click here to request a teaching consultation.