Fraternities and sororities have been a part of campus life at Saint Louis University since the early 1900s. Membership has grown steadily, and today more than 1,800 men and women belong to 24 different chapters. More than just social groups, fraternities and sororities are values-based organizations that seek to develop better men and women.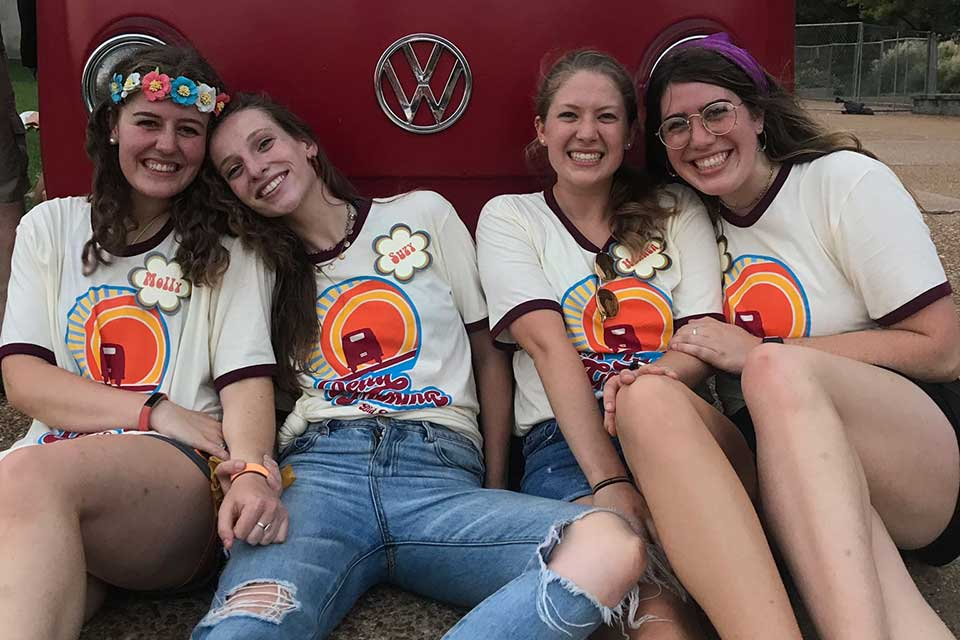 Sorority recruitment at SLU is often built around fun topics and themes. SLU's home for Greek life is DeMattias Hall, an all-Greek residence hall that provides a great opportunity for sorority and fraternity members to live together on campus. DeMattias Hall houses more than 200 students who are members of Greek organizations. It is also home to a residence life professional, campus minister and student staff.
Most chapters have a designated meeting room in the hall, which they use for committee meetings and storage.
How to Join
SLU Greek Life is represented by three governing councils who each have a different process for members to join.
Panhellenic Council (PHC): Sororities
The Panhellenic Council holds a formal fall recruitment process that occurs over four days and is a mutual selection process. To avoid conflicts with classes, recruitment events are held in the evenings and on weekend days.
Registration for fall recruitment opens May 1 and closes September 5. A $30 registration fee is required for all participants.
Multicultural Greek Council (MGC): City-wide fraternities and sororities
Multicultural Greek Council chapters are made up of members from colleges and universities in the greater St. Louis area. They conduct their membership selection or "membership intake process" independently and at different times. Chapters usually hold a formal interest meeting for prospective new members.
Most NPHC organizations require a standing college GPA and some require sophomore standing in order to apply for the intake process. In the fall semester, chapters will host a Historically Black Greek Panel for students to learn more.