DeMattias Hall is Saint Louis University's on-campus housing for members of recognized sororities, fraternities and multicultural Greek organizations.
Along with community lounges on each floor, there are fraternity and sorority chapter rooms — one for almost every chapter on campus — and you'll find students studying or cooking out on the front patio and the lawn during nice weather.
View a video tour inside DeMattias Hall, including options for arranging your room.
About DeMattias Hall
| | |
| --- | --- |
| Address: | 3825 West Pine Mall, St. Louis, MO 63108 |
| Front Desk: | 314-977-1560 |
| Room Types: | Single, double, triple and quad |
| Bathrooms: | Community |
| Dining: | The closest dining option is Fusz Hall and the Billiken's Lair food court with Subway, Jamba Juice, Qdoba Mexican Grille and more. |
| Parking: | San Francisco, Regis and Holy Cross parking lots |
| Amenities: | Central air conditioning, Wi-Fi, cable, on-site laundry, 24-hour security desk, fraternity and sorority chapter rooms, community lounges on each floor, technology-capable multipurpose room, bike storage outside of building. |
| Population: | More than 200 male and female students in on five floors. |
| Visiting Restrictions: | Students living in any University-managed residence halls or apartments may check in guests at the front desk between the hours of 7 a.m. and 2 a.m., Sunday through Thursday or 7 a.m. to 4 a.m., Friday and Saturday. Guests must be checked in and escorted by their host at all times. |
| Special Hours: | DeMattias Hall is closed during Thanksgiving, winter and spring breaks. |
| Trivia: | DeMattias Hall has been the hub of fraternity and sorority life at SLU since 1999. |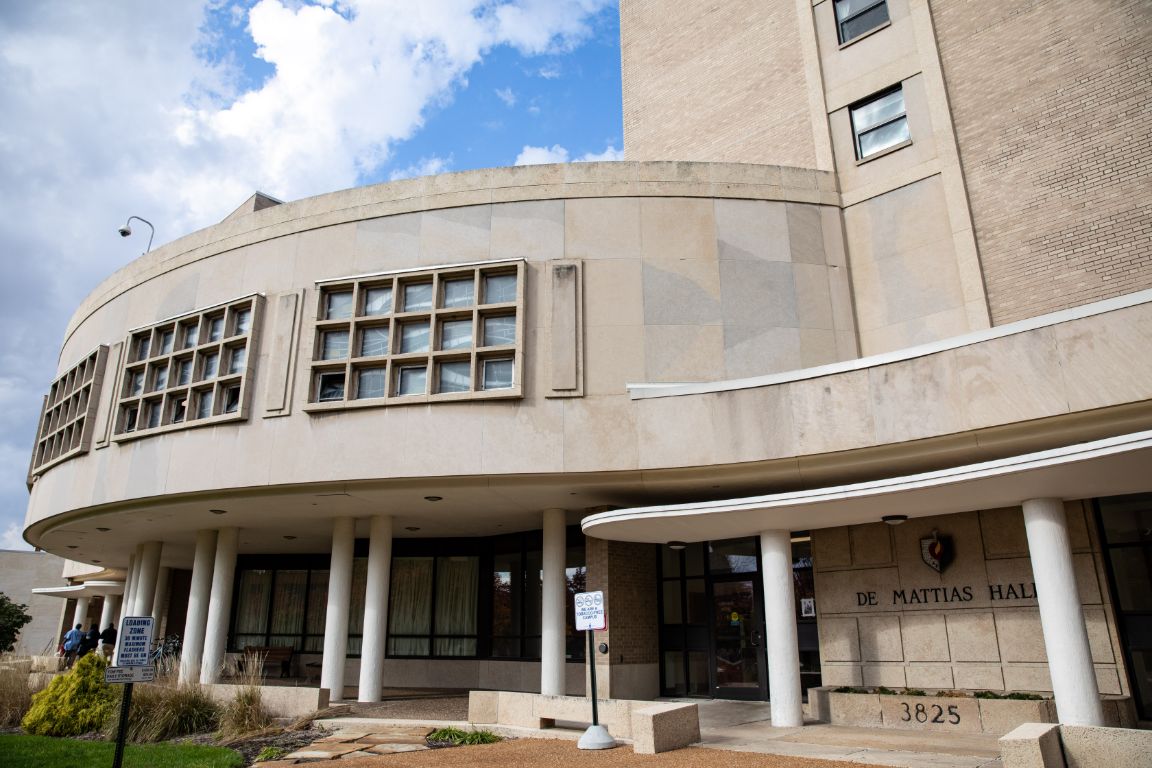 Launch SlideshowExterior view of De Mattias Hall
Flip through a photo slideshow of DeMattias Hall.
Floor Plans and 360° Views
Single
Floor Plan
Room Includes:

Bed: 38"W x 86"L
Dresser: 36"W x 24"L x 30"H
Closet: 38"W x 24"L
Desk: 42"W x 24"L x 30"H
Chair: 18"W x 18"L x 32"H

360° View
Double
Room Includes:

Bed: 38"W x 86"L
Dresser: 36"W x 24"L x 30"H
Closet: 38"W x 24"L
Desk: 42"W x 24"L x 30"H
Chair: 18"W x 18"L x 32"H
Quad
Room Includes:

Bed: 38"W x 86"L
Dresser: 36"W x 24"L x 30"H
Closet: 38"W x 24"L
Desk: 42"W x 24"L x 30"H
Chair: 18"W x 18"L x 32"H