Located on the eastern side of Griesedieck Hall in the Griesedieck Complex, the fully renovated Walsh Hall is primarily home to double rooms for freshmen and sophomore students.
Featuring new LED lighting, new flooring, new paint, carpeted hallways, renovated bathrooms and HVAC improvements, Walsh Hall shares a lobby with Griesedieck Hall and Clemens Hall.
Students who live in the complex are centrally located next door to Simon Recreation Center and across the mall from Pius XII Memorial Library.
View a video tour of Walsh Hall, including options for arranging your room.
About Griesedieck Complex
Address:
3630 West Pine Mall, St. Louis, MO 63108
Front Desk:
314-977-1500 (front desk)
314-977-7163 (back desk)
Amenities:
Window air conditioning units, Wi-Fi, cable, on-site laundry room, community kitchen, two 24-hour security desks, technology-capable seminar room, community tutoring and study room. Bike storage outside of building.
Additional special features:
Chapel on site
Room types:
Single, double, double deluxe and triple
Bathrooms:
Mostly community, some private
Dining:
Full service dining hall with all-you-care-to-eat food court in the adjacent Grand Hall. There is also a Starbucks on the ground floor of Clemens Hall.
Parking:
Gonzaga and St. Peter's parking lots, Laclede Garage
Population:
About 650 freshman and older students on 14 floors in Griesedieck, Walsh and Clemens Hall, all of which are co-ed with single-gender rooms and single-gender floors.
Visiting Restrictions:
Students living in any University-managed residence halls or apartments may check in guests at the front desk between the hours of 7 a.m. and 2 a.m., Sunday through Thursday or 7 a.m. to 4 a.m., Friday and Saturday. Guests must be checked in and escorted by their host at all times.
Special Hours:
Griesedieck Complex stays open over Thanksgiving, winter and spring breaks.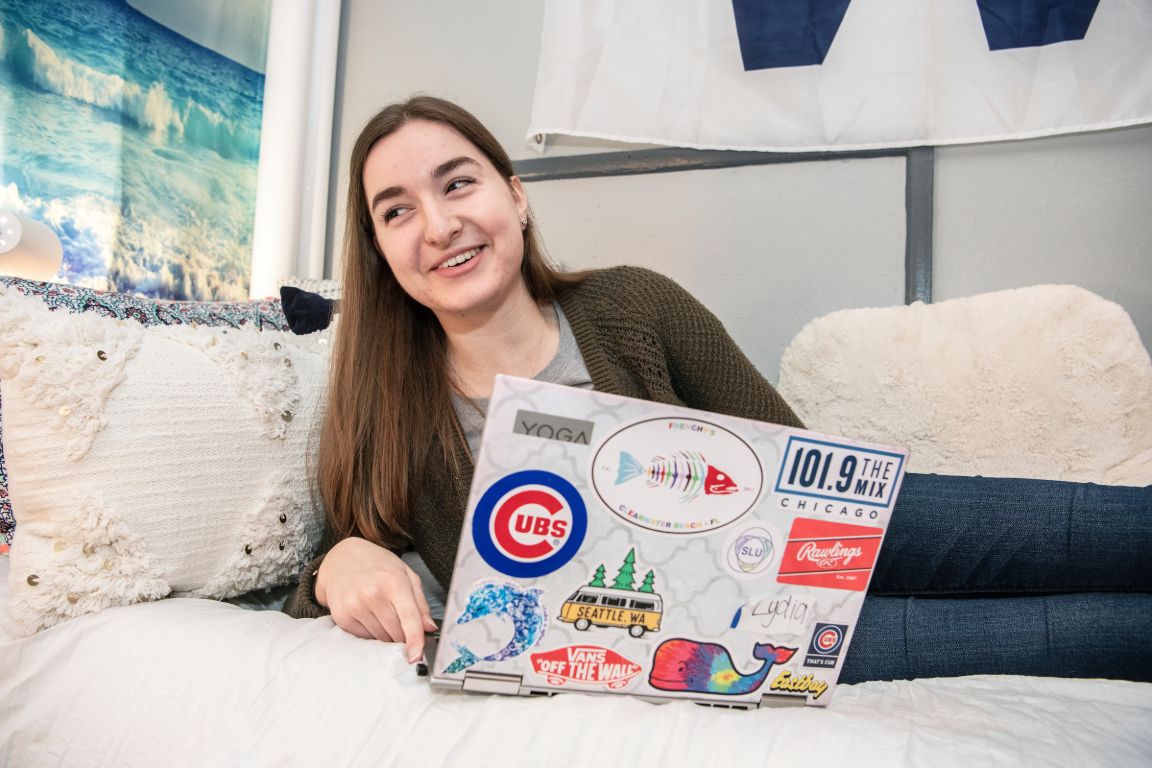 Exterior of Walsh Hall
Flip through a photo slideshow of Walsh Hall.
Walsh Hall Floor Plan
Double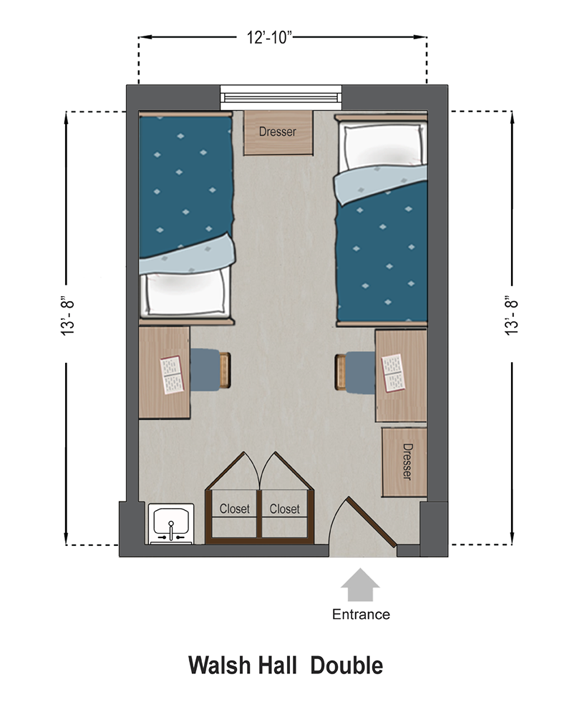 Room Includes:
Bed: 38"W x 86"L
Dresser: 36"W x 24"L x 30"H
Desk: 42"W x 24"L x 30"H
Chair: 18"W x 18"L x 32"H
*00 floor rooms do not have sinks within rooms.