Named after Paul C. Reinert, S.J., a former president of Saint Louis University, Reinert Hall is a hub of activity on campus.
It houses more than 500 male and female freshman and sophomore students, plus a dining hall and chapel. Bathrooms are private, and roommates live in groups of two upperclassmen or three freshmen. You'll often find people studying or student organizations meeting in Reinert Hall's common areas.
Reinert Hall is close to MetroLink and Billiken Shuttle stops and just steps away from an off-campus Chipotle and Starbucks. (Queso and coffee = winning.)
About Reinert Hall
Address:
303 South Grand Blvd., St. Louis. MO 63103
Front Desk:
314-977-3080
Amenities:
Central air conditioning, Wi-Fi, cable, on-site laundry, community kitchen, 24-hour security desk, community tutoring and study room, technology-capable banquet room, bike storage outside of building, outdoor patio area
Additional special features:
Chapel on site. One Jesuit-in-residence, one full-time campus minister.
Room types:
Double deluxe and triple deluxe rooms
Bathrooms:
Private
Dining:
Grab-and-go complete hot meal combo options for breakfast, lunch and dinner with a meal swipe, with additional snacks and drinks available for purchase. (
Parking:
Fordham parking lot
Population:
Up to 505 first- and second-year students on 10 floors. Single-gender rooms on mixed-gender floors.
Residence Hall Coordinators::

Hannah Wasco, hannah.wasco@slu.edu , 314-977-2983
Katie Dwyer, kaitlyn.dwyer@slu.edu

Visiting Restrictions:
Students living in any University-managed residence halls or apartments may check in guests at the front desk between the hours of 7 a.m. and 2 a.m., Sunday through Thursday or 7 a.m. to 4 a.m., Friday and Saturday. Guests must be checked in and escorted by their host at all times.
Special Hours:
Reinert Hall is closed during academic breaks.
Trivia:
Father Reinert has his own star on the St. Louis Walk of Fame.
Floor Plans
Double Deluxe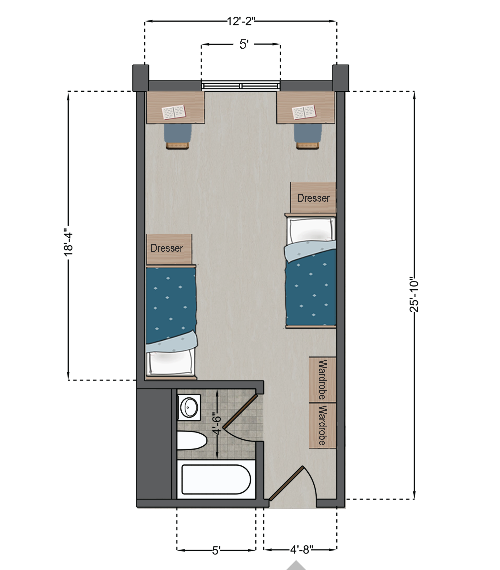 Room Includes:
Bed: 38"W x 86"L
Dresser: 36"W x 24"L x 30"H
Wardrobe: 36"W x 24"L x 72"H
Desk: 42"W x 24"L x 30"H
Chair: 18"W x 18"L x 32"H
Triple Deluxe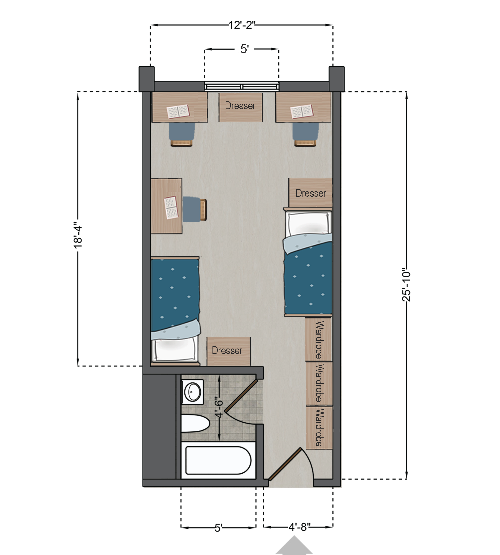 Room Includes:
Bed: 38"W x 86"L
Dresser: 36"W x 24"L x 30"H
Wardrobe: 36"W x 24"L x 72"H
Desk: 42"W x 24"L x 30"H
Chair: 18"W x 18"L x 32"H
What's in the Room
Set of bunk beds + an extra-long twin bed with 9" memory foam mattresses
Desks
Dressers
Wardrobes
Two Learning Communities
SLU's Health Sciences Learning Community lets you take courses and live with other majors in the Trudy Busch Valentine School of Nursing and Doisy College of Health Sciences. You'll also have opportunities to explore the health field with the help of faculty and staff from across campus or even schedule a shadowing experience at SSM Health SLU Hospital.
SLU's Life Sciences Learning Community can help you develop and explore your interests within medical sciences, public health, sustainability and technology in science. It is designed for all majors who are considering a pre-medical track.