Saint Louis University's Fusz Hall offers a comfortable blend of academics and social life.
With just more than 200 students on six floors, Fusz offers a great location near SLU's Center for Global Citizenship, Simon Recreation Center and Pius XII Memorial Library.
You'll find students taking advantage of study space on the second floor, making late-night food runs to the Billiken's Lair food court on the ground floor (it's open until 2 a.m. Friday and Saturday nights) and gathered around the fire pits on the outside patio.
Fusz Hall is also attached to one of SLU's three museums, the Museum of Contemporary Religious Art.
View a video tour of Fusz Hall, including options for arranging your room.
About Fusz Hall
| | |
| --- | --- |
| Address: | 3700 West Pine Mall, St. Louis, MO 63108 |
| Front Desk: | 314-977-2984 |
| Amenities: | Central air conditioning, Wi-Fi, cable, on-site laundry, 24-hour security desk, community lounges on each floor, flex classroom and study space. Bike storage outside of building. |
| Additional special features: | Fusz Hall features an outside lounge area with fire pits and is attached to Saint Louis University's Museum of Contemporary Religious Art. |
| Room types: | Single, double and triple occupancy |
| Bathrooms: | Community |
| Dining: | Students can stroll down to Grand Dining Hall for meals or choose to dine at the Billiken's Lair located in Fusz Hall. |
| Parking: | Rockhurst or Gonzaga parking lots, the Laclede Garage |
| Population: | More than 230 students in single-gender rooms on mixed-gender floors |
| Visiting Restrictions: | Students living in any University-managed residence halls or apartments may check in guests at the front desk between the hours of 7 a.m. and 2 a.m., Sunday through Thursday or 7 a.m. to 4 a.m., Friday and Saturday. Guests must be checked in and escorted by their host at all times. |
| Special Hours: | Fusz Hall closes for Thanksgiving, winter and spring breaks. |
| Trivia: | Fusz Hall used to be known as the "House of Philosophy" when Jesuit scholastics lived there. The scholastics are still on campus — they now live at Bellarmine House. |
Launch SlideshowExterior view of Fusz Hall
Flip through a photo slideshow of Fusz Hall.
Floor Plans and 360° Views
Single
Floor Plan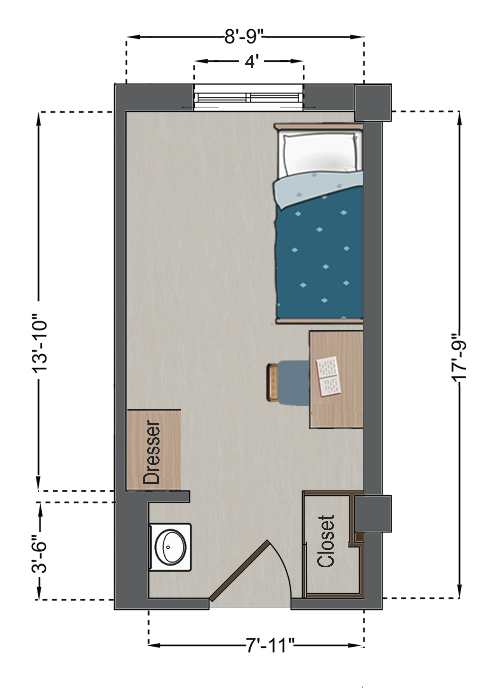 Room Includes:
Bed: 38"W x 86"L
Dresser: 36"W x 24"L x 30"H
Closet: 38"W x 24"L
Desk: 42"W x 24"L x 30"H
Chair: 18"W x 18"L x 32"H
360° View
Double
Floor Plan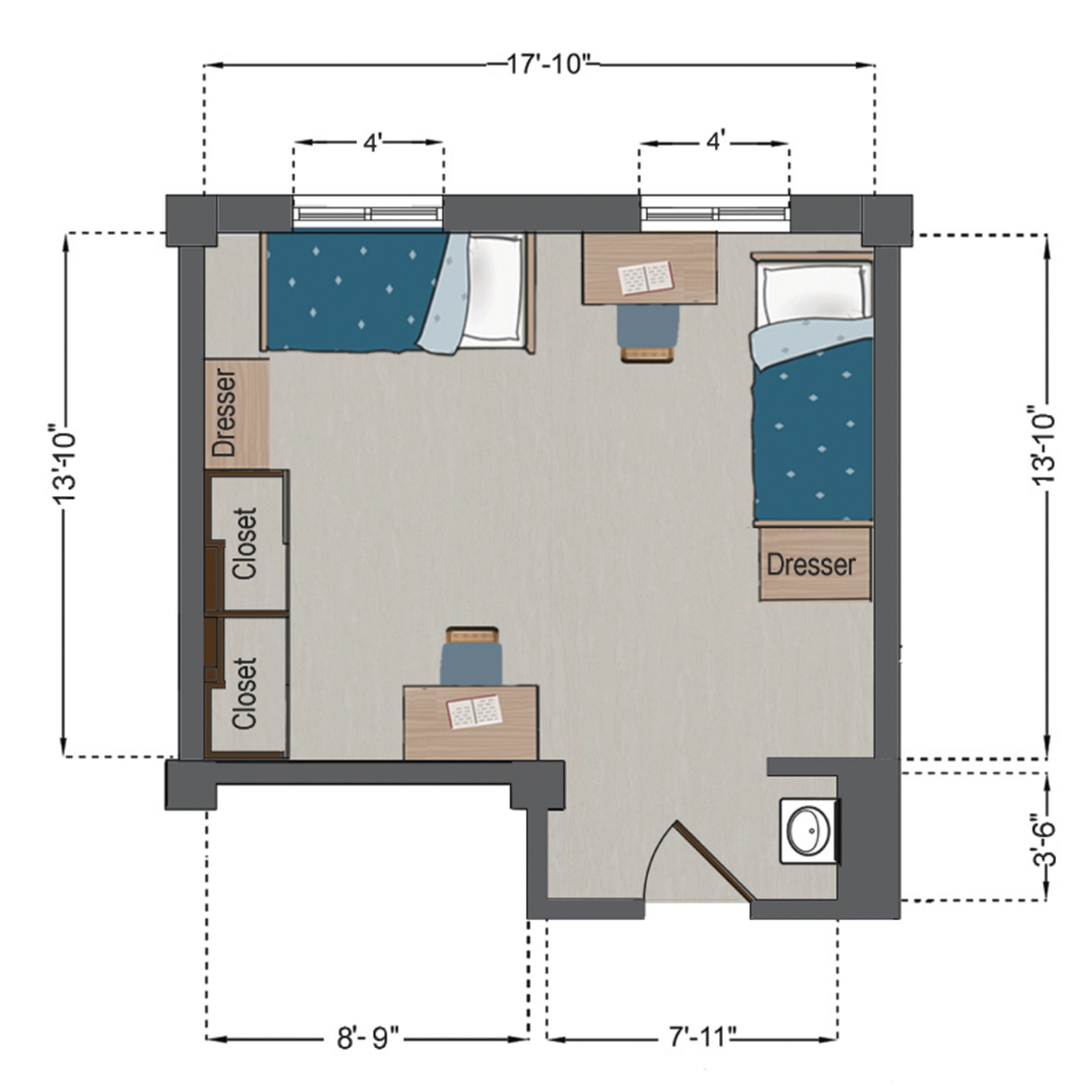 Room Includes:
Bed: 38"W x 86"L
Dresser: 36"W x 24"L x 30"H
Closet: 38"W x 24"L
Desk: 42"W x 24"L x 30"H
Chair: 18"W x 18"L x 32"H
360° View
Double Deluxe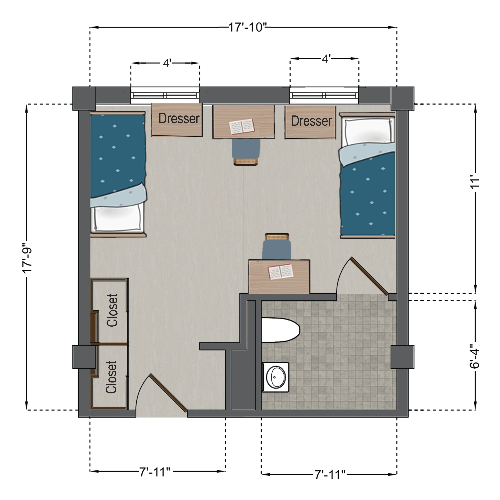 Room Includes:
Bed: 38"W x 86"L
Dresser: 36"W x 24"L x 30"H
Closet: 38"W x 24"L
Desk: 42"W x 24"L x 30"H
Chair: 18"W x 18"L x 32"H