Checkmate: SLU Chess Team Honored for Historic Season
by Joe Barker on 05/04/2022
05/04/2022
Six years after its founding, the Saint Louis University chess team captured the President's Cup to claim the collegiate chess National Championship.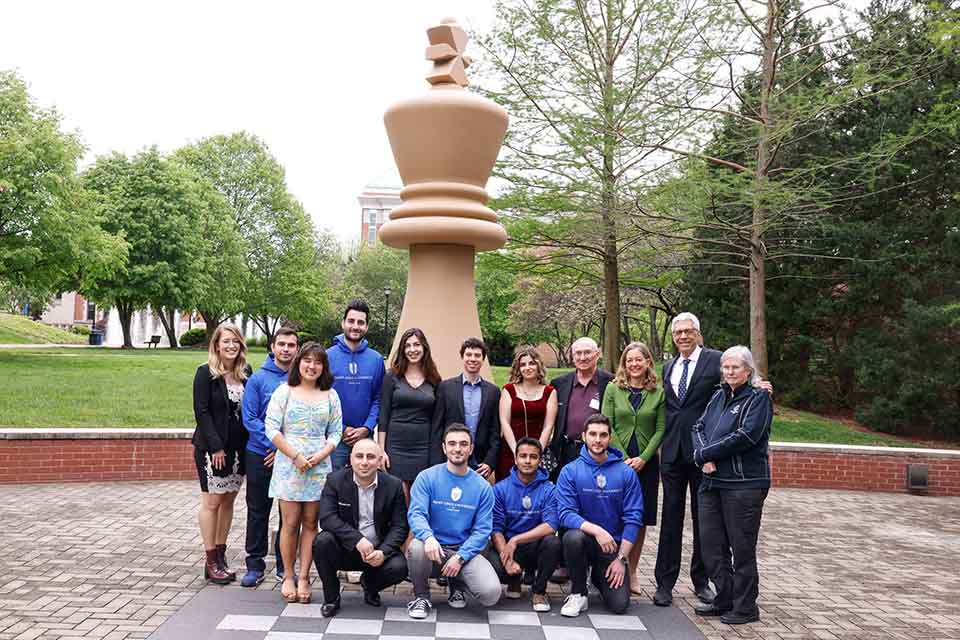 Members of the SLU chess team take a picture with Rex and Jeanne Sinquefield, and University President Fred P. Pestello, Ph.D., before the Chess Celebration and dedication of the Sinquefield Chess Commons on May 3, 2022. Photo by Sarah Conroy.
Tuesday night inside the Sinquefield Chess Commons, the chess team was honored — not just for their historic season that included a number of tournament wins, but also for the journey the program has undergone since its founding.
The chess team was established in the fall of 2016 as a partnership between SLU and the Chess Club and Scholastic Center of St. Louis, with support from SLU alumnus, University trustee and chess enthusiast Rex Sinquefield.
"Six years later, here we stand with a banner beside me and outside saying 'National Champions,' said William Perkins, director, pre-college, access and TRIO Programs. "It's been an amazing ride."
Coach Alejandro Ramirez has been with the program since its inception. At the celebration, he spoke about the great journey the team has been on since its first year. Ramirez noted that over the years, he's learned so much from the students on the team.
"Our students represent us at the highest level over and over again and I'm very, very, proud of them," Ramirez said.
University President Fred P. Pestello, Ph.D., remembered one of his first conversations with Sinquefield about starting a chess program — one that would win trophies and tournaments.
"Rex had a vision," Pestello said.
That vision from Rex and his wife, Dr. Jeanne Sinquefield, Pestello said, made "tremendous sense." It led to the creation of the team and, eventually, the emergence of the No. 1 collegiate chess team in the country.
"We want to thank you, Jeanne, and we want to thank you, Rex, for one, pushing us and then backing in a way that we can do it at an extraordinary level — a level with which we can be proud, a level of excellence," Pestello said.
Pointing to the members of the chess team, Pestello said the University was "very proud" of them and their accomplishments.
"We have here these incredible young people who have devoted countless hours to this craft," Pestello said. "We were talking earlier, they practice five to six hours a day or more year, after year, after year. They love this game, and love being together here at this university, competing at the highest level. … How great to be at the top of the game, and how great for Saint Louis University to have you here."
Rex Sinquefield, dubbed the "Godfather of American Chess" by his wife, Jeanne, also praised the chess team.
"Alejandro, I just can't say enough about you and your team," Rex Sinquefield said. "You guys get to lay in bed every night and look at the ceiling and say, 'I'm the best in the world' because you actually are."
Like others, Sinquefield marveled at the fast journey from no team to a championship squad.
"When I think back and reflect, I think, '"How in the world did they do it?" Sinquefield said. "We had nobody, we had nothing. . . . For you guys to do that in a few years is amazing. That's not done in sports. Ever."
In addition to honoring the chess team, Tuesday's ceremony featured a dedication of the Sinquefield Chess Commons — the home of the chess team and all its trophies located in Morrissey Hall. The space was blessed by David Suwalsky, Ph.D., S.J.. Vice President for Mission and Identity.