As president of Saint Louis University, Father Lawrence Biondi shared hundreds of communications with the SLU community. He also sat down for lengthy interviews that were shared with SLU alumni in the pages of Universitas, SLU's alumni magazine.
Below are links to several of those interviews as well as the text of Fr. Biondi's inauguration speech and video of his remarks at the Gala celebrating his 25th anniversary in office.
1987: Father Biondi's Inauguration Speech at Saint Louis University
See the video of Father Biondi's inauguration speech.
Read Father Biondi's Inauguration Speech at Saint Louis University (PDF)
1997: Interview on Father Biondi's 10th Anniversary as President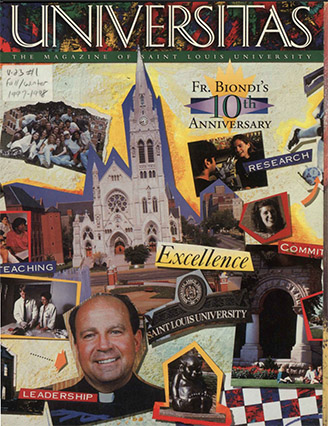 Read an Interview With Father Biondi on His 10th Anniversary as President (PDF)
2007: Interview on Father Biondi's 20th Anniversary as President

Read an Interview With Father Biondi in His 20th Anniversary as President (PDF)
2013: Father Biondi's Speech at His 25th Anniversary Gala
2013: Interview on Father Biondi's 26-Year Presidency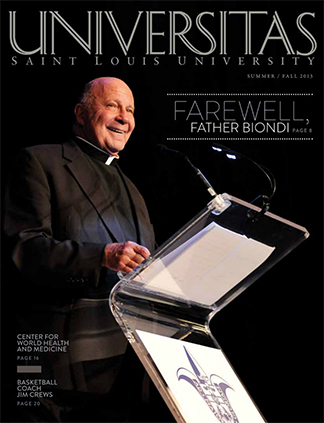 Read an Interview With Father Biondi on His 26-Year Presidency (PDF)
2019: Father Biondi Street Naming Ceremony