University Welcomes New Billikens at Fall Convocation
Speakers urge new Billikens to seek connection as they begin their lives at SLU.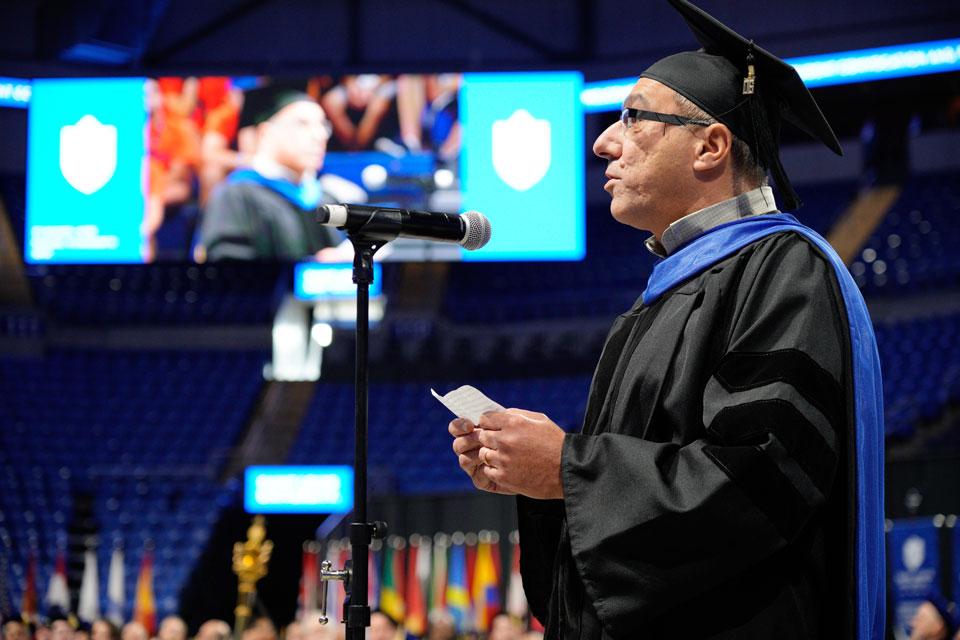 Faculty member and Billiken dad Riyadh Hindi, Ph.D., speaks about how he serves SLU's mission at New Student Convocation.
Saint Louis University's newest Billikens officially joined the campus community as University leaders, their fellow students, faculty and staff member urged them to seek out connections to others as they embark on their collegiate journeys.
As the University celebrated New Student Convocation on Friday, Aug. 23 at Chaifetz Arena, speakers urged the students to consider their gifts and privilege, and the ways that SLU's mission calls them to change the world for the better, together.
"There is no singular SLU experience," Interim Provost Chester "Chet" Gillis, Ph.D., told the class of 2023 and their loved ones. "Without sacrificing your individuality, you are becoming one."
The class of 2023 is the largest in University history. Its members joined the rest of the SLU community in welcoming the academic year, after a successful Fall Move-In that began on Wednesday, Aug. 21.
Life-Changing Connections to Build Community
Even as dozens of SLU volunteers, RAs and Oriflamme members had helped parents, loved ones and new Billikens settle into residence halls earlier in the week, senior Maleah Fallahi, president of the Student Government Association (SGA), reminded students that life-changing relationships are around every corner at SLU.
Fallahi, a political science and American Studies major, recalled finding a special connection in a mortifying moment during her freshman year. After being aided by "Miss Dolores," a SLU staff member, Fallahi noted that the relationship that grew from it had transformed her SLU experience.
"In that moment," Fallahi recalled, "Miss Dolores gave me permission not to be so hard on myself."
She urged her fellow Billikens to seek out those relationships, and to connect with one another.
"It is through the everyday actions that we create that connection that leads to community," Fallahi said.
Come to Office Hours, Change Your Life
Kira Hudson Banks, Ph.D., Convocation's faculty speaker, encouraged students to "step into this new place and be bold enough to create a vision for yourself."
"You're entering a space where what you think you know will be challenged," Banks, an associate professor of psychology, said. "You'll learn to explore new ideas and the skills to be in dialogue with people with whom you don't agree."
She urged the gathered students to listen to their inner voices, to overcome the obstacles they encounter, and take risks.
"We can do stuff and be scared," she said before noting that her most profound advice would be to "go to office hours!"
New Students Challenged to Seek to Connection
University President Fred P. Pestello, Ph.D., spoke of the tradition students were joining as members of a Catholic, Jesuit research university grounded in a centuries-old liberal arts tradition. He joined Fallahi, Gillis and Banks in calling for students to seek connection as the path toward becoming the people they strive to be, professionally, spiritually and personally.
"Here, we are engaging with the most compelling questions of our time," Pestello said. "I promise you will be stretched and transformed in ways you can't even imagine. All you have to do is engage."
Convocation Highlights
A drone snapped a full class photo of the Class of 2023, the first incoming class of SLU's third century.
Interim University Provost

Chester "Chet" Gillis, Ph.D., served as mace bearer.
University leaders including academic deans, the president of the Student Government Association (SGA), the President's Leadership Council and Pestello took part in an opening procession that included University faculty.
Longtime SLU faculty member and former chair of the Department of Philosophy,

Theodore "Ted" Vitali, CP, Ph.D., delivered the invocation.
Ten staff, faculty members and students spoke about how they serve the higher purpose of SLU's Jesuit mission.
Christopher Collins, S.J., assistant to the president for mission and identity, closed Convocation with a missioning statement as students began their lives at SLU.
Following Convocation, students and their families took part in receptions and orientations hosted by individual schools and colleges, before continuing with Fall Welcome through the weekend.
---
Founded in 1818, Saint Louis University is one of the nation's oldest and most prestigious Catholic institutions. Rooted in Jesuit values and its pioneering history as the first university west of the Mississippi River, SLU offers nearly 13,000 students a rigorous, transformative education of the whole person. At the core of the University's diverse community of scholars is SLU's service-focused mission, which challenges and prepares students to make the world a better, more just place.
Photos by Steve Long, University Marketing and Communications