SLU, Urban League Honor MLK's Legacy, Civic Leaders at Memorial Tribute
ST. LOUIS — For the first time in three years, Saint Louis University and the Urban League of Metropolitan St. Louis gathered in person for their annual memorial tribute honoring civil rights leader the Rev. Dr. Martin Luther King Jr. on Wednesday, Jan. 11, 2023.
David Suwalsky, S.J., Ph.D., vice president for mission and identity, led a packed crowd in prayer in SLU's Wool Ballroom.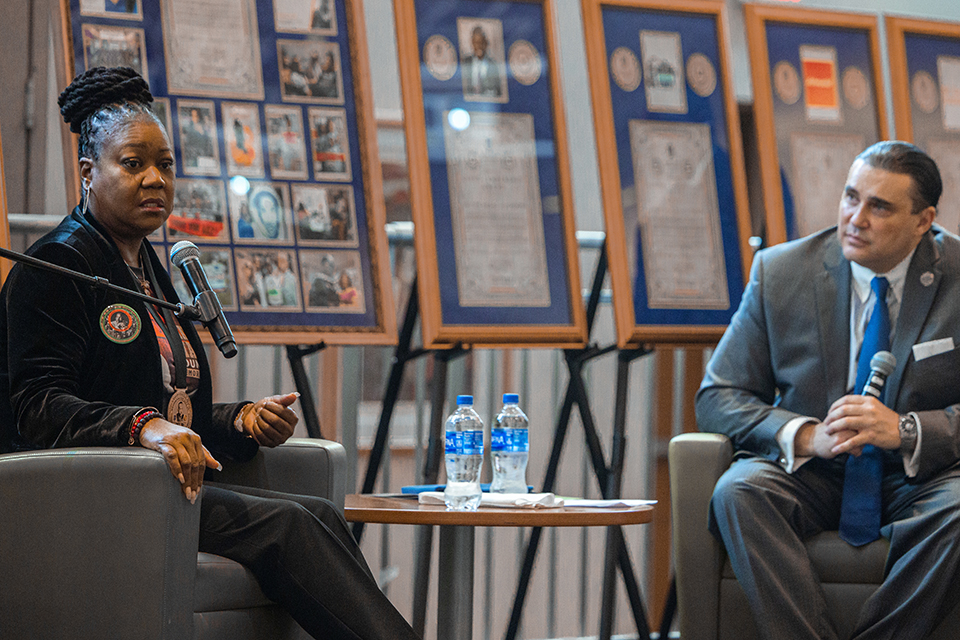 Sybrina Fulton, mother of Trayvon Martin, speaks during the Martin Luther King Jr. Memorial Tribute hosted by Saint Louis University and the Urban League of Metropolitan St. Louis on Jan. 11, 2023. Photo by Sarah Conroy.
In his opening remarks, SLU alumnus Michael McMillan, president and CEO of the Urban League, acknowledged Rochelle D. Smith, M.S., in her new role as vice president for diversity and innovative community engagement. McMillan lauded her efforts in continuing the legacy of her late husband, Jonathan Smith, Ph.D., who he said strived to make SLU a leader in diversity, equity and inclusion.
University President Fred P. Pestello, Ph.D., echoed words spoken by Dr. King during a campus visit on Oct. 12, 1964, "We have come a long, long way, but we have a long, long way to go."
Dr. King understood the challenges of national and institutional change yet believed it was absolutely required. Change is possible as long as we work as a community and from a place of love, Pestello continued.
"Dr. King believed that when we are inspired by love we have the potential to create a truly just society, a beloved community in which all people can thrive," Pestello added. "Hope drives us to broaden access to education, health care, and work against the many impacts of racism."
Smith pledged that SLU will continue to be "bold, innovative and determined to uplift those who have been historically marginalized by systems of oppression and exclusion."
Drum Major for Justice
The event featured a fireside chat with speaker Sybrina Fulton who is dedicating her life to transforming family tragedy into social change. Fulton was honored with the Drum Major for Justice Award at the event.
Since the death of her 17-year-old son, Trayvon Martin, during a violent confrontation in 2012, Fulton has become a champion for justice and an end to senseless gun violence through the creation of the Trayvon Martin Foundation.
"The justice system was not fair for us in our situation," Fulton said. "I didn't understand how the jurors [couldn't comprehend] that he was an unarmed 17-year-old that was minding his own business, and the person that shot and killed him had no right to follow and pursue him with a loaded gun."
Trayvon's foreshortened life gave rise to a movement that awoke a nation's conscience.
"It's not just about Trayvon," Fulton said. "It's about Tamir Rice, Eric Garner, Michael Brown, Oscar Grant, Ahmad Arbery and Breonna Taylor."
Regarding where we go from here, Fulton called for more jurors of color.
"We need you in jury duty," Fulton continued. "If some of you guys would have been there, the person who shot and killed Trayvon would have been in jail."
The breakfast tribute has become a SLU and Urban League tradition, drawing local leaders, advocates, students and members of the wider St. Louis community together. In its 10 years, the MLK tribute has also attracted distinguished speakers. In 2020, noted journalist and author Roland Martin, gave the event's keynote address, while in prior years, those gathered heard from civil rights legends like Martin Luther King III and Ambassador Andrew Young.
Pestello, McMillan and Smith presented the year's awards to an esteemed group of accomplished academic, civic, business and political leaders.
2023 Honorees
Civic Leadership Award
Donald Brennan Humanitarian Award
Bryan Sokol, Ph.D., assistant vice president in the Division of Diversity and Innovative Community Engagement and director of the Center for Social Action at SLU.
Dr. Jonathan C. Smith Civic Leadership Award
Olubukola Gbadegesin, Ph.D., associate professor of art history at SLU.
Civic Leadership Award
Doug Wible
Pastor Andre Alexander
The St. Louis American
Schnucks
Economic Empowerment Award
Dream Builders for Equity
Previous awardees have included Martin Luther King III; Rev. Starsky Wilson; Kelvin Adams, Ph.D., superintendent of the St. Louis Public Schools; Marc Morial, president of the national Urban League; and civil rights leader Xernona Clayton, among others.
About Saint Louis University
Founded in 1818, Saint Louis University is one of the nation's oldest and most prestigious Catholic institutions. Rooted in Jesuit values and its pioneering history as the first university west of the Mississippi River, SLU offers more than 13,500 students a rigorous, transformative education of the whole person. At the core of the University's diverse community of scholars is SLU's service-focused mission, which challenges and prepares students to make the world a better, more just place.