Located steps from the quad, the Griesedieck Complex is the tallest building on Saint Louis University's campus.
Primarily housing male and female freshman and sophomore students, the "U"-shaped complex is made up of Clemens, Walsh and Griesedieck halls. Residents of the Griesedieck Complex share a common lobby area with a smart classroom and student lounge. The complex is also home to a chapel.
Students who live in "Gries" are next door to Simon Recreation Center and across the mall from Pius XII Memorial Library — plus, Griesedieck Hall has an incredible view of the St. Louis Arch.
View a video tour of Griesedieck Hall, including options for arranging your room.
About Griesedieck Complex
Address:
3630 West Pine Mall, St. Louis, MO 63108
Front Desk:
314-977-1500 (front desk)
314-977-7163 (back desk)
Amenities:
Window air conditioning units, Wi-Fi, cable, on-site laundry room, community kitchen, two 24-hour security desks, technology-capable seminar room, community tutoring and study room. Bike storage outside of building.
Additional special features:
Chapel on site, major exploration theme housing
Room types:
Single, double, double deluxe and triple
Bathrooms:
Mostly community, some private
Dining:
Full service dining hall with all-you-care-to-eat food court in the adjacent Grand Hall. There is also a Starbucks on the ground floor of Clemens Hall.
Parking:
Gonzaga and St. Peter's parking lots, Laclede Garage
Population:
About 650 freshman and older students on 14 floors in Griesedieck, Walsh and Clemens Halls, all of which are co-ed with single-gender rooms and single-gender floors.
Visiting Restrictions:
Students living in any University-managed residence halls or apartments may check in guests at the front desk between the hours of 7 a.m. and 2 a.m., Sunday through Thursday or 7 a.m. to 4 a.m., Friday and Saturday. Guests must be checked in and escorted by their host at all times.
Special Hours:
Griesedieck Complex stays open over Thanksgiving, winter and spring breaks.
Trivia:
Plans are underway for the renovation of the Griesedieck Complex.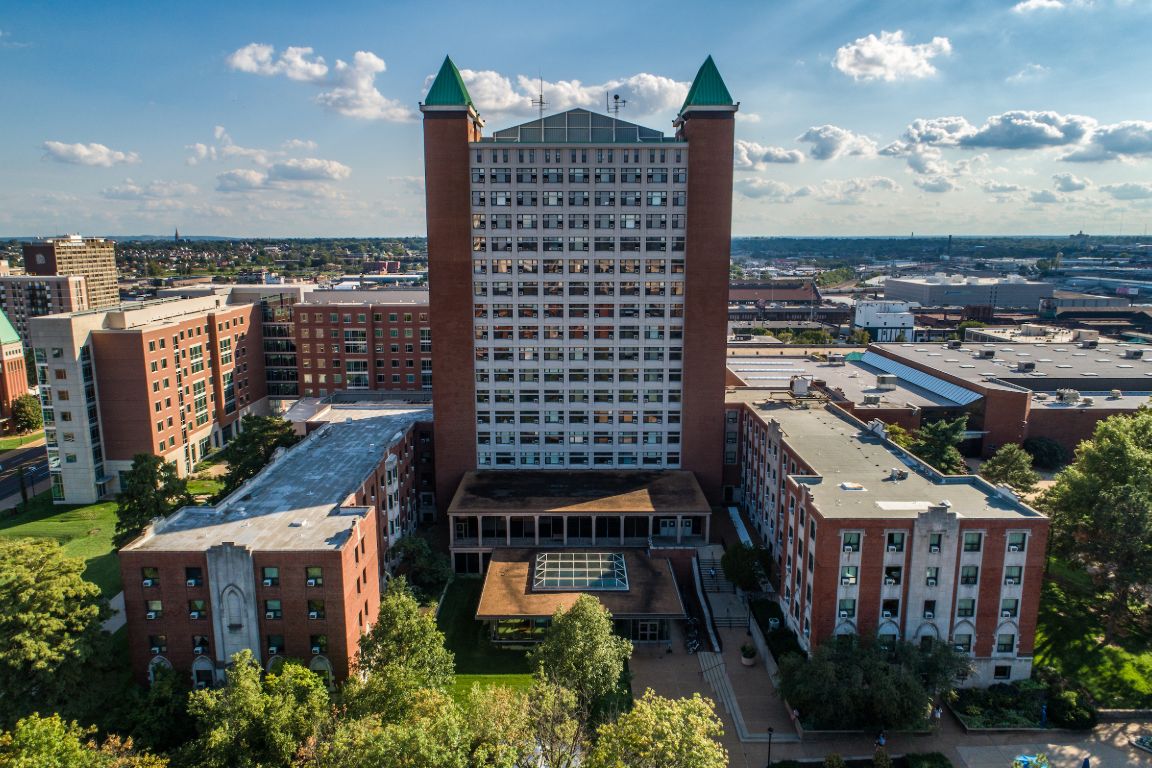 Launch SlideshowExterior view of Griesedieck Hall.
Flip through a photo slideshow of Griesedieck Hall.
Floor Plans and 360° Views
Griesedieck Hall
Double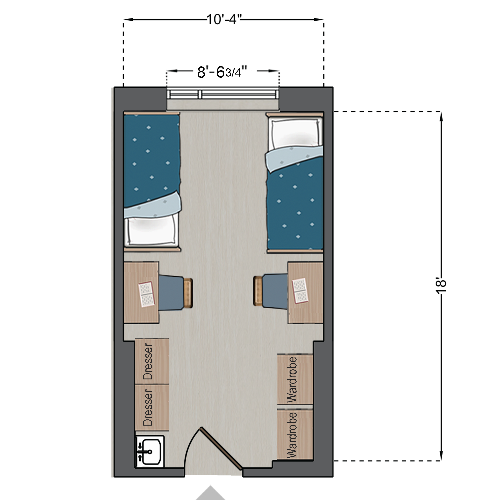 Room Includes:
Bed: 38"W x 86"L
Dresser: 36"W x 24"L x 30"H
Closet: 38"W x 24"L
Desk: 42"W x 24"L x 30"H
Chair: 18"W x 18"L x 32"H
360° View
Double Deluxe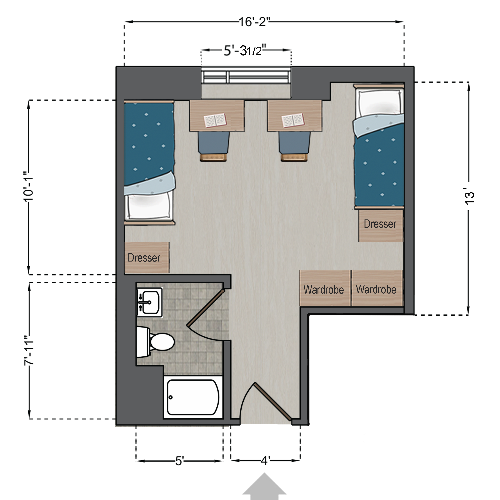 Room Includes:
Bed: 38"W x 86"L
Dresser: 36"W x 24"L x 30"H
Closet: 38"W x 24"L
Desk: 42"W x 24"L x 30"H
Chair: 18"W x 18"L x 32"H