A hallmark of Ignatian spirituality and pedagogy is the iterative cycle of critical self-examination, reflection and action.
To implement this cycle of assessment throughout the Division of Academic Affairs at Saint Louis University, faculty and staff strive to:
Define what "quality" means to SLU, and for SLU, in the contexts of education, scholarship, service and operational support
Set measurable outcomes for educational, scholarship, service and operational performance across all programs and units
Develop and fully implement the curricular, co-curricular, academic support, scholarship, service and operational support programs designed to foster achievement of those outcomes
Regularly measure achievement of stated outcomes (by students, faculty and the institution collectively)
Regularly share and act upon achievement data to improve on all that we do
Strengthen institutional conditions — cultures, infrastructures, human and fiscal resources and ethos — that intentionally support and advance all of the above
SLU conducts an assessment of student learning at both the Universitywide (i.e., Core Curriculum assessment) and academic program levels for a variety of purposes.
Understanding the Results
Accordingly, assessment results need to be understood and interpreted in their specific assessment contexts. That requires us to be intentional about how and for what purposes the results are reported and subsequently used by various University constituencies as described below.
For Faculty and Staff
Results of the assessment of our graduates' performance are utilized by SLU faculty and staff to understand how and why students evidenced performance as they did. That research, in turn, should be evidence of what we as an educational community can do to improve that performance. It should be noted that program- and University-level assessment results are expressly not used to "grade" students nor are they used in any way to determine if students should graduate or not.
For Students and Families
Knowing how many of SLU's graduates meet our own educational expectations can be helpful to students and families looking for an additional measure of the outcomes and benefits of a SLU education. Most helpful, however, could be knowing that SLU is very intentional about evaluating our educational quality and impact on students, and about acting upon what we learn to improve all that we do.
For the Higher Learning Commission

Since 1916, Saint Louis University has been accredited by the Higher Learning Commission (HLC), formerly known as the North Central Association of Colleges and Schools. The HLC regularly monitors overall institutional quality and integrity, and is focused on ensuring that SLU meets its educational objectives consistent with our University mission.

A key element of the HLC's oversight is monitoring and offering support for the improvement of our educational assessment efforts. SLU's transparent reporting of our assessment processes, results and — perhaps most important — what we learn from our results to inform positive change, are all critical to the HLC's understanding and evaluation of SLU's institutional performance.
Questions or comments? Contact Marissa Cope, assessment director, at marissa.cope@slu.edu.
Program-Level Assessment
All SLU programs (degrees and certificates) are to undergo continuous, ongoing assessment of their learning outcomes. Assessment data should be collected and reviewed regularly. Programs submit their most recent plans and annual reports to the Office of Academic Affairs. These plans and reports are available here, organized by the associated college, school, or center. The student learning outcomes assessment process is illustrated below.
Student Learning Outcomes Assessment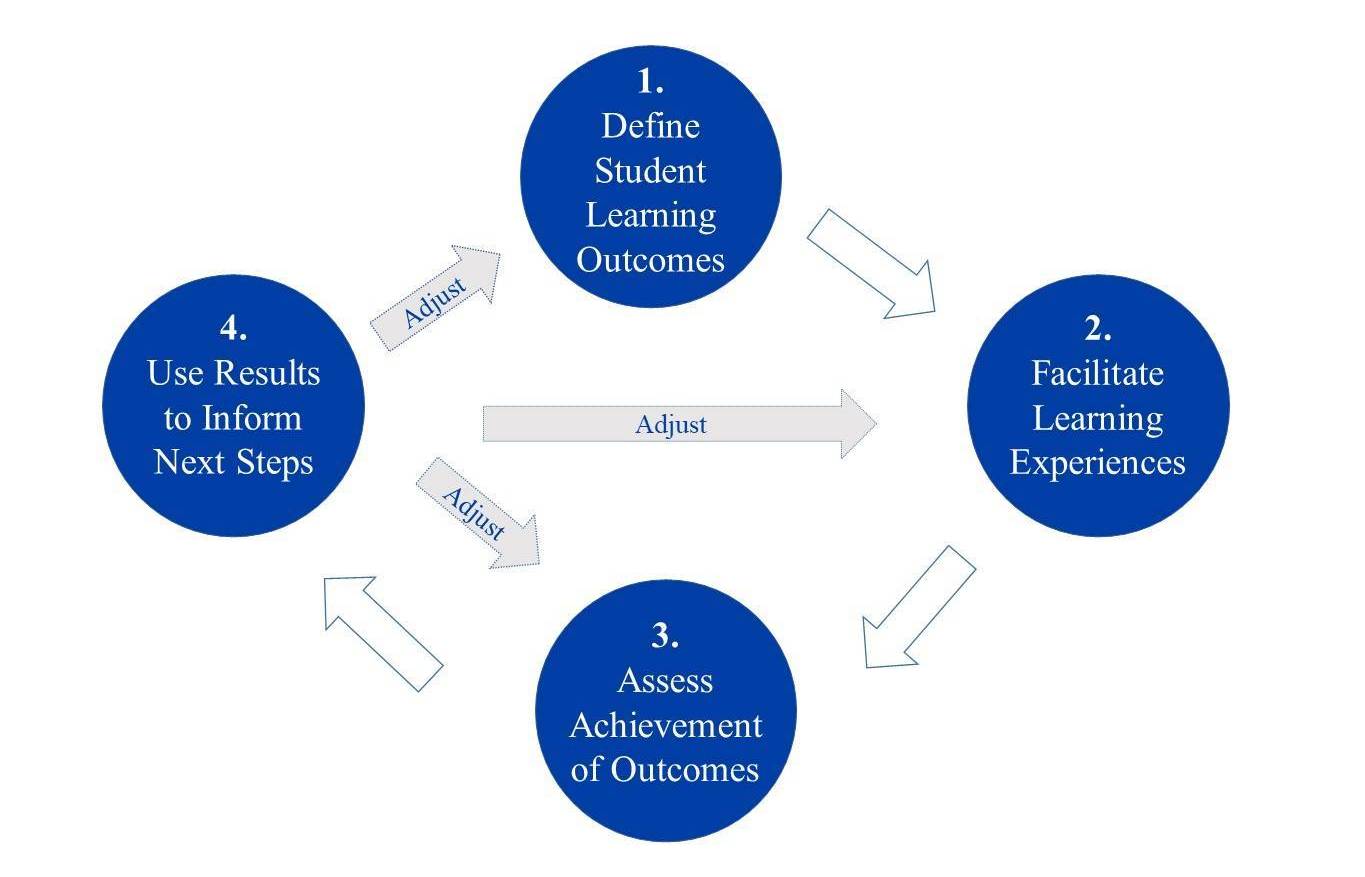 "Closing the loop" is the process by which program faculty have made changes after step 4 and are reassessing to determine the changes had the desired effect on student learning (i.e., learning improvement).