Saint Louis University's Core is overseen by a team of associate directors. These individuals, each overseeing a distinct Core component area, together lead SLU's shared efforts to implement our new undergraduate Core curriculum. Additionally, our eight undergraduate Core curricular fellows are dedicated to ensuring that SLU's Core is shaped by the voices and perspectives of undergraduate students.
Associate Directors of the CORE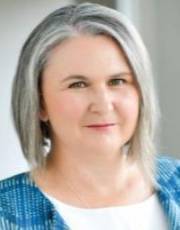 ---
Ellen Crowell has served as Saint Louis University's Director of the University Core since June 2018. A SLU faculty member since 2004, Crowell has won multiple institutional awards for her teaching and has also been recognized for her extensive service in support of undergraduate education. She directed both the undergraduate English program and the English department's research-intensive honors program, and has served on the College of Arts and Sciences Academic Honesty, Undergraduate Curriculum, and Core Assessment committees.
University-wide, she has served on the University Honors Program Faculty Advisory Board, the Undergraduate Academic Affairs Committee, and on Academic Affairs initiatives related to supporting and advancing integrative learning and undergraduate research.
---
Liz Burke, Ph.D.
Assistant Director of the University Core
liz.burke@slu.edu
314-977-7366
---
Liz Burke began as assistant director of the University Core in July 2023. As a long-term faculty member in the ESL Program at SLU, she has extensive experience teaching undergraduate and graduate courses and was selected as a Reinert Center Innovative Teaching Fellow in 2019. Liz has also served on and chaired numerous committees and has led multiple curriculum development, revision, and assessment projects. She also coordinated the International Partnership Program with the Honors Program during her tenure in the ESL Program. Liz received her doctorate in Higher Education Administration from SLU, and she is grateful for the opportunity to use her passion for education, research, and administration to help provide access to a world-class Jesuit education for all SLU students.
---
Monica Richardson
Program Coordinator
---
Monica Richardson provides program coordination and administrative support for the University Core. She oversees curricular management, course catalog management, coordinating travel arrangements and calendar management for the University Core Program. She has over 13 years of experience in data management and administrative duties. Richardson is studying for her M.Ed. Helping people reach their goals is a passion of hers and working at Saint Louis University is fulfilling. She is honored to be a part of the integration of the University Core curriculum.
---
Bobby Wassel, Ph.D.
Associate Director of the Core: Cura Personalis and Reflection-in-Action
Center for Social Action
bobby.wassel@slu.edu
314-977-2041
---
Bobby Wassel serves as an assistant director in SLU's Center for Social Action. His passion for seeing the tremendous impact that community engagement experiences can have on a student's personal development, values clarification, and vocational discernment motivated him to be a part of the UUCC team. Believing that a college education should be focused not just on career preparation but also on good citizenship, Wassel's favorite quote is from James Truslow Adams: "There should be two educations. One should teach us how to make a living, the other...how to live."
---
Atria Larson, Ph.D.
Associate Director of the Core: Theological and Philosophical Foundations
Department of Theological Studies
College of Arts and Sciences
atria.larson@slu.edu
314-977-2876
---
A person committed to the integration of faith and academic rigor, Atria Larson is honored by the opportunity to influence how every SLU undergraduate comes into dialogue with the Catholic, Jesuit intellectual and religious tradition underlying the university. She says, "My goal is that the Ultimate Questions courses foster an environment where students can articulate their own burning questions, the objects of their faith, the assumptions they bring to the world, and the ways in which their understanding of what is shapes who they can and should be."
---
Nathaniel Rivers, Ph.D.
Associate Director of the Core: Eloquentia Perfecta (Written and Visual Communication)
Department of English
College of Arts and Sciences
nathaniel.rivers@slu.edu
314-977-2571
---
Nathaniel Rivers' work as associate director of Eloquentia Perfecta (Written and Visual Communication) is motivated by how he sees writing working in the world. As a scholar trained in rhetorical theory, Nathaniel sees eloquentia perfecta as an ideal motive force for the teaching of writing: as a course of study, it prepares students to enter the public arena. Paired with rhetoric (as perfect eloquence), writing is a form of participation in world. Importantly, however, this taking part is mutually informing. Our participation in the world through writing necessarily shapes us as the writers we become.
To borrow, as Rivers often does, from Father Walter Ong, S.J., "We can now view in better perspective the world of writing in which we live, see better what this world really is, and what functionally literate human beings really are — that is, beings whose thought processes do not grow out of simply natural powers but out of these powers as structured, directly or indirectly, by the technology of writing." To teach writing, even humbly, is to open students up to the worlds they inhabit.
---
Tim Huffman, Ph.D.
Associate Director of the Core: Eloquentia Perfecta (Oral Communication and Creative Expression)
Department of Communication
College of Arts and Sciences
tim.huffman@slu.edu314-977-3345
---
Tim Huffman is an associate professor in the department of communication. He is a scholar-activist in the area of homelessness and uses collaborative inquiry to help build structures that are more equitable and liberating. Huffman has been involved in the community-based design of the core and is excited to see it put into action. He believes that oral and visual communication and creative expression are ways to express the depth of our humanity and to help create a world worth sharing.
---
Allen Brizee, Ph.D.
Director of Writing Across the Curriculum
Associate Director of the Core: Writing Across the Curriculum
Department of English
College of Arts and Sciences
allen.brizee@slu.edu
314-977-4190
---
In his role as director of writing across the curriculum, Brizee collaborates with SLU faculty members in St. Louis and Madrid to develop writing-intensive courses offered in both the Core and for credit within major and minor programs of study. To help develop these courses, Brizee uses his research on the Ignatian Pedagogical Paradigm as well as his experience as a technical writer for the private sector and for the federal government.
Brizee comes to SLU from Loyola University Maryland, where in his role as faculty director for community-engaged learning and scholarship he worked with community partners, faculty members, students, and administrators to develop cross-curricular writing projects focused on racial justice. His award-winning research explores the intersections of rhetoric, technology, writing pedagogy, and civic engagement.
---
Joya Uraizee, Ph.D.
Associate Director of the Core: Equity and Global Identities
joya.uraizee@slu.edu
Associate Director of the Core: Equity and Global Identities
Professor of English & Assoc. Director of the Core (Equity & Global Identities)
Saint Louis University
314-977-3514
---
Joya Uraizee, an English professor, loves African literature and is passionate about social justice. She believes that SLU students should make connections between their own disciplines and racial, gendered or class-based injustices around the world. They should also be empowered to stake out their own positions as global citizens.
---
David Kaplan, Ph.D.
Associate Director of the Core: Collaborative Inquiry
Department of Management
Richard A. Chaifetz School of Business
david.kaplan@slu.edu
314-977-3819
---
David Kaplan's educational background in industrial relations relied heavily on collaborative inquiry. He continues to harness the lessons and values of collaborative inquiry to address research questions as well as exciting and expanding the curiosity and knowledge of his students. The goal of collaborative inquiry, to rephrase an old adage, is for students to recognize that they have more tools than a hammer and that not all problems are nails.
---
Hamish Binns, M.A.
Associate Director of the Core: Madrid Campus
Department of Modern Languages and ESL
Reinert Center Online Teaching Fellow
(+34) 91 554 5858
---
Hamish Binns is program director for ESL, Modern Languages and Education at the Madrid Campus and coordinates the Community ESL program and other EFL service-learning projects. As his title and multiple roles indicate, he thrives in a creative, cooperative and cross-curricular setting, and this is what drew him to the undergraduate Core. To coin the words of Pedro Arrupe, he is a "pathological optimist" and hopes to be able to infect others with his passion for education and the need for collaborative development within and between the two campuses to help construct a truly unique and meaningful learning experience for all undergraduates at Saint Louis University.

Learn More
---
Ana Patricia Romay Febres
Ignite Seminar
Ana Patricia Romay Febres is from Caracas, Venezuela, majoring in political science and international studies and minoring in performing arts at SLU's Madrid campus. Her interest in the arts and humanities made her wish for an education that goes beyond traditional learning and targets academic growth and personal fulfillment. With the Ignatian values of academic rigor and personal development, she hopes to make this wish a reality for all SLU students through the Ignite Seminar.
---
Antron Reid
Cura Personalis and Reflection-in-Action
Antron Reid is a senior studying international studies and political science with a minor in foreign service. He is committed to being involved in decisions that will make a direct impact on the learning of all students at Saint Louis University, as well as on the St. Louis community. As the Undergraduate Core Fellow for Cura Personalis and Reflection-in-Action, Antron is dedicated to help educate the whole student, and develop their sense of community.
---
Carina Swonger
Theological and Philosophical Foundations
Carina Swonger is a junior pursuing a double major in theological studies and Catholic studies with a minor in education. She is active on campus through Micah, the University Honors Program, and the ministries of the Catholic Studies Center. Drawing from the rich Catholic tradition, Carina hopes to work with the UUCC to help create theology and philosophy classes that encourage students to best understand God, themselves, and each other. Carina believes that the goal of Jesuit education should be to create spaces for intellectual curiosity and compassionate dialogue so that each student can encounter beauty, truth, and goodness for "the glory of God and the service of humanity.".
---
Grace Blouin
Eloquentia Perfecta: Written and Visual Communication
Grace Blouin is a junior from Bloomington, Indiana studying nursing. She is honored to serve as a Core Fellow and eager to contribute to the progression of visual/writing-based learning and engagement at SLU! Grace is a strong believer in adaptive communication and believes that working alongside diverse groups of individuals, including the representation of concepts through verbal, auditory, reading/writing, and kinesthetic learning styles maximizes the learning potential among students.
---
Anna Godlewski
Eloquentia Perfecta: Oral and Visual Communication and Creative Expression
Anna Godlewski is a junior majoring in communication concentrated in journalism and media studies with minors in English and urban poverty studies on the pre-law track. She believes that strong communicative skills are foundational to the development of all students, and she is excited to work toward enhancing this curriculum.
---
Faith Abrams
Equity and Global Identities
Faith Abrams is a junior pursuing a double major in social work and sociology with minors in both urban poverty studies and anthropology. She is a passionate student committed to justice and equity. Her numerous contributions to SLU and the St. Louis area include Micah Learning community mentor, Micah Retreat intern, Cornerstone Center for Early Learning intern, as well as participating in the pilot program for the new University Core. In her role as a core fellow, she hopes to assist in helping Saint Louis University create a curriculum that has the power to encompass the full humanity of its students.
---
Jessie Headley
Ways of Thinking
Jessie Headley is a senior pursuing a double major in history and American studies. As a Core Fellow, Jessie is excited to put her curiosity and creativity to work for SLU as she helps to recommend Core courses that will interest students and encourage critical thinking. In her role as the Core Curricular Fellow for Ways of Thinking, she looks forward to having multiple opportunities to develop a curriculum that will enrich the SLU experience.
---
Jackie Barnes
Collaborative Inquiry
Jackie Barnes (she/her) is a junior from Omaha, Nebraska, majoring in social work with minors in public health and psychology. She believes that interdisciplinary education and practice are crucial for realizing a better world because no one identity or field of study defines who we are.
---