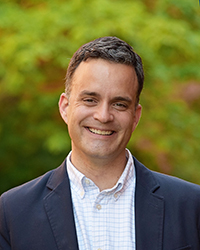 Program Director
christopher.grabau@slu.edu
phone: (314) 977-4167
fax: (314) 977-1695
Role in the Reinert Center
As Program Director in the Center, Christopher oversees the development and implementation of graduate programs and teaching initiatives. He also consults with faculty, graduate students, and academic departments on instructional design elements, course design, and thoughtful uses of instructional technologies.
Areas of Interest and Expertise
Learning theories and learner-centered pedagogies
Educational psychology and student development theory
Online and blended course design
Creativity in education
Learning space design
Educational technologies
Video and audio recording, graphic design and layout
Biographical Information
Prior to joining the Center in 2011, Dr. Grabau spent several years working in Student Development, where he advised student media organizations and managed the student center. As a result, Dr. Grabau is well-versed in audio and video creation and in the curation of formal and informal learning spaces.
Dr. Grabau holds Bachelor of Science degrees in Studio Art and Psychology, a Master of Arts in Counseling, and a Ph.D. in Educational Foundations. Dr. Grabau has taught courses in Educational Psychology, Human Development, and Learning Assistant Pedagogy.
Dr. Grabau's disciplinary training often incorporates critical, normative, and historical lenses to identify effective pedagogical practices throughout the educational spectrum. His expertise and research often explore humanistic teaching practices, relational labor associated with impactful learning, and authentic uses of educational technology.
Christopher often presents at national teaching and learning conferences and serves as a consultant on pedagogy for various committees and boards within the greater region of St. Louis, Missouri.