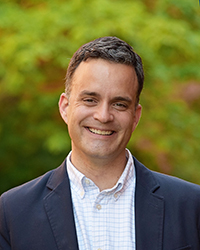 Instructional Developer
christopher.grabau@slu.edu
phone: (314) 977-4167
fax: (314) 977-1695
Role in the Reinert Center
As an instructional developer in the Center, Chris consults with faculty, graduate students, and teaching staff on instructional elements, course design, and learning technologies. He also researches new pedagogical approaches to instruction; helps to facilitate intentional transitions to online teaching; and works with faculty teaching in the Reinert Center's Learning Studio.
Areas of Interest and Expertise
Learning theories and learner-centered pedagogies
Educational psychology and student development theory
Online and blended course design
Creativity in education
Learning space design
Educational technologies
Video and audio recording, graphic design and layout
Biographical Information
Chris joined the Center in September 2011, bringing more than 17 years of experience working in higher education. Prior to joining the Center, he spent several years at Saint Louis University working for the Division of Student Development, where he advised student media organizations and managed the student center. As a result, Chris is well-versed in audio and video creation and in the curation of formal and informal learning spaces. Since 2001, Chris also has been an adjunct instructor in the Department of Education, where he teaches courses in Educational Psychology. He holds Bachelor of Science degrees in Studio Art and Psychology, a Master's of Arts in Counseling, and a Ph.D. in Education Foundations.
Chris is an active member of several teaching and learning conferences including the Focus on Technology and Teaching Conference (where he serves on the planning committee) and presents at The Professional and Organizational Development (POD) Network in Higher Education.