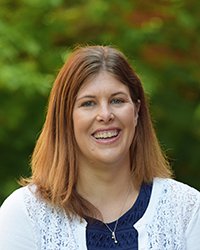 Program Manager
mary.cook@slu.edu
phone: (314) 977-3944
fax: (314) 977-1695
Role in the Reinert Center
As Program Manager for the Center, Mary is the initial point of contact for the Center. She takes care of all the administrative support duties for the Center and is the initial point of contact for visitors and callers.
Areas of Responsibility
Budget management and purchasing
Program manager for Certificate in University Teaching Skills Program
Website management
Event planning
Department and staff calendar management
Hiring and supervision of student workers
Biographical Information
Mary has a Masters in Student Personnel Administration from Saint Louis University. During the 2011-12 academic year, she also served as the Logistics Coordinator for The Ability Exhibit, which received the 2012 Ignatian Medal of Outstanding Campus Program awarded by the Jesuit Association for Student Personnel Administrators. She has worked in the Center, and at SLU, since 2007.