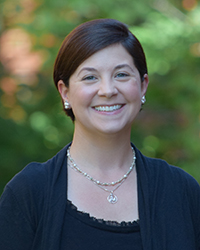 Associate Director
gina.merys@slu.edu
phone: (314) 977-2197
fax: (314) 977-1695
Role in the Reinert Center
As Associate Director, Gina creates, implements, oversees, and assesses Reinert Center programs and services for all faculty, teaching staff, and graduate students at the University. These programs and services include: the Certificate in University Teaching Skills (CUTS) program, individual consultations, and class observations, as well as workshops and facilitated conversations on a wide variety of pedagogical topics.
Areas of Interest and Expertise
Pedagogical theory, including Ignatian pedagogy
Course, program, and curriculum design and assessment
Teaching and tutoring skills and techniques
Diversity and inclusion in the university
Service Learning and Community-Based Learning
The Scholarship of Teaching and Learning (SoTL)
Creating teaching portfolios, teaching philosophies, and other professional teaching documents
Teaching with digital technology
Issues surrounding academic honesty
Biographical Information
Prior to joining the Reinert Center in August of 2011, Dr. Merys was Assistant Professor of English and Director of Composition at Creighton University, where she taught a variety of undergraduate and graduate courses in rhetoric and composition; oversaw the daily operations of the writing program (100-level, upper-level, and graduate-level courses); and served on numerous college and university committees, including the Core Revision Task Force
While all of Gina's scholarship principally centers on pedagogy, her disciplinary focus is on discourse practices, literacy issues, digital technology, postcolonial and gender studies, and the rhetoric of education. Her peer-reviewed publications have appeared in edited collections as well as scholarly journals.
In addition to frequent presentations at academic conferences in her field, such as the Conference on College Composition and Communication (CCCC), Gina also frequently attends and presents at The Professional and Organizational Development (POD) conference and other teaching and learning conferences.