Periodically, the Reinert Center is able to provide fellowships for SLU faculty who engage in projects and lead programs that complement existing Center offerings. Faculty Fellows help to expand our programs and resources and build partnerships that support a culture of evidence-based teaching and learning at SLU. Currently, the Center has one Faculty Fellow.
Elena Bray Speth, Ph.D.
Senior Teaching Fellow, Reinert Center
Assistant Professor, Biology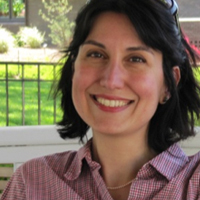 Dr. Bray Speth is Assistant Professor of Biology at Saint Louis University. Before coming to SLU in August 2009, she earned her Ph.D. in Biochemistry and Molecular Biology in the DOE-Plant Research Laboratory at Michigan State University, where she studied the cellular and molecular bases of the interaction between plants and bacterial pathogens. Toward the end of her doctorate, she became interested in biology education research and pursued this interest as a postdoc, sponsored by the Michigan State University Center for Research on College Science Teaching and Learning. At SLU, Elena was hired in the Biology Department to conduct Discipline-Based Education Research. She teaches one large section of Introductory Biology for science majors and a graduate-level course in Scientific Communication. Her work includes undergraduate and graduate students conducting research on college biology teaching and learning. Current work focuses on (a) distributing and scaffolding active and meaningful learning of biology in and out of class; (b) analyzing students' models of complex biological systems; and (c) characterizing students' causal reasoning about biological mechanisms that span multiple levels of organization.
In addition to serving as a Senior Teaching Fellow, Dr. Bray Speth also serves on the Reinert Center's faculty Advisory Board.