A Decade of Progress and Change
From turning 200 to unprecedented growth and community engagement, check out this sampler of some of the many important things that happened during the past decade here at Saint Louis University.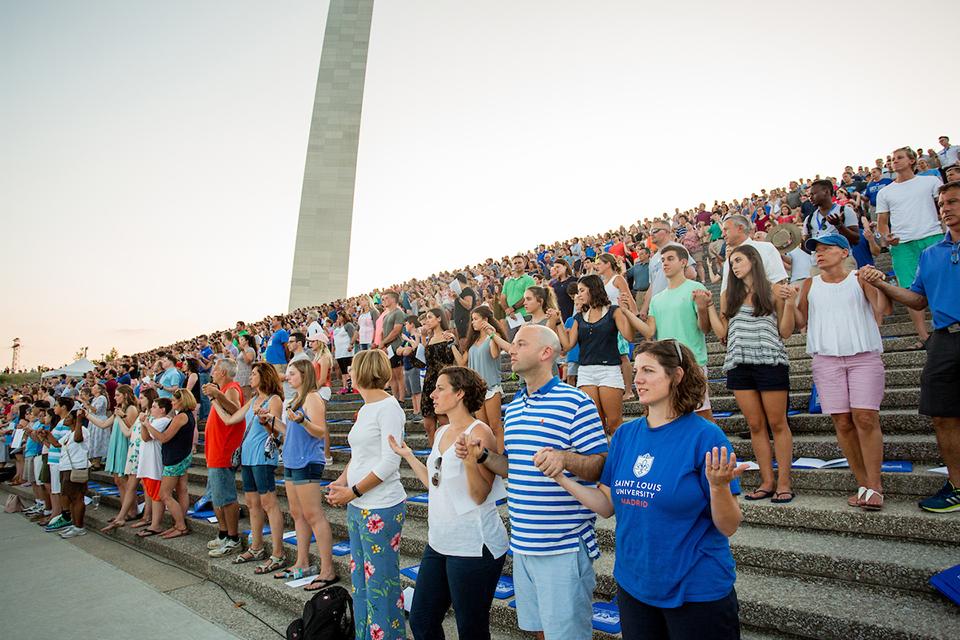 More than 6,000 people assembled on the steps of the Arch for SLU's Bicentennial Mass in 2017.
As we look back to celebrate these successes and reflect on important events, we also want you to look forward. As a member of the SLU community, what are your hopes for the University for the next 10 years and beyond? We want to hear from you.
Bicentennial Celebration
SLU kicked off its 200-year birthday in 2017 with an outdoor Mass that drew more than 6,000 to the riverfront. Marked by big and small events that celebrated SLU's history, bicentennial festivities continued through 2018, culminating with a free concert by the St. Louis Symphony Orchestra, joined by the St. Louis Jesuits. Coinciding with the University's bicentennial, SLU Madrid celebrated its 50-year anniversary in 2018.
Mission and Outreach Efforts
In 2010, SLU became the founding and sustaining partner of Casa de Salud, which provides health care for the immigrant community of the St. Louis region. In 2013, the student-run Health Resource Center relocated and doubled its clinic space. In 2015, SLU launched the Billiken Teacher Corps, a program in which graduate students teach in local under-resourced Catholic schools and live together in a faith-based community in the city.
New Leadership
In 2014, longtime Catholic higher education leader Fred P. Pestello, Ph.D., became SLU's first permanent lay president. He succeeded William Kauffman, SLU's vice-president and general counsel, who served as interim president following the 2013 retirement of Lawrence Biondi, S.J., who served in the role for 26 years.
'Occupy SLU' and The Clock Tower Accords
In 2014, a group of protesters made up of SLU students, St. Louisans and activists from across the country held a peaceful occupation at the University's clock tower as part of the regional protests that followed the deaths of Michael Brown and VonDerrit Myers Jr. in officer-involved shootings. Occupy SLU concluded with the adoption of the 13-point Clock Tower Accords, which committed the University to actively strengthen diversity, inclusion and equity on its campuses. In the spirit of the Gospels, the Accords also extend that commitment to the city and the University's neighbors, particularly to underserved families.
New Health Care Partner
In 2015, the University re-acquired SLU Hospital from Tenet Healthcare and contributed the building to SSM Health as part of a new long-term agreement. In 2017, SSM Health broke ground began construction of a new $550 million SSM Health Saint Louis University Hospital and outpatient care center.
Building Boom
SLU opened two new residence halls in 2016 and 2017 (Spring Hall and Grand Hall respectively) and a Health Sciences Education Union in 2011. In 2018, University broke ground on a new Interdisciplinary Science and Engineering Building, which is set to open in this year. Major renovation projects included the Center for Global Citizenship, Macelwane Hall, Pius XII Memorial Library, San Ignacio Hall in Madrid, and Scott Hall in downtown St. Louis as the new home of the School of Law.
Development Momentum in Midtown
Near campus, in Saint Louis University's chapter 353 redevelopment area (where development is overseen by the St. Louis Midtown Redevelopment Corp.), construction already has begun on restaurants, hotels, offices, housing and retail spaces in developments including the City Foundry, Armory and Iron Hill that will completely transform the midtown area into a bustling center of activity and engagement now known as Prospect Yards. Overall, more than a $1 billion is being invested in areas around the University.
Historic Giving
In 2018, SLU launched a $500 million comprehensive campaign called Accelerating Excellence – the largest fundraising effort in University history. SLU raised a record $119.4 million in FY19, which broke the previous fundraising record set in FY18 of $98.6 million. Philanthropists Dr. Jeanne and Rex Sinquefield made a historic $50 million gift to SLU, and the University renamed its business school in honor of a $15 million gift from Dr. Richard and Jill Chaifetz and its nursing school in honor of a $4 million gift from Trudy Busch Valentine. SLU also received a $15 million anonymous gift.
Record Freshman Enrollment
In 2019, SLU welcomed the largest freshman class in SLU history with 1,897 first-year students, breaking its previous 2011 record of 1,707 new students. The record class also was among the most diverse and academically gifted. SLU Madrid set a record for enrollment as well with 833 students from 56 countries.
#1 Health Law Program
U.S. News & World Report ranked SLU's health law program as the best in the country for almost every year this past decade, including in 2019. Through this preeminent program, students work through complex health care regulations in local externships, or in Washington D.C. through the newly-established clerk opportunity at a federal agency.
Team Success
Our student athletes set records for GPA and academic achievement, including a school record 3.41 GPA in the 2016-17 academic year. Four Billiken athletic teams went to NCAA tournaments 11 times, including four appearances by men's basketball and back-to-back trips by the women's soccer in 2018 and 2019. The University also debuted a new look for its beloved mascot in 2017. And, outside of Billiken athletics, SLU launched a world-class chess team in 2015 and began recruiting for a new varsity esports team in 2019.