The Paul C. Reinert, S.J. Center for Transformative Teaching and Learning (formerly the Reinert Center for Teaching Excellence) is a comprehensive teaching center, serving faculty, graduate students, and academic units at Saint Louis University. All of our work is guided by our mission and core values, the ethical standards of our field, and the mission of Saint Louis University.
Core Values
All of the work we do in the Center is rooted in a set of core values that derive from our deep commitment to serving the teaching community at Saint Louis University, to advancing the adoption of contextually-appropriate teaching practices, and to embodying the principles of Ignatian pedagogy. These commitments also are consistent with national standards for ethical practice as articulated in the POD Network's Ethical Guidelines for Educational Developers. Therefore, we seek to embed the following core values in all our services and programs.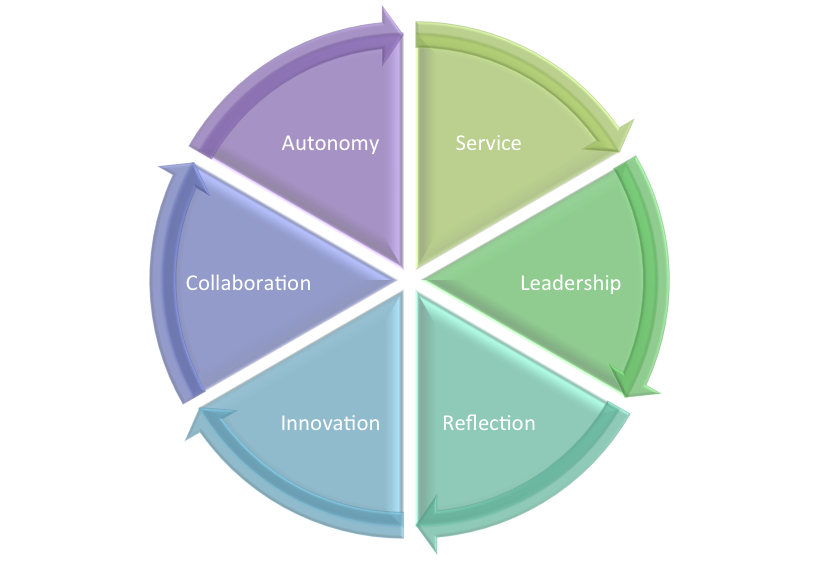 Autonomy
The Jesuit concept of formation has, at its core, a respect for the individual, and in the Center, we are committed to helping individual faculty and graduate students find their own directions, meaning and pedagogical style in the context of Jesuit traditions of education. Therefore, we are committed to honoring the autonomy and individual teaching styles of all educators.
Service
As befits our Jesuit roots, the Center is first and foremost a service organization, acting as "persons for others" by providing resources, services, and programs that support the formation and transformation of SLU educators. We do this by providing a wide range of services to individuals, to departments and programs, to SLU colleges and schools, and to the University as a whole.
Leadership
One important way we serve the University is by providing leadership in the areas of teaching effectiveness, educational quality, assessment of student learning, and effective integration of technology into teaching. We do this by staying current on evidence-based research on teaching and learning and on national trends in higher education and educational technology.
Reflection
Reflection is crucial to effective teaching, to Ignatian pedagogy, and to deep learning. The Center promotes reflection by integrating reflective activities into our services and programs; by helping faculty design effective reflection activities for students; and by reflecting deeply on our own practices so that we can make continuous improvements.
Innovation
In order to achieve transformative learning, teachers must go beyond content delivery to engage students in a variety of learning experiences. This approach to teaching requires innovation, and in the Center, we believe innovation looks different for different people. For some, innovation always involves the latest technologies and gadgets, while for others it simply means finding a new way to do something. Our approach to innovation is rooted in the original meanings of the word itself: to innovate simply means to make new, to alter, or to renew.
Collaboration
The Center is committed to meaningful collaboration, which is essential to building a community of scholarly and reflective teachers and to a culture of effective teaching and learning at the University. We honor this commitment by inviting faculty to present and co-present at Center programs and by working closely with faculty partners at all levels, across the whole campus.
Our Commitment to Cura Personalis
Finally, all of these core values derive from a commitment to cura personalis. Meaning "care of the whole person," this Latin phrase is a cornerstone of Jesuit education, and by extension, of our mission. While we focus almost exclusively on teaching, we acknowledge that faculty and graduate students also are engaged in professional research and service, and that they have many other responsibilities and roles outside of their academic work.
Therefore, we strive always to care for the whole teacher by:
Designing interactive programs intentionally, to make responsible use of time and to offer practical strategies for teaching more effectively and (therefore) more efficiently;
Creating opportunities for community-building, across disciplines and departments;
Developing programs and resources that help instructors teach in learner-centered ways that serve the intellectual, spiritual, and developmental needs of all learners;
Creating a hospitable, welcoming environment in the Center and at all our events; and
Maintaining confidentiality in all of the work we do with individuals.
Ultimately, we believe that the Center's deep commitment to cura personalis serves as a way to help faculty and graduate students better understand how they can care for the "whole persons" of their students.
A Vision of Ignatian Pedagogy for the 21st Century
The mission of the Paul C. Reinert, S.J. Center for Transformative Teaching and Learning (Reinert Center) is to develop, encourage, and sustain Saint Louis University faculty and graduate students as they strive to "find their own direction, meaning, and pedagogical style in the context of Jesuit traditions of education," so that they can better serve the needs of all learners. The first element of the Ignatian pedagogical paradigm focuses on the importance of understanding the context in which learning takes place, and in the 21st Century, that context is shifting rapidly. Therefore, we must combine the values of a traditional Jesuit education with emerging pedagogical and technological innovations, in order to design rich, transformative experiences that help students learn, discern, and prepare to contribute meaningfully to their world.
Today's world is driven by rapidly changing technological innovations and increasing global connections. The accelerating pace of change - in terms of technology, quantity of information, and globalization of society - has led to challenges that are increasingly more complex in scope than those experienced by earlier generations. Interdisciplinary fields are increasing, while constraints on when and where learning occurs are dissolving. Technology has always been essential in the lives of today's students and, increasingly, in the new generation of faculty. While many view technology as merely a tool, this generation views technology as integral to all they do. Current research on how learners in the 21st Century learn indicates a preference for discovery-based learning experiences constructed around real-world problems. This context challenges institutions of higher education and their faculty to reflect on how best to help students gain knowledge, experiences, and skills that can best prepare them for solving complex problems and making positive contributions to the world around them.
Challenges also provide opportunities. By taking advantage of emerging technologies and global initiatives, Saint Louis University can position itself at the forefront of designing and implementing innovative pedagogies to meet the educational needs of future generations of students. In response to this opportunity, the Reinert Center proposes to provide leadership in this initiative by expanding its programming to provide scalable support and resources designed to assist faculty in creatively addressing the educational needs of future generations of learners. With a continual eye on emerging technologies, future global initiatives, and new research on learning, Center staff work in collaboration with faculty and students to build rich, transformative (virtual and face-to-face) learning environments and experiences that address the educational challenges of providing transformative learning opportunities to current and future generations of learners. Ground-breaking teaching and learning studios, in which faculty design and experiment with innovative learning environments that meaningfully integrate cutting-edge technologies and global initiatives, will serve as incubators for this expanded focus, as well as promote research on evolving pedagogical innovations. The Reinert Center will assist faculty and students in documenting and publicizing pedagogical innovations and environments, and their impact on transformative learning.
When viewed through the lens of the Ignatian pedagogical paradigm (context, experience, reflection, action, evaluation), these innovations become more than simply a way to respond to the educational challenges of the present moment. Indeed, they become the catalyst that will position Saint Louis University as a global leader in higher education, preparing future generations of self-directed learners to pursue deeper, more engaged and transformative educational experiences for the sake of transforming their own world.
About Paul C. Reinert, S.J.
"Today our colleges cannot stand aloof from a troubled society; no, within the fundamental purposes of our educational mission, we must assume some responsibility for being instruments - agents for needed change in society" (Reinert, April 25, 1970, p. 10; original emphasis).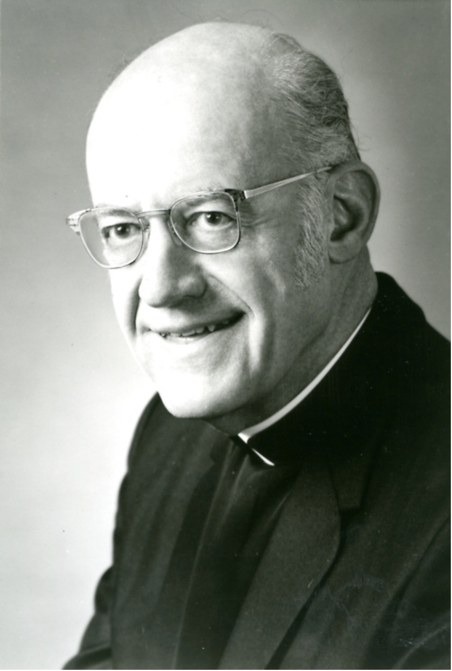 In 2001, SLU's Center for Teaching Excellence was renamed in honor of Father Paul C. Reinert, S.J., a Jesuit priest, scholar, and vocal advocate for social justice. Father Reinert was a pivotal voice in Catholic higher education as well as one of Saint Louis University's most influential leaders.
Father Reinert served as Saint Louis University's dean of the College of Arts and Sciences (1944-1949), president (1949-1974), chancellor (1974-1990), and chancellor emeritus (1990-2001). A self-identified "servant leader," Father Reinert was instrumental in making Saint Louis University a more diverse institution by admitting women as regular students and by working to admit the first African-American students to the University in 1944, making SLU the first historically white university in a former slave state to admit African-American students (Reinert and Shore, 1972). Beyond his duty to Saint Louis University, Reinert was a key figure in helping to reshape American higher education, and specifically, Catholic education.
Father Reinert is an appropriate namesake for our Center. He embodied many of the values that inform our practice, including thoughtful, person-centered work that is inclusive and prioritizes engagement with the world. Our goal is to emulate Father Reinert's commitment to servant leadership in all our work with SLU's faculty, graduate students, and administrators.
To Learn More about Father Reinert:
O'Brien, D. J. (1998). "The Land O'Lakes Statement." Boston College Magazine, 39(5).
Reinert, P. C., & Shore, P. J. (1996). Seasons of change: Reflections on a half century at Saint Louis University. Saint Louis University Press.
Reinert, P.C. (1972). To turn the tide. New Jersey: Prentice-Hall, Inc.
Reinert, P.C. (1970, April 25). Academic convocation, golden jubilee. Speech given at the College of Mount St. Joseph on the Ohio. Box 17, Folder: Speeches, 1970- 1971. The Reinert Collection, Pius Library Archive, Saint Louis University, Saint Louis, MO.
Paul C. Reinert, 90, Leader of St. Louis U. (2001, Jul 25). New York Times (1923-Current File) Retrieved: https://ezp.slu.edu/login?url=https://search.proquest.com/docview/91893138?accountid=8065